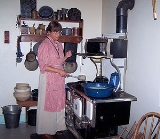 Pre-industrial society
Pre-industrial society
refers to specific social attributes and forms of political and cultural organization that were prevalent before the advent of the
Industrial Revolution
Industrial Revolution
The Industrial Revolution was a period from the 18th to the 19th century where major changes in agriculture, manufacturing, mining, transportation, and technology had a profound effect on the social, economic and cultural conditions of the times...
. It is followed by the
industrial society
Industrial society
In sociology, industrial society refers to a society driven by the use of technology to enable mass production, supporting a large population with a high capacity for division of labour. Such a structure developed in the west in the period of time following the Industrial Revolution, and replaced...
.
Limited production (i.e. artisanship vs. mass production

Mass production

Mass production is the production of large amounts of standardized products, including and especially on assembly lines...


)
Primarily an agricultural economy
Limited division of labor. In pre-industrial societies, production was relatively simple and the number of specialized crafts was limited.
Limited variation of social class

Social class

Social classes are economic or cultural arrangements of groups in society. Class is an essential object of analysis for sociologists, political scientists, economists, anthropologists and social historians. In the social sciences, social class is often discussed in terms of 'social stratification'...


es
Parochialism

Parochialism

Parochialism means being provincial, being narrow in scope, or considering only small sections of an issue. It may, particularly when used pejoratively, be contrasted to universalism....


—Social theories hold that communication

Communication

Communication is the activity of conveying meaningful information. Communication requires a sender, a message, and an intended recipient, although the receiver need not be present or aware of the sender's intent to communicate at the time of communication; thus communication can occur across vast...


s were limited between human communities in pre-industrial societies.