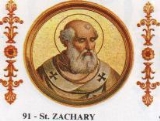 Pope Zachary
Pope Saint Zachary
was
Pope
Pope
The Pope is the Bishop of Rome, a position that makes him the leader of the worldwide Catholic Church . In the Catholic Church, the Pope is regarded as the successor of Saint Peter, the Apostle...
of the Catholic Church from 741 to 752. A Greek from
Calabria
Calabria
Calabria , in antiquity known as Bruttium, is a region in southern Italy, south of Naples, located at the "toe" of the Italian Peninsula. The capital city of Calabria is Catanzaro....
, he was the last pope of the
Byzantine Papacy
Byzantine Papacy
The Byzantine Papacy was a period of Byzantine domination of the papacy from 537 to 752, when popes required the approval of the Byzantine Emperor for episcopal consecration, and many popes were chosen from the apocrisiarii or the inhabitants of Byzantine Greece, Byzantine Syria, or Byzantine Sicily...
. Most probably he was a deacon of the Roman Church and as such signed the decrees of the Roman council of 732 and was on intimate terms with
Gregory III
Pope Gregory III
Pope Saint Gregory III was pope from 731 to 741. A Syrian by birth, he succeeded Gregory II in March 731. His pontificate, like that of his predecessor, was disturbed by the iconoclastic controversy in the Byzantine Empire, in which he vainly invoked the intervention of Charles Martel.Elected by...
, whom he succeeded on December 10, 741.
Zachary was a wise and subtle
diplomat
Diplomacy
Diplomacy is the art and practice of conducting negotiations between representatives of groups or states...
. Finding that his predecessor's alliance with the
Lombard
Lombardy
Lombardy is one of the 20 regions of Italy. The capital is Milan. One-sixth of Italy's population lives in Lombardy and about one fifth of Italy's GDP is produced in this region, making it the most populous and richest region in the country and one of the richest in the whole of Europe...
Duke of
Spoleto
Spoleto
Spoleto is an ancient city in the Italian province of Perugia in east central Umbria on a foothill of the Apennines. It is S. of Trevi, N. of Terni, SE of Perugia; SE of Florence; and N of Rome.-History:...
was not protecting Papal cities against the
Lombard
Lombards
The Lombards , also referred to as Longobards, were a Germanic tribe of Scandinavian origin, who from 568 to 774 ruled a Kingdom in Italy...
king, Zachary turned to Liutprand directly.