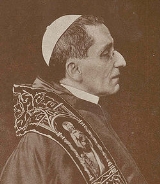 Pope Benedict XV
Pope Benedict XV
born
Giacomo Paolo Giovanni Battista della Chiesa,
reigned as
Pope
Pope
The Pope is the Bishop of Rome, a position that makes him the leader of the worldwide Catholic Church . In the Catholic Church, the Pope is regarded as the successor of Saint Peter, the Apostle...
from 3 September 1914 to 22 January 1922. His pontificate was largely overshadowed by
World War I
World War I
World War I , which was predominantly called the World War or the Great War from its occurrence until 1939, and the First World War or World War I thereafter, was a major war centred in Europe that began on 28 July 1914 and lasted until 11 November 1918...
and its political, social and humanitarian consequences in Europe.
Between 1846 and 1903, the Church experienced its two longest pontificates in history, up to that point. Together Pius IX and Leo XIII ruled for 57 years.