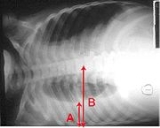 Pleural effusion
Pleural effusion
is excess fluid that accumulates between the two pleural layers, the fluid-filled space that surrounds the lungs. Excessive amounts of such fluid can impair breathing by limiting the expansion of the lungs during ventilation.
Pleural fluid is secreted by the visceral layer of the pleura and reabsorbed by the parietal layer of the pleura.
Four types of fluids can accumulate in the pleural space:
Pleural effusion is usually diagnosed on the basis of
medical history
Medical history
The medical history or anamnesis of a patient is information gained by a physician by asking specific questions, either of the patient or of other people who know the person and can give suitable information , with the aim of obtaining information useful in formulating a diagnosis and providing...
and physical exam, and confirmed by
chest x-ray
Chest X-ray
In medicine, a chest radiograph, commonly called a chest X-ray , is a projection radiograph of the chest used to diagnose conditions affecting the chest, its contents, and nearby structures...
.