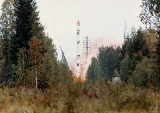 Plesetsk Cosmodrome
Plesetsk Cosmodrome
is a
Russia
Russia
Russia or , officially known as both Russia and the Russian Federation , is a country in northern Eurasia. It is a federal semi-presidential republic, comprising 83 federal subjects...
n
spaceport
Spaceport
A spaceport or cosmodrome is a site for launching spacecraft, by analogy with seaport for ships or airport for aircraft. The word spaceport, and even more so cosmodrome, has traditionally been used for sites capable of launching spacecraft into orbit around Earth or on interplanetary trajectories...
, located in
Arkhangelsk Oblast
Arkhangelsk Oblast
Arkhangelsk Oblast is a federal subject of Russia . It includes the Arctic archipelagos of Franz Josef Land and Novaya Zemlya, as well as the Solovetsky Islands in the White Sea....
, about 800 km north of
Moscow
Moscow
Moscow is the capital, the most populous city, and the most populous federal subject of Russia. The city is a major political, economic, cultural, scientific, religious, financial, educational, and transportation centre of Russia and the continent...
and approximately 200 km south of
Arkhangelsk
Arkhangelsk
Arkhangelsk , formerly known as Archangel in English, is a city and the administrative center of Arkhangelsk Oblast, Russia. It lies on both banks of the Northern Dvina River near its exit into the White Sea in the north of European Russia. The city spreads for over along the banks of the river...
.
Plesetsk is used especially for military
satellite
Satellite
In the context of spaceflight, a satellite is an object which has been placed into orbit by human endeavour. Such objects are sometimes called artificial satellites to distinguish them from natural satellites such as the Moon....
s placed into high inclination and polar orbits since the range for falling debris is clear to the north which is largely uninhabited Arctic and polar terrain. It is situated in a region of
taiga
Taiga
Taiga , also known as the boreal forest, is a biome characterized by coniferous forests.Taiga is the world's largest terrestrial biome. In North America it covers most of inland Canada and Alaska as well as parts of the extreme northern continental United States and is known as the Northwoods...
, or flat terrain with boreal pine forests.
The Soyuz rocket,
Cosmos-3M
Cosmos-3M
The Kosmos-3M is a Russian space launch vehicle. It is a liquid-fueled two-stage rocket, first launched in 1967 and with over 420 successful launches to its name. The Cosmos 3M uses nitrogen tetroxide as an oxidizer to lift roughly 1400 kg of payload into orbit...
,
Rockot
Rockot
The Rokot , also transliterated as a the pun Rockot, is a Russian space launch vehicle that can launch a payload of 1,950 kilograms into a 200 kilometre high Earth orbit with 63° inclination. It is a derivative of the UR-100N intercontinental ballistic missile , supplied and operated by Eurockot...
, and
Tsyklon
Tsyklon
The Tsyklon , GRAU index 11K67, was a Soviet/Ukrainian-designed expendable launch system, primarily used to put Cosmos satellites into low Earth orbit. It is based on the R-36 intercontinental ballistic missile designed by Mikhail Yangel and made eight launches, with seven successes, and one failure...
are launched from the Plesetsk Cosmodrome.