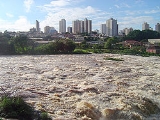 Piracicaba
Piracicaba
is a city located in the
Brazil
Brazil
Brazil , officially the Federative Republic of Brazil , is the largest country in South America. It is the world's fifth largest country, both by geographical area and by population with over 192 million people...
ian state of
São Paulo
São Paulo (state)
São Paulo is a state in Brazil. It is the major industrial and economic powerhouse of the Brazilian economy. Named after Saint Paul, São Paulo has the largest population, industrial complex, and economic production in the country. It is the richest state in Brazil...
. The population in 2009 was 368,843 in an area of 1,369.511 km², at an elevation of 547 m above sea level.
Name
The place name comes from a word in the Tupi language that means "place where the fish stops". The name is due to the waterfalls of the Piracicaba river that bisect the city, where the "piracema" (fish swimming upstream to reproduce) or larger fish species such as the
dourado
Dourado
Dourado may refer to:Biology:* Both species of the oceanic Coryphaena genus, also known as dolphinfishes* Zungaro zungaro, a catfish from the Amazon region* The common goldfish* The river-dwelling fish Salminus of South America...
s can still be observed.
History
In 1766, Antonio Correa Barbosa, charged with the task of establishing a settlement on the estuary of Piracicaba river, opted for a location about 90 km from it. Piracicaba was officially founded on August 1, 1767.
In 1944, the city was made the seat of the
Roman Catholic Diocese of Piracicaba
Roman Catholic Diocese of Piracicaba
The Roman Catholic Diocese of Piracicaba is a diocese located in the city of Piracicaba in the Ecclesiastical province of Campinas in Brazil.-Leadership:* Bishops of Piracicaba ** Bishop Fernando Mason, O.F.M. Conv....
.
It is famous for
sugarcane
Sugarcane
Sugarcane refers to any of six to 37 species of tall perennial grasses of the genus Saccharum . Native to the warm temperate to tropical regions of South Asia, they have stout, jointed, fibrous stalks that are rich in sugar, and measure two to six metres tall...
plantation
Plantation
A plantation is a long artificially established forest, farm or estate, where crops are grown for sale, often in distant markets rather than for local on-site consumption...
s, traditional cane spirit production and traditional music. The city houses the oldest agricultural faculty in Brazil, the Escola Superior de Agricultura Luiz de Queiroz of the
University of São Paulo
University of São Paulo
Universidade de São Paulo is a public university in the Brazilian state of São Paulo. It is the largest Brazilian university and one of the country's most prestigious...
. This faculty is more than 100 years old and is located on a farm with a large collection of trees and plants. It is also recognized as a leader in the field of
precision agriculture
Precision agriculture
Precision farming or precision agriculture is a farming management concept based on observing and responding to intra-field variations.It relies on new technologies like satellite imagery, information technology, and geospatial tools...
.
Piracicaba is known by the nickname "Noiva da Colina" (bride of the hills). Every year Piracicaba is host to the "Festa das Nações" (Nations' Fair), where people may find foods from all over the world, and the "Salão Internacional do Humor" (International Fair of Humor), where cartoonists from around the world display comic drawings.
Economy
Its economy is fueled in part by the rapid expansion of the cane sugar. The harvest of cane sugar produces many products, such as sugar, oil and
ethanol
Ethanol
Ethanol, also called ethyl alcohol, pure alcohol, grain alcohol, or drinking alcohol, is a volatile, flammable, colorless liquid. It is a psychoactive drug and one of the oldest recreational drugs. Best known as the type of alcohol found in alcoholic beverages, it is also used in thermometers, as a...
.
Copersucar
Copersucar
Copersucar S.A. is the biggest Brazilian sugar and ethanol company and one of the most important exporters worldwide. In its 50 years of activities, the company reached the number of 34 operating mills in the states of São Paulo, Paraná and Minas Gerais...
, a large company that has a center of research on genetic improvement of sugarcane, helps fuel this growing industry. Another economic characteristic feature is the presence of large industries, the main ones are
Caterpillar
Caterpillar Inc.
Caterpillar Inc. , also known as "CAT", designs, manufactures, markets and sells machinery and engines and sells financial products and insurance to customers via a worldwide dealer network. Caterpillar is the world's largest manufacturer of construction and mining equipment, diesel and natural gas...
and ArcelorMittal.
Geography
It is located at latitude: S 22°42'30
longitude: W 47°38'01
Altitude: 554 m. Temperatures through the year vary from 37.5° Celsius maximum to 18.0° Celsius minimum. Its annual rainfall is 1,230.6 mm. The city has a total area of 1,312.30 km² making it the 19th largest city in the State of São Paulo. Its urban area is 158.06 km² which has 95% of the population.
Utilities
Water and Power supply are practically 100%. There are approximately 164 telephones and 333 cars per thousand people.
Transportation
Azul Brazilian Airlines
Azul Brazilian Airlines
Azul Linhas Aéreas Brasileiras S/A is a Brazilian domestic low-cost airline based in Barueri. It was established on 5 May 2008 by Brazilian-born David Neeleman, founder and former-CEO of JetBlue. The airline began service on December 15, 2008 and has ordered a fleet of 76 Embraer 195 jets...
offer for its passengers free bus transfers between Piracicaba and
Campinas-Viracopos International Airport
Viracopos International Airport
Viracopos-Campinas International Airport is the international airport serving Campinas, Brazil. On January 6, 1987, the airport name was officially normalized to its present form....
at regular times.
Notable natives
José Altafini

José Altafini

José João Altafini, is an Italian Brazilian former footballer. He is the joint-third highest scorer in Italian Serie A history with 216 goals. He currently holds the record for the highest no...


, also known as "Mazola", a Brazilian footballer.
Marcos Pizzelli

Marcos Pizzelli

Marcos Pinheiro Pizzelli , is a Brazilian-Armenian football midfielder who plays for Ukrainian Premier League club Metalurh Donetsk.- International career :In May 2008, he got Armenian citizenship and became a member of the Armenia national team...


-Brazilian footballer.
Rubens Ometto Silveira Mello

Rubens Ometto Silveira Mello

Rubens Ometto Silveira Mello is a Brazilian businessman and the Chairman of Raízen and Cosan. He is also the director of UNICA.-Biography:Rubens Ometto Silveira Mello was born in Piracicaba, Brazil. He attended the University of São Paulo and interned with Unibanco. After college, he became a...


, owner of Cosan

Cosan

Cosan is a public company, a Brazilian conglomerate producer of bioethanol, sugar and energy.-Biography:Cosan began in 1936 in Piracicaba city in State of São Paulo, with the founding of its first factory for milling of sugar cane...


.