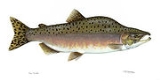 Pink salmon
Pink salmon
or
humpback salmon
,
Oncorhynchus gorbuscha
, (from a Russian name for this species
gorbuša, горбуша
) is a
species
Species
In biology, a species is one of the basic units of biological classification and a taxonomic rank. A species is often defined as a group of organisms capable of interbreeding and producing fertile offspring. While in many cases this definition is adequate, more precise or differing measures are...
of
anadromous
Fish migration
Many types of fish migrate on a regular basis, on time scales ranging from daily to annually or longer, and over distances ranging from a few metres to thousands of kilometres...
fish
Fish
Fish are a paraphyletic group of organisms that consist of all gill-bearing aquatic vertebrate animals that lack limbs with digits. Included in this definition are the living hagfish, lampreys, and cartilaginous and bony fish, as well as various extinct related groups...
in the
salmon
Salmonidae
Salmonidae is a family of ray-finned fish, the only living family currently placed in the order Salmoniformes. It includes salmon, trout, chars, freshwater whitefishes and graylings...
family
Family (biology)
In biological classification, family is* a taxonomic rank. Other well-known ranks are life, domain, kingdom, phylum, class, order, genus, and species, with family fitting between order and genus. As for the other well-known ranks, there is the option of an immediately lower rank, indicated by the...
. It is the smallest and most abundant of the
Pacific salmon
Oncorhynchus
Oncorhynchus is a genus of fish in the family Salmonidae; it contains the Pacific salmons and Pacific trouts. The name of the genus is derived from the Greek onkos and rynchos , in reference to the hooked jaws of males in the mating season .-Range:Salmon and trout with ranges generally in waters...
.
In the ocean, pink salmon are bright silver fish. After returning to their spawning stream, their coloring changes to pale grey on the butt with yellowish white belly (although some turn an overall dull green color).