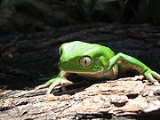 Phyllomedusa iheringii
Phyllomedusa iheringii
is a species of
frog
Frog
Frogs are amphibians in the order Anura , formerly referred to as Salientia . Most frogs are characterized by a short body, webbed digits , protruding eyes and the absence of a tail...
in the Hylidae family.
It is found in
Brazil
Brazil
Brazil , officially the Federative Republic of Brazil , is the largest country in South America. It is the world's fifth largest country, both by geographical area and by population with over 192 million people...
and
Uruguay
Uruguay
Uruguay ,officially the Oriental Republic of Uruguay,sometimes the Eastern Republic of Uruguay; ) is a country in the southeastern part of South America. It is home to some 3.5 million people, of whom 1.8 million live in the capital Montevideo and its metropolitan area...
.
Its natural
habitat
Habitat
* Habitat , a place where a species lives and grows*Human habitat, a place where humans live, work or play** Space habitat, a space station intended as a permanent settlement...
s are temperate
shrubland
Shrubland
Shrubland, scrubland, scrub or brush is a plant community characterized by vegetation dominated by shrubs, often also including grasses, herbs, and geophytes. Shrubland may either occur naturally or be the result of human activity...
and intermittent freshwater
marsh
Marsh
In geography, a marsh, or morass, is a type of wetland that is subject to frequent or continuous flood. Typically the water is shallow and features grasses, rushes, reeds, typhas, sedges, other herbaceous plants, and moss....
es.
It is threatened by habitat loss.