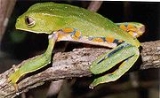 Phyllomedusa burmeisteri
The
Burmeister's leaf frog
(
Phyllomedusa burmeisteri
) is a hylid
frog
Frog
Frogs are amphibians in the order Anura , formerly referred to as Salientia . Most frogs are characterized by a short body, webbed digits , protruding eyes and the absence of a tail...
native to the Atlantic Forest
biome
Biome
Biomes are climatically and geographically defined as similar climatic conditions on the Earth, such as communities of plants, animals, and soil organisms, and are often referred to as ecosystems. Some parts of the earth have more or less the same kind of abiotic and biotic factors spread over a...
in
Brazil
Brazil
Brazil , officially the Federative Republic of Brazil , is the largest country in South America. It is the world's fifth largest country, both by geographical area and by population with over 192 million people...
, specially in
Ouro Preto
Ouro Preto
-History:Founded at the end of the 17th century, Ouro Preto was originally called Vila Rica, or "rich village," the focal point of the gold rush and Brazil's golden age in the 18th century under Portuguese rule....
. This species is now jeopardized by
biopiracy
Biopiracy
- Biopiracy and bioprospecting :Bioprospecting is an umbrella term describing the discovery of new and useful biological samples and mechanisms, typically in less-developed countries, either with or without the help of indigenous knowledge, and with or without compensation...
because it produces a waxy secretion that has medicinal uses.