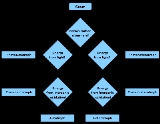 Photoheterotroph
Photoheterotrophs
are
heterotroph
Heterotroph
A heterotroph is an organism that cannot fix carbon and uses organic carbon for growth. This contrasts with autotrophs, such as plants and algae, which can use energy from sunlight or inorganic compounds to produce organic compounds such as carbohydrates, fats, and proteins from inorganic carbon...
ic organisms that use light for energy, but cannot use carbon dioxide as their sole carbon source. Consequently, they use organic compounds from the environment to satisfy their carbon requirements. They use compounds such as carbohydrates, fatty acids and alcohols as their organic "food". Examples are
purple non-sulfur bacteria
Purple bacteria
Purple bacteria or purple photosynthetic bacteria are proteobacteria that are phototrophic, that is capable of producing energy through photosynthesis...
,
green non-sulfur bacteria
Chloroflexi
Chloroflexi is one of four classes of bacteria in the phylum Chloroflexi, known as filamentous green non-sulfur bacteria. They produce energy from light and are named for their green pigment, usually found in photosynthetic bodies called chlorosomes....
and
heliobacteria
Heliobacteria
The heliobacteria are phototrophic, that is to say, they convert light energy into chemical energy by photosynthesis; they use a PSI type reaction center. The primary pigment involved is bacteriochlorophyll g, which is unique to the group and has a unique absorption spectrum; this gives the...
.
Flowchart
Autotroph

Autotroph

An autotroph, or producer, is an organism that produces complex organic compounds from simple inorganic molecules using energy from light or inorganic chemical reactions . They are the producers in a food chain, such as plants on land or algae in water...




Chemoautotroph
Photoautotroph

Heterotroph

Heterotroph

A heterotroph is an organism that cannot fix carbon and uses organic carbon for growth. This contrasts with autotrophs, such as plants and algae, which can use energy from sunlight or inorganic compounds to produce organic compounds such as carbohydrates, fats, and proteins from inorganic carbon...




Chemoheterotroph
Photoheterotroph
Sources
University of Wisconsin, Madison Microbiology Online Textbook