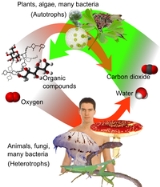 Autotroph
An
autotroph
, or
producer
, is an
organism
Organism
In biology, an organism is any contiguous living system . In at least some form, all organisms are capable of response to stimuli, reproduction, growth and development, and maintenance of homoeostasis as a stable whole.An organism may either be unicellular or, as in the case of humans, comprise...
that produces complex
organic compound
Organic compound
An organic compound is any member of a large class of gaseous, liquid, or solid chemical compounds whose molecules contain carbon. For historical reasons discussed below, a few types of carbon-containing compounds such as carbides, carbonates, simple oxides of carbon, and cyanides, as well as the...
s (such as
carbohydrate
Carbohydrate
A carbohydrate is an organic compound with the empirical formula ; that is, consists only of carbon, hydrogen, and oxygen, with a hydrogen:oxygen atom ratio of 2:1 . However, there are exceptions to this. One common example would be deoxyribose, a component of DNA, which has the empirical...
s,
fat
Fat
Fats consist of a wide group of compounds that are generally soluble in organic solvents and generally insoluble in water. Chemically, fats are triglycerides, triesters of glycerol and any of several fatty acids. Fats may be either solid or liquid at room temperature, depending on their structure...
s, and
protein
Protein
Proteins are biochemical compounds consisting of one or more polypeptides typically folded into a globular or fibrous form, facilitating a biological function. A polypeptide is a single linear polymer chain of amino acids bonded together by peptide bonds between the carboxyl and amino groups of...
s) from simple
inorganic molecules
Inorganic compound
Inorganic compounds have traditionally been considered to be of inanimate, non-biological origin. In contrast, organic compounds have an explicit biological origin. However, over the past century, the classification of inorganic vs organic compounds has become less important to scientists,...
using energy from light (by
photosynthesis
Photosynthesis
Photosynthesis is a chemical process that converts carbon dioxide into organic compounds, especially sugars, using the energy from sunlight. Photosynthesis occurs in plants, algae, and many species of bacteria, but not in archaea. Photosynthetic organisms are called photoautotrophs, since they can...
) or inorganic chemical reactions (
chemosynthesis
Chemosynthesis
In biochemistry, chemosynthesis is the biological conversion of one or more carbon molecules and nutrients into organic matter using the oxidation of inorganic molecules or methane as a source of energy, rather than sunlight, as in photosynthesis...
). They are the
producers
Primary production
400px|thumb|Global oceanic and terrestrial photoautotroph abundance, from September [[1997]] to August 2000. As an estimate of autotroph biomass, it is only a rough indicator of primary production potential, and not an actual estimate of it...
in a
food chain
Food chain
A food web depicts feeding connections in an ecological community. Ecologists can broadly lump all life forms into one of two categories called trophic levels: 1) the autotrophs, and 2) the heterotrophs...
, such as
plant
Plant
Plants are living organisms belonging to the kingdom Plantae. Precise definitions of the kingdom vary, but as the term is used here, plants include familiar organisms such as trees, flowers, herbs, bushes, grasses, vines, ferns, mosses, and green algae. The group is also called green plants or...
s on land or
algae
Algae
Algae are a large and diverse group of simple, typically autotrophic organisms, ranging from unicellular to multicellular forms, such as the giant kelps that grow to 65 meters in length. They are photosynthetic like plants, and "simple" because their tissues are not organized into the many...
in water. They are able to make their own food and can
fix carbon
Carbon fixation
In biology, carbon fixation is the reduction of carbon dioxide to organic compounds by living organisms. The obvious example is photosynthesis. Carbon fixation requires both a source of energy such as sunlight, and an electron donor such as water. All life depends on fixed carbon. Organisms that...
. Therefore, they do not use organic compounds as an energy source or a
carbon
Carbon
Carbon is the chemical element with symbol C and atomic number 6. As a member of group 14 on the periodic table, it is nonmetallic and tetravalent—making four electrons available to form covalent chemical bonds...
source. Autotrophs can reduce
carbon dioxide
Carbon dioxide
Carbon dioxide is a naturally occurring chemical compound composed of two oxygen atoms covalently bonded to a single carbon atom...
(add hydrogen to it) to make organic compounds.