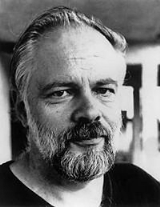 Philip K. Dick
Philip Kindred Dick
was an American novelist, short story writer and essayist whose published work is almost entirely in the science fiction genre. Dick explored sociological, political and
metaphysical
Metaphysics
Metaphysics is a branch of philosophy concerned with explaining the fundamental nature of being and the world, although the term is not easily defined. Traditionally, metaphysics attempts to answer two basic questions in the broadest possible terms:...
themes in novels dominated by
monopolistic
Monopoly
A monopoly exists when a specific person or enterprise is the only supplier of a particular commodity...
corporations,
authoritarian governments
Authoritarianism
Authoritarianism is a form of social organization characterized by submission to authority. It is usually opposed to individualism and democracy...
and altered states. In his later works Dick's thematic focus strongly reflected his personal interest in metaphysics and
theology
Theology
Theology is the systematic and rational study of religion and its influences and of the nature of religious truths, or the learned profession acquired by completing specialized training in religious studies, usually at a university or school of divinity or seminary.-Definition:Augustine of Hippo...
. He often drew upon his own life experiences in addressing the nature of
drug abuse
Drug abuse
Substance abuse, also known as drug abuse, refers to a maladaptive pattern of use of a substance that is not considered dependent. The term "drug abuse" does not exclude dependency, but is otherwise used in a similar manner in nonmedical contexts...
,
paranoia
Paranoia
Paranoia [] is a thought process believed to be heavily influenced by anxiety or fear, often to the point of irrationality and delusion. Paranoid thinking typically includes persecutory beliefs, or beliefs of conspiracy concerning a perceived threat towards oneself...
and
schizophrenia
Schizophrenia
Schizophrenia is a mental disorder characterized by a disintegration of thought processes and of emotional responsiveness. It most commonly manifests itself as auditory hallucinations, paranoid or bizarre delusions, or disorganized speech and thinking, and it is accompanied by significant social...
, and
transcendental
Transcendence (philosophy)
In philosophy, the adjective transcendental and the noun transcendence convey the basic ground concept from the word's literal meaning , of climbing or going beyond, albeit with varying connotations in its different historical and cultural stages...
experiences in novels such as
A Scanner Darkly
A Scanner Darkly
A Scanner Darkly is a BSFA Award winning 1977 science fiction novel by American writer Philip K. Dick. The semi-autobiographical story is set in a dystopian Orange County, California, in the then-future of June 1994...
and
VALIS
VALIS
VALIS is a 1981 science fiction novel by Philip K. Dick. The title is an acronym for Vast Active Living Intelligence System, Dick's gnostic vision of one aspect of God....
.
The novel
The Man in the High Castle
The Man in the High Castle
The Man in the High Castle is a science fiction alternate history novel by American writer Philip K. Dick. It won a Hugo Award in 1963 and has since been translated into many languages....
bridged the genres of alternate history and science fiction, earning Dick a
Hugo Award for Best Novel
Hugo Award for Best Novel
The Hugo Awards are given every year by the World Science Fiction Society for the best science fiction or fantasy works and achievements of the previous year. The award is named after Hugo Gernsback, the founder of the pioneering science fiction magazine Amazing Stories, and was once officially...
in 1963.
Don't try to solve serious matters in the middle of the night.

"What The Dead Men Say" (1964)
I, for one, bet on science as helping us. I have yet to see how it fundamentally endangers us, even with the H-bomb lurking about. Science has given us more lives than it has taken; we must remember that.

"Self Portrait" (1968), reprinted in The Shifting Realities of Philip K. Dick (1995), ed. Lawrence Sutin
Spinoza saw... that if a falling stone could reason, it would think, "I want to fall at the rate of thirty-two feet per second."

"The Android and the Human" (1972), reprinted in The Dark-Haired Girl (1988) and in The Shifting Realities of Philip K. Dick (1995), ed. Lawrence Sutin
My major preoccupation is the question, 'What is reality?' Many of my stories and novels deal with psychotic states or drug-induced states by which I can present the concept of a multiverse rather than a universe. Music and sociology are themes in my novels, also radical political trends; in particular I've written about fascism and my fear of it.

Statement of 1975 quoted in the Dictionary of Literary Biography (1981) vol. 8, part 1