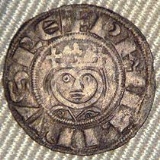 Philip II of France
Philip II Augustus
was the King of France from 1180 until his death. A member of the
House of Capet
House of Capet
The House of Capet, or The Direct Capetian Dynasty, , also called The House of France , or simply the Capets, which ruled the Kingdom of France from 987 to 1328, was the most senior line of the Capetian dynasty – itself a derivative dynasty from the Robertians. As rulers of France, the dynasty...
, Philip Augustus was born at
Gonesse
Gonesse
Gonesse is a commune in the northeastern suburbs of Paris, France. It is located from the centre of Paris.The commune lies immediately north of Le Bourget Airport and southwest of Charles de Gaulle International Airport.-History:...
in the
Val-d'Oise
Val-d'Oise
Val-d'Oise is a French department, created in 1968 after the split of the Seine-et-Oise department and located in the Île-de-France region. In local slang, it is known as "quatre-vingt quinze" or "neuf cinq"...
, the son of
Louis VII
Louis VII of France
Louis VII was King of France, the son and successor of Louis VI . He ruled from 1137 until his death. He was a member of the House of Capet. His reign was dominated by feudal struggles , and saw the beginning of the long rivalry between France and England...
and his third wife,
Adela of Champagne
Adèle of Champagne
Adèle of Champagne , also known as Adelaide and Alix, was the third wife of Louis VII of France and the mother of his only male heir, the future Philip II...
. He was originally nicknamed
Dieudonné
—the God-given—as he was the first son of Louis VII late in his father's life.
Philip was one of the most successful medieval
French monarchs
in expanding the royal demesne and the influence of the monarchy.
1179 Philip II is crowned King of France.
1189 Philip II of France and Richard I of England begin to assemble troops to wage the Third Crusade.
1214 Battle of Bouvines: in France, Philip II of France defeats John of England.
1223 Louis VIII becomes King of France upon the death of his father, Philip II of France.