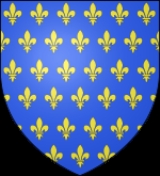 House of Capet
The
House of Capet
, or
The Direct Capetian Dynasty
, , also called
The House of France
(
la maison de France
), or simply
the Capets
, which ruled the
Kingdom of France
Kingdom of France
The Kingdom of France was one of the most powerful states to exist in Europe during the second millennium.It originated from the Western portion of the Frankish empire, and consolidated significant power and influence over the next thousand years. Louis XIV, also known as the Sun King, developed a...
from 987 to 1328, was the most senior line of the
Capetian dynasty
Capetian dynasty
The Capetian dynasty , also known as the House of France, is the largest and oldest European royal house, consisting of the descendants of King Hugh Capet of France in the male line. Hugh Capet himself was a cognatic descendant of the Carolingians and the Merovingians, earlier rulers of France...
– itself a derivative dynasty from the Robertians. As rulers of France, the dynasty succeeded the
Carolingian
Carolingian
The Carolingian dynasty was a Frankish noble family with origins in the Arnulfing and Pippinid clans of the 7th century AD. The name "Carolingian", Medieval Latin karolingi, an altered form of an unattested Old High German *karling, kerling The Carolingian dynasty (known variously as the...
dynasty. The name derives from the nickname of Hugh, the first Capetian King, who was known as
Hugh Capet
and was a cognatic descendant of the Carolingians.
The direct House of Capet came to an end in 1328, when the three sons of
Philip IV
Philip IV of France
Philip the Fair was, as Philip IV, King of France from 1285 until his death. He was the husband of Joan I of Navarre, by virtue of which he was, as Philip I, King of Navarre and Count of Champagne from 1284 to 1305.-Youth:A member of the House of Capet, Philip was born at the Palace of...
all failed to produce surviving male heirs to the French throne.