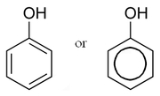 Phenols
In
organic chemistry
Organic chemistry
Organic chemistry is a subdiscipline within chemistry involving the scientific study of the structure, properties, composition, reactions, and preparation of carbon-based compounds, hydrocarbons, and their derivatives...
,
phenols
, sometimes called
phenolics
, are a class of chemical compounds consisting of a
hydroxyl
Hydroxyl
A hydroxyl is a chemical group containing an oxygen atom covalently bonded with a hydrogen atom. In inorganic chemistry, the hydroxyl group is known as the hydroxide ion, and scientists and reference works generally use these different terms though they refer to the same chemical structure in...
group
Functional group
In organic chemistry, functional groups are specific groups of atoms within molecules that are responsible for the characteristic chemical reactions of those molecules. The same functional group will undergo the same or similar chemical reaction regardless of the size of the molecule it is a part of...
(—
O
Oxygen
Oxygen is the element with atomic number 8 and represented by the symbol O. Its name derives from the Greek roots ὀξύς and -γενής , because at the time of naming, it was mistakenly thought that all acids required oxygen in their composition...
H
Hydrogen
Hydrogen is the chemical element with atomic number 1. It is represented by the symbol H. With an average atomic weight of , hydrogen is the lightest and most abundant chemical element, constituting roughly 75% of the Universe's chemical elemental mass. Stars in the main sequence are mainly...
)
bonded
Chemical bond
A chemical bond is an attraction between atoms that allows the formation of chemical substances that contain two or more atoms. The bond is caused by the electromagnetic force attraction between opposite charges, either between electrons and nuclei, or as the result of a dipole attraction...
directly to an
aromatic hydrocarbon
Aromatic hydrocarbon
An aromatic hydrocarbon or arene is a hydrocarbon with alternating double and single bonds between carbon atoms. The term 'aromatic' was assigned before the physical mechanism determining aromaticity was discovered, and was derived from the fact that many of the compounds have a sweet scent...
group. The simplest of the class is
phenol
Phenol
Phenol, also known as carbolic acid, phenic acid, is an organic compound with the chemical formula C6H5OH. It is a white crystalline solid. The molecule consists of a phenyl , bonded to a hydroxyl group. It is produced on a large scale as a precursor to many materials and useful compounds...
also called as carbolic acid .
Although similar to alcohols, phenols have unique properties and are not classified as alcohols (since the hydroxyl group is not bonded to a
saturated
carbon atom).