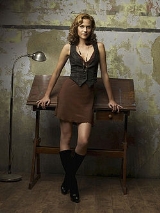 Peyton Sawyer
Peyton Elizabeth Scott
is a
fictional character
Fictional character
A character is the representation of a person in a narrative work of art . Derived from the ancient Greek word kharaktêr , the earliest use in English, in this sense, dates from the Restoration, although it became widely used after its appearance in Tom Jones in 1749. From this, the sense of...
from
The CW
The CW Television Network
The CW Television Network is a television network in the United States launched at the beginning of the 2006–2007 television season. It is a joint venture between CBS Corporation, the former owners of United Paramount Network , and Time Warner's Warner Bros., former majority owner of The WB...
television series
One Tree Hill
One Tree Hill (TV series)
One Tree Hill is an American television drama created by Mark Schwahn, which premiered on September 23, 2003, on The WB Television Network. After its third season, The WB merged with UPN to form The CW Television Network, and, since September 27, 2006, the network has been the official broadcaster...
, portrayed by
Hilarie Burton
Hilarie Burton
Hilarie Ross Burton is an American actress. A former host of MTV's Total Request Live, she portrayed Peyton Sawyer on The CW drama One Tree Hill for six seasons...
. A talented visual and musical artist, Peyton has a heavily-guarded heart due to the number of lost loved ones in her life. She goes through life changes throughout the series as she finds love from
Lucas Scott
Lucas Scott
Lucas Eugene Scott is a fictional character and formerly the main protagonist from The CW television series One Tree Hill, portrayed by Chad Michael Murray. Lucas is a talented basketball player and writer. He is rival to half-brother Nathan Scott, before the two eventually become close friends...
, to Jake Jagielski, then back to Lucas again.
The character is said to have "blown away every stereotype the media has placed on cheerleaders".
Casting
For two years, Burton was "one of the hottest VJs on
MTV
MTV
MTV, formerly an initialism of Music Television, is an American network based in New York City that launched on August 1, 1981. The original purpose of the channel was to play music videos guided by on-air hosts known as VJs....
- both in looks and onscreen activities". She was the host of her own show,
MTV's Hits
, helped launch the network's
Beach House
from the New Jersey shore in May 2002 and was a regular on
TRL
Total Request Live
Total Request Live is a television series on MTV that featured popular music videos. TRL was MTV's prime outlet for music videos as the network continues to concentrate on reality-based programming. In addition to music videos, TRL featured daily guests...
. Her MTV VJ job became a "door-opener" for other career opportunities, and led to her being cast as Peyton. Burton, who favored acting as a career, auditioned for the part of
Ed Harris
Ed Harris
Edward Allen "Ed" Harris is an American actor, writer, and director, known for his performances in Appaloosa, Radio, The Rock, The Abyss, Apollo 13, A Beautiful Mind, A History of Violence, and The Truman Show. Harris has also narrated commercials for The Home Depot and other companies...
's daughter in the film
Radio
. She was encouraged by subsequent callbacks, but did not land the role. The casting department, however, remembered her and asked her to send an audition tape for
One Tree Hill
, and producers promised her a character that she "could sink her teeth into" – Peyton. "[Burton] is an old soul," said
Mark Schwahn
Mark Schwahn
Mark Schwahn is an American screenwriter, director and producer. He is best known as creator, head writer and executive producer of The CW Network drama series One Tree Hill.-Career:...
, the series' creator. "She's great. She's always just thrilled to do the job, even though she's kind of new to acting. She's just a joy to be around." Burton said, "I've never studied acting or anything because I've been so lucky with MTV. I'm convinced I got the chance to be on
One Tree Hill
because I did a guest thing on
Dawson's Creek
Dawson's Creek
Dawson's Creek is an American teen drama television series which debuted on January 20, 1998, on The WB Television Network and was produced by Sony Pictures Television. The show is set in the fictional seaside town of Capeside, Massachusetts, and in Boston, Massachusetts, during the later seasons...
as myself, when the cast appeared at the MTV Beach House." She added, "And my only scene was with
Chad Michael Murray
Chad Michael Murray
Chad Michael Murray is an American actor, former fashion model and spokesperson. Murray is well known for portraying Lucas Scott in The CW young adult drama series One Tree Hill, in addition to the commercially successful films A Cinderella Story, Freaky Friday and House of Wax...
(
Lucas Scott
Lucas Scott
Lucas Eugene Scott is a fictional character and formerly the main protagonist from The CW television series One Tree Hill, portrayed by Chad Michael Murray. Lucas is a talented basketball player and writer. He is rival to half-brother Nathan Scott, before the two eventually become close friends...
). So, now The Chad and I are reunited. How bizarre is that?"
Regarding her new life as an actress, Burton said, "Actors like to think their lives are very difficult, but they're not. Yeah, you're running around a lot. But I used to work in a supermarket and in a bar. That was hard. This is fun."
Personality and wardrobe
Peyton has been described as beautiful, smart, fiercely independent, and as someone who is often a victim on the series. "My character is a good girl, but she is also kind of [sexually] suggestive. This is definitely not your mom's drama," said Burton. "She's very contradictory. Yes, she is a cheerleader, but she also goes home and listens to punk music. She's into really dark art and probably rips the heads off of
Barbie
Barbie
Barbie is a fashion doll manufactured by the American toy-company Mattel, Inc. and launched in March 1959. American businesswoman Ruth Handler is credited with the creation of the doll using a German doll called Bild Lilli as her inspiration....
dolls. Basically, she's a train wreck." Burton said the character may be "a train wreck" but that she was "so glad [that someone was] putting a girl like her on TV. You don't have to be one thing. Peyton has made that OK".
Burton said she herself was torn between cheerleading and hobbies which would not necessarily be considered hobbies of a cheerleader while in high school. "That's part of the reason I took the show, because I was like, holy cow, this was me in high school." Burton said there are always
stereotype
Stereotype
A stereotype is a popular belief about specific social groups or types of individuals. The concepts of "stereotype" and "prejudice" are often confused with many other different meanings...
s in high school. "People get put into groups. "You're a jock, you're a cheerleader, you're a freak, you're in the drama department. I had a lot of trouble fitting into those groups when I was in high school because I wanted to be a part of all of them," she said. "I think that's how a lot of people are. Some people have the nerve to go ahead and branch out and be a part of everything and some people don't." She said
One Tree Hill
represents people who are multidimensional and who like more than one thing. "People do like more than one thing. It's nice that [
One Tree Hill
] shows that," she stated.
Burton said that portraying a younger age (16 at 21) was not a problem, except for one aspect: "My only concern was when I had to put on my cheerleading uniform again. You forget how nerve-racking that is – the vulnerability of wearing bloomers." She said she reread some of her journals from high school to get "into that place" as a high school student again, and that Peyton being similar to how she was in high school helped. "It also helped that the town where we film, Wilmington, isn't too different from the hometown where I grew up in Virginia. Both [are] small towns where high school sports played a big part," she stated.
Initially, the character was not well-received. She came off as too angry and bitchy to some viewers. "At first, the audience rejected her character because, well, she was mean to our hero (Lucas)," said Schwann. "And she's pretty and popular." Burton stated, "She was catching a lot of flack. [People were saying], 'Oh, she's this cheerleader. She's like, you know, this cute little girl. She wants to be all hard and angry.'" Schwann decided to soften the character a little, which included bonding her to character
Haley James
Haley James Scott
Haley Bob James Scott is a fictional character on The CW television series One Tree Hill, portrayed by Bethany Joy Galeotti. Haley is initially introduced as Lucas Scott's best friend and eventual sister-in-law after her marriage to Nathan Scott in her junior year of high school...
, Lucas's best friend, and the character eventually caught on. "[That was] our challenge, because she [was designed as, and became] the moral center of the show," said Schwahn.
The character's wardrobe originally encompassed a rocker yet still feminine look. She would drive around in a vintage car, listening to loud rock, often wearing a
Ramones
Ramones
The Ramones were an American rock band that formed in the New York City neighborhood of Forest Hills, Queens, in 1974. They are often cited as the first punk rock group...
T-shirt. "[Burton] – I just love her. Working with her (has) been wonderful. For her, [Peyton's] more of the do-it-yourself girl. She's so into music, art, she's such a rich character that there are a lot of different things to draw on," stated
One Tree Hill's
costume designer, Carol Cutshall. "Sometimes she'll just be in a plaid flannel shirt because she's painting. Some days she'll be in a concert T-shirt. We have to find the right concert T-shirt. I do alter them a lot." Cutshall would take a men's concert T-shirt, and have Burton put it on. "She's also very, very slender, so I'll taper them down to her figure. We come out of it with kind of a one-o-f-a-kind rock T-shirt. I take something and then turn it into my own piece of clothing," said Cutshall. Peyton's main brands have been
Cheap Monday
Cheap Monday
Cheap Monday is a Swedish clothing label. It was founded in 2000 by Örjan Andersson and Adam Friberg, originally as a second-hand clothing store, in a suburb of Stockholm. The clothes started selling at March 10, 2004, and from the beginning in only one store called Weekday. The name of the brand...
,
Levi's
Levi Strauss & Co.
Levi Strauss & Co. is a privately held American clothing company known worldwide for its Levi's brand of denim jeans. It was founded in 1853 when Levi Strauss came from Buttenheim, Franconia, to San Francisco, California to open a west coast branch of his brothers' New York dry goods business...
, some
Diesel
and
Miss Sixty
.
Schwahn eventually began to change the character's styles, especially in Season 4 and up. Burton said, "Peyton's wardrobe has changed quite a bit, which is nice for me, because I am a... In real-life I am [several years older], and was wearing T-shirts and jeans, and Converse sneakers for five years." She said that after some time, it weighed on her femininity. With the four-year timeline jump, Peyton got to wear more skirts and dresses, and shorter ones. "Boobs aren't bigger, but legs are out," said Burton.
Schwahn had Peyton's personality complement Lucas's, and described their love story as a
soulmate
Soulmate
A soulmate is believed by some to be the person with whom one has a feeling of deep or natural affinity, similarity, love, intimacy, sexuality, spirituality, or compatibility. A related concept is that of the twin flame or twin soul, which is thought to be the ultimate soulmate...
/meant to be one. Burton explained her character's attraction to Lucas, saying she sees Peyton
as questioning a lot about her life, as Murray envisions Lucas doing, and thinks Peyton often differs from her friends on what is important – much like Murray has said he felt as a child.
Artwork
Peyton was further designed as an artist, in order to add more depth to the character and express what she cannot or does not want to say. It also complemented her romance with Lucas, as both are deep thinkers who use their skills to speak to the world. The actual artist of Peyton's works is Helen Ward. "Before joining [
One Tree Hill
], I had already worked as a set designer, storyboard artist and illustrator for a number of films. But I still had to try out for the job," she said. "I think they asked a bunch of people to give their shot at a particular drawing. They were pretty specific about what they were looking for. I guess my work was closest. I got the job."
Ward said that although Burton is a talented actress and has done a great job with the character, she did not feel she had to get to know her in order to proceed with the drawings. "It was the character I was drawing for and I learned what I needed to from the show and the scripts," she stated. In describing the process of drawing for a particular episode, she said she would mostly get input from Robbie Beck, the props master for the show. "Schwahn always knew exactly what he wanted and it would be described in the script. So Robbie would send me the info and I would initially do some quick sketches," stated Ward. All of their communication was via
e-mail
E-mail
Electronic mail, commonly known as email or e-mail, is a method of exchanging digital messages from an author to one or more recipients. Modern email operates across the Internet or other computer networks. Some early email systems required that the author and the recipient both be online at the...
. "I wish I could say something more exciting, like [Burton] and I would chat about what Peyton would be drawing," stated Ward, "but the only time I ever spoke with her was when they were filming at my house in Wilmington (which oddly enough was Peyton's house on the show.)" Despite this, Ward said she did not mention to Burton that she was the artist behind Peyton's artwork.
For scenes where Peyton is drawing or painting, Ward stated, "...there would likely be very light lines for her to follow. Often I would give a finished version and an unfinished for this purpose. If I remember correctly, it was usually the words that I left undone." Regarding the evolution of Peyton's artwork over the years, she said, "I look back at the first season and think the drawings are awful! I certainly became more comfortable working in her style, but I think her style also evolved to fit mine. Does that make sense?" Ward clarified, "Initially I was trying to do something that just didn't flow well from me. The drawings were too clean. A little forced and not at all the way I liked to work." Ward said that as the show progressed, she began to put more of my own style in them, and became more comfortable and the work got better. In Season 3, the artwork was promoted through the album
Friends with Benefit.
In Season 6, it is seen in color instead of in black and white, to reflect the character's happiness.
Regarding most people not knowing she is the actual artist of the artwork, Ward stated:
And who am I going to tell that I am behind the artwork? I don't think most people think about all the work that happens behind the scenes. And it should be that way. The viewers should be caught up in the show. Anyway, it doesn't come up much. I do have a niece who thinks it's pretty cool. And I impressed a bunch of third-graders at career day at my daughter's school. But they were much more excited by the work I did for the Hannah Montana movie

Hannah Montana: The Movie

Hannah Montana: The Movie is a 2009 Walt Disney Pictures musical comedy film based on the Disney Channel show Hannah Montana which was released on April 10, 2009, by Walt Disney Pictures, it was the second Disney Channel series to have a movie for Walt Disney Pictures. The film was directed by...


. Go figure...And drawing for [One Tree Hill] was exceptional. It wasn't just a one-time gig for a movie that is out in theaters for a couple weeks. It was ongoing and evolving. Although I had nothing to do with the concepts behind Peyton's art, and her drawings are a tiny part of the show, I have to admit I have loved hearing that people out there have connected with the artwork. I have received e-mails from [One Tree Hill] fans who say they love to draw and the artwork on the show is really important to them. How cool is that?!
Overview
Peyton's true parentage and other family ties are not discovered until seasons 2, 3, 4 and 6. She is the biological daughter of Ellie Harp and Mick Wolf, and the adoptive daughter of Larry and Anna Sawyer. She is half-sister to Derek Sommers via Mick, and her middle name comes from her biological mother. When Peyton is 8, her adoptive mother (at the time known to her as her birth mother), Anna Sawyer, dies by running a red light on her way to pick her up from school. She soon forges a powerful friendship with
Brooke Davis
Brooke Davis
Brooke Penelope Baker is a fictional character on The CW television series One Tree Hill, portrayed by Sophia Bush. Throughout her experiences, Brooke grows from a wild and generally carefree girl to a more mature and grounded young woman...
, who comforts her over Anna's death, and they become best friends.
As the show opens, Peyton's boyfriend is
Nathan Scott
Nathan Scott
Nathan Royal Scott is a fictional character on The CW television series One Tree Hill, portrayed by James Lafferty. He was the second protagonist during the first six seasons; but following Lucas Scott's departure, Nathan has become the main character and central figure of the show. Nathan is Lucas...
. She soon breaks up with him and falls in love with Nathan's rival and half-brother,
Lucas Scott
Lucas Scott
Lucas Eugene Scott is a fictional character and formerly the main protagonist from The CW television series One Tree Hill, portrayed by Chad Michael Murray. Lucas is a talented basketball player and writer. He is rival to half-brother Nathan Scott, before the two eventually become close friends...
. Peyton drives a 1963
Mercury Comet
Mercury Comet
The Mercury Comet is an automobile produced by the Mercury division of the Ford Motor Company from 1960–1969 and 1971-1977 — variously as either a compact or an intermediate car.The Comet was based on the compact Ford Falcon and later the Ford Maverick...
convertible, which becomes a major plot point as it is because of it that she meets and first speaks to Lucas.
Early seasons
During the first season, 16-year-old Peyton Sawyer is girlfriend to popular jock Nathan, but they soon break up when Peyton reasons that their relationship is more about the "benefits" than love, and is tired of his cruelty. In addition, she realizes that she does not want to be the star basketball player's girlfriend anymore. She has a romantic interest in her ex's brooding half brother, Lucas. Through various interactions with Lucas, she finds that he is kind and thoughtful towards her. However, when he confesses the depths of his need and want for her, she becomes scared and runs from him; Lucas is left heartbroken and desperate. Peyton later goes to visit Lucas and professes that she wants what he wants, but it is too late; Brooke, her best friend, has now become romantically involved with Lucas. Lucas and Peyton eventually cannot resist each other, romantic-wise, and become secret lovers (though no sex is involved). On the night that they decide to tell Brooke, Lucas gets into a car accident and subsequently goes into a
coma
Coma
In medicine, a coma is a state of unconsciousness, lasting more than 6 hours in which a person cannot be awakened, fails to respond normally to painful stimuli, light or sound, lacks a normal sleep-wake cycle and does not initiate voluntary actions. A person in a state of coma is described as...
, which brings back painful memories for Peyton because her mother had died in a car crash. When Lucas finally comes home from the hospital, he breaks up with Brooke in order to be with Peyton. Peyton soon ends their affair, however, after it is clear that Brooke has found out about the romance and she wants to spare Brooke's pain. Peyton continues to avoid Lucas while Brooke continues to avoid Peyton. Brooke declares her friendship with Peyton to be over. Peyton begins spending more time with Luke's best friend,
Haley James
Haley James Scott
Haley Bob James Scott is a fictional character on The CW television series One Tree Hill, portrayed by Bethany Joy Galeotti. Haley is initially introduced as Lucas Scott's best friend and eventual sister-in-law after her marriage to Nathan Scott in her junior year of high school...
, and with Jake Jagielski, along with Jake's daughter, Jenny. Eventually her friendship with Lucas is slowly reformed, and the two even attend a party together at Nathan's apartment. However, at the party, Peyton and Nicki, Jake's ex and Jenny's mother, fight. Peyton realizes Nicki is the girl Lucas hooked up with at a bar, shortly after she dumped him to spare Brooke's pain. Peyton is furious and feels betrayed, along with Brooke. This draws a wedge between Lucas and Peyton, but reconciles the friendship between Peyton and Brooke. The season ends with Peyton spending more time with Jake, and helping him escape from Nicki, who tries to take their daughter from Jake's grasp. Peyton's relationship with Lucas remains broken.
In Season 2, although at first she has initial success with getting the all-ages club TRIC opened, and with encouraging Haley to perform at the club, which eventually fuels Haley's desire to be a singer, Peyton begins to get involved with
cocaine
Cocaine
Cocaine is a crystalline tropane alkaloid that is obtained from the leaves of the coca plant. The name comes from "coca" in addition to the alkaloid suffix -ine, forming cocaine. It is a stimulant of the central nervous system, an appetite suppressant, and a topical anesthetic...
. She feels alone, as her father is away again, and she does not know where Jake is. She feels down that everyone is dealing with their issues and not helping her or realizing that she is upset or going through a difficult time in her life. She is accused of being a
lesbian
Lesbian
Lesbian is a term most widely used in the English language to describe sexual and romantic desire between females. The word may be used as a noun, to refer to women who identify themselves or who are characterized by others as having the primary attribute of female homosexuality, or as an...
by Felix Taggaro and faces public humiliation when he writes
DYKE
Dyke (slang)
Dyke is slang terminology referring to a lesbian or lesbianism. It originated as a derogatory label for a masculine woman, and this usage still exists. However, some attempt to use it in a manner they see as positive, or simply as a neutral synonym for lesbian...
on her locker, just so his sister, Anna Taggaro, will not be presumed a lesbian (it is later revealed that Anna is bisexual, though she also uses the word "
gay
Gay
Gay is a word that refers to a homosexual person, especially a homosexual male. For homosexual women the specific term is "lesbian"....
" to assert her sexuality). Hope comes for Peyton, who is in deep despair and about to buy some cocaine, when Jake comes back into her life; it turns out that an argument between Lucas and Peyton made Lucas realize that he had not been there for Peyton, and felt she needed someone else. As a result, he was the one who called Jake, knowing that Jake would have a positive effect on her. This does, and sparks a turnaround for Peyton, and she and Jake fall in love. This happiness is short-lived as Nicki comes back wanting custody of Jenny. Nicki eventually takes Jenny away from Jake and runs off, causing Jake to run after her, which leaves Peyton alone and heartbroken. Soon, someone named Ellie Harp gets in contact with Peyton saying that she is from
Alternative Press
magazine and wants to do an interview. When Peyton starts receiving some strange e-mails from someone named WATCHMEWATCHU, she begins to suspect that it is Ellie. Ellie, however, denies sending the e-mails and shockingly informs Peyton that she is Peyton's mother. The finale ends with a crying, bewildered Peyton on a beach, and Lucas coming to comfort her. "Looks like it's just me and you this summer," is his response, and the two share a meaningful hug.
In Season 3, Peyton learns that her biological mother is still alive and that her name is Ellie Harp. Lucas witnesses Ellie purchasing drugs, but he learns that she was buying them for medical reasons, as she has
breast cancer
Breast cancer
Breast cancer is cancer originating from breast tissue, most commonly from the inner lining of milk ducts or the lobules that supply the ducts with milk. Cancers originating from ducts are known as ductal carcinomas; those originating from lobules are known as lobular carcinomas...
. Meanwhile, Peyton is angry with Haley because she left Tree Hill to go on tour, but soon they make amends, and Peyton reveals that her hostility toward Haley was because she was the only one that came back out of all the people who have left her. Peyton soon grows close to Ellie, and they collaborate on a CD called
Friends with Benefit
, which benefits breast cancer research, and will also have a concert at TRIC. Haley is one of the performers. Unfortunately, Ellie dies before she sees the CD or the concert, leaving Peyton devastated. A school shooting breaks out later in the season ("
With Tired Eyes, Tired Minds, Tired Souls, We Slept
With Tired Eyes, Tired Minds, Tired Souls, We Slept (One Tree Hill episode)
"With Tired Eyes, Tired Minds, Tired Souls, We Slept " is the 16th episode of One Tree Hills third season. It first aired on The WB television network in the United States on March 1, 2006. It was written by Mark Schwahn and directed by Greg Prange...
"), where Peyton is left fighting for her life after being the one shot. Lucas and Nathan run inside the building to save Peyton and Haley; Lucas finds Peyton bleeding out of her leg inside the school's library. She cannot walk due to the injury, so escaping is out of the question. Lucas and Peyton stay in hiding, and Lucas wraps her leg, hoping to help the bleeding and pain subside. As Peyton is falling in and out of consciousness, he forces her to talk about a fun day she once had. Minutes later, after earning a promise from Lucas about everything being okay, Peyton loses hope of surviving, despite Lucas's promise to get her out of there alive, and kisses him, wanting to let him know that she loves him before she dies. Lucas returns the kiss and Peyton soon falls unconscious. Lucas, not wanting her to die, carries her out of the building, even at the risk of being killed by the shooter.
Before Ellie passed away, she left a piece of advice to Peyton regarding Peyton's love life. Peyton decides to give love another try and dates Pete Wentz from
Fall Out Boy
Fall Out Boy
Fall Out Boy is an American rock band from Wilmette, Illinois, formed in 2001. The band consists of vocalist, guitarist and composer Patrick Stump, bassist and lyricist Pete Wentz, guitarist Joe Trohman, and drummer Andy Hurley. The band released five studio albums from 2003–2008...
. Their relationship does not work out, since Pete is busy with touring. Peyton's father tells her to follow her heart and listen to it, so Peyton decides to give Jake a visit in Savannah; she knows that she still loves him and feels that this will be enough for her to be happy. She renews her relationship with Jake and Jenny, and even goes far enough to propose marriage to Jake, who gladly accepts. This happiness fades once Jake overhears Peyton say, "I love you, Lucas" in her sleep. Peyton is then forced to confront Jake about the kiss she and Lucas shared on the day of the shooting. Jake figures that while Peyton loves him, she is in love with Lucas. He tells her to go back to Tree Hill, and to find out if Lucas is still in her heart. If he is not, Jake promises to still be there, waiting. Peyton does as Jake has advised. In the finale, Brooke ends her friendship once again with Peyton after Peyton tells her that she still has romantic feelings for Lucas. Lucas later tells Brooke about the kiss in the library. At the end of the episode, Peyton burns pictures of herself with Brooke. She then picks up a picture of the three of them (herself, Brooke and Lucas) and burns it.
In Season 4, Peyton discovers that she has a half-brother named Derek. With prompting from Lucas, she agrees to meet with him. However, unknown to Peyton and everyone else, the guy she meets is not her half-brother but rather an Internet stalker who is the owner of the "WATCHMEWATCHU" emails and has been taking pictures of her, listening to her podcast, watching her on her webcam, and even going so far as to get a tattoo of Ellie's drawing of her on his back, making a prostitute dress like Peyton before they have sex. Unaware of all this, and in an attempt to be more trusting, Peyton accepts him. Lucas, on the other hand, soon grows suspicious of this 'Derek' when he catches him sniffing Peyton's hair during a hug and finds Peyton's jacket, which had gone missing, on the beaten prostitute still dressed as Peyton. Peyton soon realizes the truth, and, in a terrifying encounter, is manhandled and nearly raped by Psycho Derek. Lucas and the real Derek come to her rescue, pushing him out a window; by the time the police show up, he has disappeared. This series of events causes Peyton to withdraw from society, becoming scared and even skipping school and getting four locks on her bedroom door. Derek, who is in the
Marine Corps
Marine corps
A marine is a member of a force that specializes in expeditionary operations such as amphibious assault and occupation. The marines traditionally have strong links with the country's navy...
and is unwilling to open his heart to people due to having watched too many loved ones die, avoids Peyton until Lucas comes and talks to him about her. He and Peyton develop a healthy sibling relationship and he helps her come to terms with her fear, not only of Derek but of confessing her feelings to Lucas. Peyton is unwilling to ruin the friendship that she and Lucas have, especially until she is sure that he and Brooke are over. At Derek's encouragement, she asks Lucas to a banquet to honor Whitey, only to find out he is going with Brooke. Disappointed, she takes Derek instead. Derek tells her that he is being deployed to Iraq. That night, Lucas comes over to Peyton's to tell her that it is finally over between him and Brooke. She immediately confesses that she is in love with him, to which Lucas just says "Oh." It is not until after winning the state championship that Lucas realizes that it has always been Peyton he wants. Lucas declares Peyton his girlfriend, but their happiness is short-lived when Lucas has a heart attack that same night and almost dies. Peyton fears she will lose him like she has lost everyone else. However, Lucas "comes back to the living" for Peyton, and to tell her he loves her. She and Lucas soon decide to just be happy. They decide to make love, for the first time, during a party in the room where Peyton first rejected him, but they are interrupted when Peyton hears everyone cat-calling at what she thinks is a sex tape of her and Nathan. When Lucas and Peyton rush out to put an end to the tape, they, and everyone else, discover that it is in fact, of Nathan and Brooke. Peyton is enraged at Brooke and punches her, giving her a black eye. Later, while at home, she yells at Brooke that she did not ruin their friendship; Brooke ruined it a long time ago. Following this, Peyton decides to skip prom, but gets convinced not to do so by Nathan. As she walks to her door to answer it (thinking it is Lucas), the man behind the door turns around and it is actually her stalker, Psycho Derek. He ties her up in her basement and proceeds to make a mock prom for them. Brooke arrives, knowing that Peyton would never skip prom. Psycho Derek tries to kill Brooke, but they eventually defeat him and he ends up in jail. She later forgives him after discovering disturbing facts about his past. Lucas and Peyton eventually have sex together for the first time. After making sure with Lucas, Peyton decides to take an internship in
L.A.
Los Angeles, California
Los Angeles , with a population at the 2010 United States Census of 3,792,621, is the most populous city in California, USA and the second most populous in the United States, after New York City. It has an area of , and is located in Southern California...
and thus spends the whole summer with Brooke.
Missing years
One year after Season 4, Peyton is surprised by Lucas who comes to LA to propose to her. Feeling it is too soon, she says "someday", unknowingly setting their breakup in motion. One year later, Lucas's novel becomes a
bestseller
Bestseller
A bestseller is a book that is identified as extremely popular by its inclusion on lists of currently top selling titles that are based on publishing industry and book trade figures and published by newspapers, magazines, or bookstore chains. Some lists are broken down into classifications and...
and he is scheduled to have a book signing in L.A. Having missed her, he calls her and invites her to come to the signing. Peyton comes, but witnesses Lindsey Strauss giving Lucas a congratulatory kiss, assumes that Lindsey and Lucas are in a relationship, and leaves thinking there is no hope for her and Lucas to be together. Lucas thinks Peyton did not bother to come to the book signing, and consequently goes on his first date with Lindsey the same night and begins dating her, despite his feelings for Peyton. Peyton runs into Julian Baker, whom she had met the day after her breakup with Lucas. They talk and he invites her to a work party he has to attend that night. Julian and her date for a while after, to the point where she moves in with him, but he ends it after the realization that she will never get over Lucas.
Final seasons
In Season 5, it is four years later since high school graduation. Peyton, now 22, works as the assistant to the assistant, as her boss likes to reminds her. Unable to make it in the music business and fearing to lose her integrity, she decides to quit and goes back to Tree Hill with her old best friend, Brooke Davis, and soon moves in with her. Her reunion with Lucas turns out to not be what she wished for, as he has a new girlfriend, Lindsey, and it becomes obvious she still loves him. She forces Nathan to come to terms with what he has become. Finally feeling at home, and with the moral help from Lucas and the financial wealth of Brooke, she starts her own label at TRIC. She recruits her first band, led by a guy named Jason. Things get rocky and Haley convinces her to fire him and keep Mia, the keyboard player, as she is the true heart of the group. She also struggles with her feelings towards Lucas, especially since his girlfriend tries to be nice to her. Peyton soon antagonizes her. After visiting her old house and remembering how she thought she would always be with Lucas, she becomes bitter. This then escalates into a fight with him as he confronts her about not being the same Peyton he used to know; she retorts that he gave up on the two of them. She later reveals to Lucas that she came back to Tree Hill for him and that she still loves him. She kisses him, and he kisses back but when she goes by his house, she finds out he has just proposed marriage to Lindsey. After the initial shock, she tells him that if it is what he wants, she will bury her romantic feelings for him. However, she later winds up lashing out at Lindsey. She regrets her hostile remarks toward Lindsey when she discovers Lindsey's dad died from cancer, which prompts the two to start from a clean slate regarding their interaction. Peyton tricks her former boss into helping her launch Mia under her label. On Lucas and Lindsey's wedding day, Peyton puts on a brave face while watching her true love say "I do" to another woman. Although the wedding ends up falling apart, she is still hurt because Lucas went through with his wedding vows. She focuses on making Haley's new album and helping Brooke with baby Angie. Feeling guilty, she tries to have Lindsey reconcile with Lucas, but Lindsey tells her to read his new book, which she says is about Peyton. One night, Peyton finds Lucas drunk at a bar and gets him home, where he utters that he hates her. Distraught, she starts to spend her time throwing water balloons on people as a form of therapy and later paints "Love song" from
The Cure
The Cure
The Cure are an English rock band formed in Crawley, West Sussex in 1976. The band has experienced several line-up changes, with frontman, vocalist, guitarist and principal songwriter Robert Smith being the only constant member...
on the Rivercourt to tell Lucas that she will always be in love with him, after which he apologizes for saying that he hates her. During this time, Peyton also gets word from Mia about a man who claims to have known her biological mother Ellie. From what is given, this man could possibly be her biological father. In the season finale, Lucas calls someone asking that someone if she wants to get married at Las Vegas - the someone could be Lindsey, Peyton or Brooke.
In the Season 6 premiere, it is discovered that the person whom Lucas called is Peyton. She goes to the airport and they hop on a plane to Vegas to get married. Once they get there, the chapel is too trashy, so they do not get married. Instead, they drive to L.A. and Lucas proposes to her in the same hotel room he did years before. The two are still in L.A. during Brooke's attack. After Brooke calls Peyton and sounds weird, Lucas and Peyton decide to head back to Tree Hill and have the wedding there instead. Peyton sees Brooke beaten up, but Brooke lies and says she fell down the stairs, and Peyton believes her, not knowing that her friend was attacked. Peyton meets a famous musician named Mick Wolf, who used to know Ellie. He is the one who asked Mia about Peyton during the tour. He keeps dodging around the subject of Peyton's real father, but says a little more about him each time Peyton brings him up. Peyton continues to get to know Mick and continues to ask about her real father. When she asks him why her parents gave her up and, he replies, "We... I mean they, had a tough decision." Mick accidentally lets the truth slip out, and suddenly Peyton realizes this is her father. She invites him over for a nice dinner together, but instead of showing up, he goes and gets drunk at a bar after being sober for a year (as shown by a sobriety chip in his pocket). She and Lucas have also set a date for their wedding, which causes conflict between Lucas and Lindsey with regards to the book tour for Luke's second book. Peyton puts up all her emotional walls regarding Mick and is angry with him for not being upfront with her about who he is. She tells him to leave. Not long afterwards, during a visit to Brooke's, Brooke tells Peyton the truth about how she got all the bruises on her body. Peyton is later seen on the phone with Larry, her adoptive father. She tells him how much she loves him. Though initially concerned about moving in together, Lucas and Peyton eventually decide to accept their differences and reside in the same house. Peyton reconnects with her biological brother Derek, who has returned from the war. Later she goes to TRIC to meet up with Lucas and a guy named Julian, who is interested in making a movie out based on Lucas's first novel. Julian was asking Lucas a lot of questions about Peyton before she got there. She runs into Julian near the bathroom, and it is soon revealed that he is her ex-boyfriend. Three weeks go by and Peyton still has not told Lucas the truth about her romantic history with Julian. Lucas is left to discover their past on his own, and is initially angry about it. Peyton throws a USO concert in which Angels and Airwaves, Mia, and Haley play. She continues to connect with her brother Derek and clash with Julian over Lucas and his film.
Mia visits Peyton and Peyton is concerned that Mia is not focused on her work. She suggests to Mia that she listen to a CD of songs she could possibly sing, and they clash because Mia writes all of her own songs. Eventually, Peyton gives up on Mia and asks her to leave the label. Meanwhile, Peyton is dealing with stomach pains. She sees a doctor about it, and tells the doctor about Ellie's cancer.Her tearful face after the phone call predicts trouble ahead. Peyton later finds out that she does not have cancer, but is actually pregnant. She tells Lucas first, and Haley finds out in her own time, but Peyton seems hesitant to share her news with Brooke because she knows how much Brooke wanted a family. Peyton does eventually tell Brooke, and Brooke is truly happy for her. Peyton has her first
ultrasound
Ultrasound
Ultrasound is cyclic sound pressure with a frequency greater than the upper limit of human hearing. Ultrasound is thus not separated from "normal" sound based on differences in physical properties, only the fact that humans cannot hear it. Although this limit varies from person to person, it is...
but is upset because she thinks that Lucas is too busy to come and has forgotten, but Lucas surprises her by coming, and the two get to hear their baby's heartbeat for the first time. Later, Lucas and Peyton learn that Peyton has
placenta praevia
Placenta praevia
Placenta praevia is an obstetric complication in which the placenta is attached to the uterine wall close to or covering the cervix. It can sometimes occur in the later part of the first trimester, but usually during the second or third. It is a leading cause of antepartum haemorrhage...
and that having this baby could mean the end of Peyton's life. Lucas, afraid of losing Peyton and raising a child that has to go through the same motherless state Peyton did, tries to guilt her into an
abortion
Abortion
Abortion is defined as the termination of pregnancy by the removal or expulsion from the uterus of a fetus or embryo prior to viability. An abortion can occur spontaneously, in which case it is usually called a miscarriage, or it can be purposely induced...
. They get past this and will definitely have the baby. Lucas tells her that he wants to get married to her sooner, not because she might die beforehand, but because he loves her, and wants her to be his wife. Lucas and Peyton get married at the lake where they met. Haley is the minister. After the reception, Lucas and Peyton go home and Peyton collapses on the floor while waiting for Lucas's surprise. Lucas walks in the house and finds Peyton unconscious on the floor in a pool of blood. Peyton is rushed into hospital by a blood-covered Lucas, who begs her not to leave him. Peyton goes through an emergency
caesarean section
Caesarean section
A Caesarean section, is a surgical procedure in which one or more incisions are made through a mother's abdomen and uterus to deliver one or more babies, or, rarely, to remove a dead fetus...
, and falls into a coma. The caesarean section is successful and she has a daughter named Sawyer Brooke Scott. She later awakes with Lucas and Brooke by her side. Karen brings in Sawyer, and Nathan, Haley, Jamie and Julian join them. Dan visits Peyton and she, after some hesitation, allows Dan to hold Sawyer. She and Lucas then leave Tree Hill.
For Season 7, Mark Schwahn, the series' creator, said Lucas and Peyton are traveling the world; they are spending time with Karen and her husband Andy, and Lucas is writing a new book. They continue to be mentioned by characters on the series. Her and Lucas' absence during Brooke and Julian's wedding is mentioned by Brooke as being due to baby Sawyer being sick. Haley takes her place as Brooke's maid of honor.
Reception
Peyton has been described as "a very talented artist" who expresses her emotions through her work and guards her heart after losing so many important people in her life. The character was initially ill-received, as the audience felt that she was too mean, especially to love interest Lucas. "Perpetually cranky Peyton tears around town in a vintage car, listening to loud rock, and wearing a
Ramones
Ramones
The Ramones were an American rock band that formed in the New York City neighborhood of Forest Hills, Queens, in 1974. They are often cited as the first punk rock group...
T-shirt, none of which fits with a typical cheerleader image. At one point, Lucas asks her why she's a cheerleader, noting that she's 'the least cheery person I know,'" stated Tracy McLoone of
PopMatters

PopMatters

PopMatters is an international webzine of cultural criticism that covers many aspects of popular culture. PopMatters publishes reviews, interviews, and detailed essays on most cultural products and expressions in areas such as music, television, films, books, video games, comics, sports, theater,...


.
"She responds, 'You don't know me.' [And in fact], she's right. The girl is a walking contradiction. Peyton embodies aspects of the good girl (cheerleader) and bad girl (rocker)..."
The character's "crankiness" was eventually toned down, as she was revealed to have a deeper side and her interaction with Lucas and Haley started to win over viewers. The
Wilmington Star
Star-News
Star-News is the daily newspaper for Wilmington, North Carolina, and its surrounding area . It is owned by The New York Times Company....
credits the character with "[blowing] away every stereotype" the media has placed on cheerleaders. "She's—gasp—smart! And interesting! And so not the pop-tart cheerleader TV often delivers," stated Allison Ballard of the newspaper. Her romance with Lucas also became popular. Described as this generation's
Joey
Joey Potter
Josephine "Joey" Lynn Potter is a fictional character portrayed by Katie Holmes in the American television drama Dawson's Creek.-Character biography:...
and
Pacey
Pacey Witter
Pacey J. Witter is a fictional character on the American television series Dawson's Creek, portrayed by actor Joshua Jackson.-Biography:...
, "the overly dramatic couple you could not help but root for," the pairing emerged as one of the show's
supercouple
Supercouple
A supercouple or super couple is a popular or financially wealthy pairing that intrigues and fascinates the public in an intense or even obsessive fashion...
s; their departure received significant media attention and was picked as one of the "12 most essential episodes" of
One Tree Hill
in 2009 by fans at starnewsonline.com.
External links