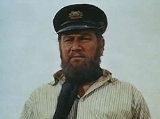 Peter Ustinov
Peter Alexander Ustinov
CBE (icon or ˈ; 16 April 192128 March 2004) was an English actor, writer and dramatist. He was also renowned as a filmmaker, theatre and opera director, stage designer, author, screenwriter, comedian, humourist, newspaper and magazine columnist, radio broadcaster and television presenter. A noted wit and raconteur, he was, for much of his career, a fixture on television talk shows and lecture circuits, as well as a respected intellectual and diplomat who, in addition to his various academic posts, served as a
Goodwill Ambassador
Goodwill Ambassador
Goodwill Ambassador is a collective term sometimes used as a substitute honorific title or a title of honor for an Ambassador of Goodwill; but, most appropriately for a generic recognition, it is a job position or description that is usually indicated following the name of the individual recognized...
for UNICEF and President of the
World Federalist Movement
World Federalist Movement
The World Federalist Movement is a global citizens movement with member and associate organizations around the world. The WFM International Secretariat is based in New York City across from the United Nations headquarters...
.
Ustinov was the winner of numerous awards over his life, including two
Academy Awards for Best Supporting Actor
Academy Award for Best Supporting Actor
Performance by an Actor in a Supporting Role is one of the Academy Awards of Merit presented annually by the Academy of Motion Picture Arts and Sciences to recognize an actor who has delivered an outstanding performance while working within the film industry. Since its inception, however, the...
, Emmy Awards, Golden Globes and BAFTA Awards for acting, a
Grammy Award
Grammy Award
A Grammy Award — or Grammy — is an accolade by the National Academy of Recording Arts and Sciences of the United States to recognize outstanding achievement in the music industry...
for best recording for children, as well the recipient of governmental honours from, amongst others, the United Kingdom, France and Germany.
Beliefs are what divide people. Doubt unites them.

James A. Haught, 2000 Years of Disbelief
Contrary to general belief, I do not believe that friends are necessarily the people you like best, they are merely the people who got there first.

Dear Me, 1977
Once we are destined to live out our lives in the prison of our mind, our one duty is to furnish it well.

Dear Me, 1977
The truth is really an ambition which is beyond us.

International Herald Tribune, March 12, 1990
Her virtue was that she said what she thought, her vice that what she thought didn't amount to much.

I have four children which is not bad considering I'm not a Catholic.

It is our responsibilities, not ourselves, that we should take seriously.

To refuse awards is another way of accepting them with more noise than is normal.