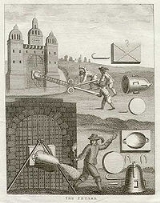 Petard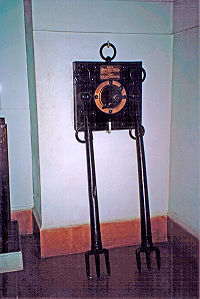 A petard was a small
bomb
Bomb
A bomb is any of a range of explosive weapons that only rely on the exothermic reaction of an explosive material to provide an extremely sudden and violent release of energy...
used to blow up gates and walls when breaching fortifications. The term has a
French
French language
French is a Romance language spoken as a first language in France, the Romandy region in Switzerland, Wallonia and Brussels in Belgium, Monaco, the regions of Quebec and Acadia in Canada, and by various communities elsewhere. Second-language speakers of French are distributed throughout many parts...
origin and dates back to the sixteenth century. In a typical implementation, it was commonly either a conical or rectangular metal object containing 5 or 6 pounds of
gunpowder
Gunpowder
Gunpowder, also known since in the late 19th century as black powder, was the first chemical explosive and the only one known until the mid 1800s. It is a mixture of sulfur, charcoal, and potassium nitrate - with the sulfur and charcoal acting as fuels, while the saltpeter works as an oxidizer...
, activated with a
slow match
Slow match
Slow match or match cord is the very slow burning cord or twine fuse used by early gunpowder musketeers, artillerymen, and soldiers to ignite matchlock muskets, cannons, and petards...
used as a fuse.
Etymology
The word petard comes from the
Middle French
Middle French
Middle French is a historical division of the French language that covers the period from 1340 to 1611. It is a period of transition during which:...
peter, to break wind, from pet expulsion of
intestinal gas
Flatulence
Flatulence is the expulsion through the rectum of a mixture of gases that are byproducts of the digestion process of mammals and other animals. The medical term for the mixture of gases is flatus, informally known as a fart, or simply gas...
, from
Latin
Latin
Latin is an Italic language originally spoken in Latium and Ancient Rome. It, along with most European languages, is a descendant of the ancient Proto-Indo-European language. Although it is considered a dead language, a number of scholars and members of the Christian clergy speak it fluently, and...
peditum, from
neuter
Neuter
Neuter is a Latin adjective meaning "neither", and can refer to:* Neutering, the sterilization of an animal* The neuter grammatical gender-See also:*Trap-Neuter-Return , an alternative to euthanasia for managing feral cat and dog populations...
of peditus, past participle of pedere, to break wind; akin to
Greek
Greek language
Greek is an independent branch of the Indo-European family of languages. Native to the southern Balkans, it has the longest documented history of any Indo-European language, spanning 34 centuries of written records. Its writing system has been the Greek alphabet for the majority of its history;...
bdein to break wind. (
Merriam-Webster
Merriam-Webster
Merriam–Webster, which was originally the G. & C. Merriam Company of Springfield, Massachusetts, is an American company that publishes reference books, especially dictionaries that are descendants of Noah Webster's An American Dictionary of the English Language .Merriam-Webster Inc. has been a...
) Petard remains a French word meaning a firecracker today (in French
slang
Slang
Slang is the use of informal words and expressions that are not considered standard in the speaker's language or dialect but are considered more acceptable when used socially. Slang is often to be found in areas of the lexicon that refer to things considered taboo...
, it means a
handgun
Handgun
A handgun is a firearm designed to be held and operated by one hand. This characteristic differentiates handguns as a general class of firearms from long guns such as rifles and shotguns ....
, or a
joint
Joint (cannabis)
Joint is a slang term for a cigarette rolled using cannabis. Rolling papers are the most common rolling medium among industrialized countries, however brown paper, cigarettes with the tobacco removed, and newspaper are commonly used in developing countries. Modern papers are now made from a wide...
).
The word remains in modern usage in the phrase hoist with one's own petard, which means "to be harmed by one's own plan to harm someone else" or "to fall into one's own trap," literally implying that one could be lifted up (hoist, or blown upward) by one's own bomb.
Overview
Petards were often placed either inside tunnels under walls, or directly upon gates. When placed inside a tunnel under a wall and exploded, large amounts of air would often be released from the tunnel, as the tunnel collapsed. By securing the device firmly to the gate, the shape of the device allows the concussive pressure of the blast to be applied entirely towards the destruction of the gate. Depending on design, a petard could be secured by propping it against the gate using beams as illustrated, or nailing it in place by way of a wooden board fixed to the end of the petard in advance.
In medieval and Renaissance siege warfare, a common tactic was to dig a shallow trench close to the enemy gate, and then erect a small hoisting engine that would lift the lit petard out of the trench, swing it up, out, and over to the gate, where it would detonate and hopefully breach the gate. This procedure might go awry; the engineer lighting the bomb could be snagged in the ropes, lifted out with the petard, and consequently blown up.
Variants
A petard mortar was the demolition weapon fitted to the Churchill AVRE tank. It was a mortar of a 290 mm bore, known to its crews as the "flying dustbin" due to the characteristics of its projectile: an unaerodynamic 20 kg charge which could be fired up to 100 m. This was sufficient to demolish many bunkers and earthworks and even disable a
Tiger tank
Tiger I
Tiger I is the common name of a German heavy tank developed in 1942 and used in World War II. The final official German designation was Panzerkampfwagen Tiger Ausf. E, often shortened to Tiger. It was an answer to the unexpectedly formidable Soviet armour encountered in the initial months of...
.
In Maltese English, home-made fireworks are called petards (the word in
Maltese
Maltese language
Maltese is the national language of Malta, and a co-official language of the country alongside English,while also serving as an official language of the European Union, the only Semitic language so distinguished. Maltese is descended from Siculo-Arabic...
, murtal, is obviously related to "mortar"). In Malta, petards are detonated by the dozen during feasts dedicated to local
patron saint
Patron saint
A patron saint is a saint who is regarded as the intercessor and advocate in heaven of a nation, place, craft, activity, class, clan, family, or person...
s.
"Hoist with his own petard"
If a petard were to detonate prematurely due to a faulty or short slow match, the engineer would be lifted or "hoist" by the explosion.
William Shakespeare
William Shakespeare
William Shakespeare was an English poet and playwright, widely regarded as the greatest writer in the English language and the world's pre-eminent dramatist. He is often called England's national poet and the "Bard of Avon"...
used the now
proverbial phrase
Proverbial phrase
A proverbial phrase or a proverbial expression is type of a conventional saying similar to proverbs and transmitted by oral tradition. The difference is that a proverb is a fixed expression, while a proverbial phrase permits alterations to fit the grammar of the context.Another similar construction...
"hoist with his own petard" in
Hamlet
Hamlet
The Tragical History of Hamlet, Prince of Denmark, or more simply Hamlet, is a tragedy by William Shakespeare, believed to have been written between 1599 and 1601...
.
In the following passage, the "letters" refer to instructions (written by his uncle Claudius, the King) to be carried sealed to the
King of England
, by Hamlet,
Rosencrantz and Guildenstern
Rosencrantz and Guildenstern
Rosencrantz and Guildenstern are characters in William Shakespeare's tragedy Hamlet. They are courtiers who are set by the king to spy on Hamlet, using their claimed friendship with him to gain his confidence. The characters were revived in W. S...
, the latter being two schoolfellows of Hamlet. The letters, as Hamlet suspects, contain a death warrant against Hamlet, who will later open and modify them to instead request the execution of Rosencrantz and Guildenstern. Enginer refers to a
military engineer
Military engineer
In military science, engineering refers to the practice of designing, building, maintaining and dismantling military works, including offensive, defensive and logistical structures, to shape the physical operating environment in war...
, the spelling reflecting Elizabethan stress.
There's letters seal'd: and my two schoolfellows,
Whom I will trust as I will adders fang'd,
They bear the mandate; they must sweep my way
And marshal me to knavery. Let it work;
For 'tis the sport to have the enginer
Hoist with his own petar; and 't shall go hard
But I will delve one yard below their mines
And blow them at the moon: O, 'tis most sweet,
When in one line two crafts directly meet.
After modifying the letters, Hamlet escapes the ship and returns to
Denmark
Denmark
Denmark is a Scandinavian country in Northern Europe. The countries of Denmark and Greenland, as well as the Faroe Islands, constitute the Kingdom of Denmark . It is the southernmost of the Nordic countries, southwest of Sweden and south of Norway, and bordered to the south by Germany. Denmark...
. Hamlet's actual meaning is "cause the bomb maker to be blown up with his own bomb", metaphorically turning the tables on Claudius, whose messengers are killed instead of Hamlet. Also note here, Shakespeare's probable off-color pun "hoist with his own petar", i.e., flatulate, as reason for the spelling "petar" rather than "petard".
See also
Fougasse (weapon)

Fougasse (weapon)

A fougasse is an improvised mine constructed by making a hollow in the ground or rock and filling it with explosives and projectiles. Fougasse was well known to military engineers by the mid-eighteenth century but was also referred to by Vauban in the seventeenth century and was used by Zimmerman...