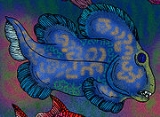 Petalodontiformes
Order
Order (biology)
In scientific classification used in biology, the order is# a taxonomic rank used in the classification of organisms. Other well-known ranks are life, domain, kingdom, phylum, class, family, genus, and species, with order fitting in between class and family...
Petalodontiformes
("petal or flattened teeth") is a group of extinct marine
cartilaginous fish
Chondrichthyes
Chondrichthyes or cartilaginous fishes are jawed fish with paired fins, paired nares, scales, two-chambered hearts, and skeletons made of cartilage rather than bone...
related to modern day
chimaera
Chimaera
Chimaeras are cartilaginous fish in the order Chimaeriformes, known informally as ghost sharks, ratfish , spookfish , or rabbitfishes...
found in what is now the United States of America and
Europe
Europe
Europe is, by convention, one of the world's seven continents. Comprising the westernmost peninsula of Eurasia, Europe is generally 'divided' from Asia to its east by the watershed divides of the Ural and Caucasus Mountains, the Ural River, the Caspian and Black Seas, and the waterways connecting...
. With a very few exceptions, they are known entirely from teeth. All fossils range from the
Carboniferous
Carboniferous
The Carboniferous is a geologic period and system that extends from the end of the Devonian Period, about 359.2 ± 2.5 Mya , to the beginning of the Permian Period, about 299.0 ± 0.8 Mya . The name is derived from the Latin word for coal, carbo. Carboniferous means "coal-bearing"...
to the
Permian
Permian
The PermianThe term "Permian" was introduced into geology in 1841 by Sir Sir R. I. Murchison, president of the Geological Society of London, who identified typical strata in extensive Russian explorations undertaken with Edouard de Verneuil; Murchison asserted in 1841 that he named his "Permian...
, where they are presumed to have died out during the Permian/Triassic Extinction Event.
The two best known species are
Belantsea montana
Belantsea montana
Belantsea montana was a cartilaginous fish that lived during the Lower Carboniferous, about 350 million years ago. Its fossils are found in the Bear Gulch Limestone lagerstätte. Its body was leaf-shaped, with muscular fins and a small tail. Such a bodyplan would allow for great maneuverability,...
, of Carboniferous
Bear Gulch
Bear Gulch Limestone
The Bear Gulch Limestone in Montana is a fossiliferous lagerstätte, a limestone layer laid down in the Mississippian epoch of the Carboniferous period, about 318 mya. This lens of limestone was laid down in a surrounding matrix that indicates a landscape of mudflats and braided channels in fresh...
,
Montana
Montana
Montana is a state in the Western United States. The western third of Montana contains numerous mountain ranges. Smaller, "island ranges" are found in the central third of the state, for a total of 77 named ranges of the Rocky Mountains. This geographical fact is reflected in the state's name,...
, and
Janassa

Janassa

Janassa is an extinct genus of cartilaginous fish that lived in marine environments in what is now central United States of America and Europe during the Carboniferous and Permian. It is known from teeth, and a lot good preserved whole fossils from Germany and England...


bituminosa
, of Permian Europe, as whole fossil specimens have been found of these two.