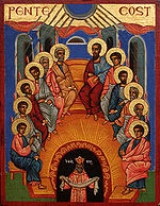 Pentecost
Pentecost
is a prominent feast in the calendar of Ancient Israel celebrating the giving of the Law on Sinai, and also later in the
Christian
Christian
A Christian is a person who adheres to Christianity, an Abrahamic, monotheistic religion based on the life and teachings of Jesus of Nazareth as recorded in the Canonical gospels and the letters of the New Testament...
liturgical year
Liturgical year
The liturgical year, also known as the church year, consists of the cycle of liturgical seasons in Christian churches which determines when feast days, including celebrations of saints, are to be observed, and which portions of Scripture are to be read. Distinct liturgical colours may appear in...
commemorating the descent of the
Holy Spirit
Holy Spirit
Holy Spirit is a term introduced in English translations of the Hebrew Bible, but understood differently in the main Abrahamic religions.While the general concept of a "Spirit" that permeates the cosmos has been used in various religions Holy Spirit is a term introduced in English translations of...
upon the
disciples
Disciple (Christianity)
In Christianity, the disciples were the students of Jesus during his ministry. While Jesus attracted a large following, the term disciple is commonly used to refer specifically to "the Twelve", an inner circle of men whose number perhaps represented the twelve tribes of Israel...
of Christ after the
Resurrection of Jesus
Resurrection of Jesus
The Christian belief in the resurrection of Jesus states that Jesus returned to bodily life on the third day following his death by crucifixion. It is a key element of Christian faith and theology and part of the Nicene Creed: "On the third day he rose again in fulfillment of the Scriptures"...
. The feast is also called
Whit Sunday
,
Whitsun
, or
Whit
, especially in the
United Kingdom
United Kingdom
The United Kingdom of Great Britain and Northern IrelandIn the United Kingdom and Dependencies, other languages have been officially recognised as legitimate autochthonous languages under the European Charter for Regional or Minority Languages...
, where
the following Monday
Whit Monday
Whit Monday or Pentecost Monday is the holiday celebrated the day after Pentecost, a movable feast in the Christian calendar. It is movable because it is determined by the date of Easter....
was traditionally a holiday. Pentecost is celebrated seven weeks (50 days) after
Easter
Easter
Easter is the central feast in the Christian liturgical year. According to the Canonical gospels, Jesus rose from the dead on the third day after his crucifixion. His resurrection is celebrated on Easter Day or Easter Sunday...
Sunday, hence its name.