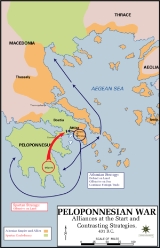 Peloponnesian War
The
Peloponnesian War,
431 to 404 BC, was an
ancient Greek
Ancient Greece
Ancient Greece is a civilization belonging to a period of Greek history that lasted from the Archaic period of the 8th to 6th centuries BC to the end of antiquity. Immediately following this period was the beginning of the Early Middle Ages and the Byzantine era. Included in Ancient Greece is the...
war fought by
Athens
Classical Athens
The city of Athens during the classical period of Ancient Greece was a notable polis of Attica, Greece, leading the Delian League in the Peloponnesian War against Sparta and the Peloponnesian League. Athenian democracy was established in 508 BC under Cleisthenes following the tyranny of Hippias...
and its empire against the
Peloponnesian League
Peloponnesian League
The Peloponnesian League was an alliance in the Peloponnesus from the 6th to the 4th centuries BC.- Early history:By the end of the 6th century, Sparta had become the most powerful state in the Peloponnese, and was the political and military hegemon over Argos, the next most powerful state...
led by
Sparta
Sparta
Sparta or Lacedaemon, was a prominent city-state in ancient Greece, situated on the banks of the River Eurotas in Laconia, in south-eastern Peloponnese. It emerged as a political entity around the 10th century BC, when the invading Dorians subjugated the local, non-Dorian population. From c...
. Historians have traditionally divided the war into three phases. In the first phase, the Archidamian War, Sparta launched repeated invasions of
Attica
Attica
Attica is a historical region of Greece, containing Athens, the current capital of Greece. The historical region is centered on the Attic peninsula, which projects into the Aegean Sea...
, while Athens took advantage of its naval supremacy to raid the coast of the
Peloponnese
Peloponnese
The Peloponnese, Peloponnesos or Peloponnesus , is a large peninsula , located in a region of southern Greece, forming the part of the country south of the Gulf of Corinth...
attempting to suppress signs of unrest in its empire.