 Peloid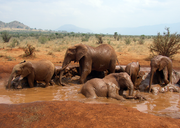 Peloid
is
mud
Mud
Mud is a mixture of water and some combination of soil, silt, and clay. Ancient mud deposits harden over geological time to form sedimentary rock such as shale or mudstone . When geological deposits of mud are formed in estuaries the resultant layers are termed bay muds...
, or
clay
Clay
Clay is a general term including many combinations of one or more clay minerals with traces of metal oxides and organic matter. Geologic clay deposits are mostly composed of phyllosilicate minerals containing variable amounts of water trapped in the mineral structure.- Formation :Clay minerals...
used therapeutically, as part of
balneotherapy
Balneotherapy
Balneotherapy is the treatment of disease by bathing, usually practiced at spas. While it is considered distinct from hydrotherapy, there are some overlaps in practice and in underlying principles. Balneotherapy may involve hot or cold water, massage through moving water, relaxation or stimulation...
, or therapeutic bathing. Peloids consist of
humus
and minerals formed over many years by geological and biological, chemical and
physical
Physics
Physics is a natural science that involves the study of matter and its motion through spacetime, along with related concepts such as energy and force. More broadly, it is the general analysis of nature, conducted in order to understand how the universe behaves.Physics is one of the oldest academic...
processes.
Numerous peloids are available today, of which the most popular are
peat
Peat
Peat is an accumulation of partially decayed vegetation matter or histosol. Peat forms in wetland bogs, moors, muskegs, pocosins, mires, and peat swamp forests. Peat is harvested as an important source of fuel in certain parts of the world...
pulps, various
medicinal clay
Medicinal clay
The use of medicinal clay in folk medicine goes back to prehistoric times. The indigenous peoples around the world still use clay widely, which is related to geophagy. The first recorded use of medicinal clay goes back to ancient Mesopotamia...
s, mined in various locations around the world, and a variety of plant substances. Also, health spas often use locally available lake and sea muds and clays. Peloid procedures are also various; the most common of them are
peloid wraps
,
peloid baths
, and
peloid packs
applied locally to the part of the body, which is being treated.
Peloid packs and, specifically, peat, have been used in Europe for medicinal baths and wraps for the past 200 years.
Peloid preparation varies in different spas. Typically, peloids are matured for a period of up to 2 years in special ponds.

"The majority of spas ... use artificial ponds where the natural ("virgin") clay is mixed with mineral, thermo-mineral, or sea water that issues in the vicinity of the spas or inside the spa buildings."

Peloid treatments have been used for rheumatic disorders,
osteoarthritis
Osteoarthritis
Osteoarthritis also known as degenerative arthritis or degenerative joint disease, is a group of mechanical abnormalities involving degradation of joints, including articular cartilage and subchondral bone. Symptoms may include joint pain, tenderness, stiffness, locking, and sometimes an effusion...
, gynecological disorders,
sciatica
Sciatica
Sciatica is a set of symptoms including pain that may be caused by general compression or irritation of one of five spinal nerve roots that give rise to each sciatic nerve, or by compression or irritation of the left or right or both sciatic nerves. The pain is felt in the lower back, buttock, or...
, skin diseases,
trauma
Physical trauma
Trauma refers to "a body wound or shock produced by sudden physical injury, as from violence or accident." It can also be described as "a physical wound or injury, such as a fracture or blow." Major trauma can result in secondary complications such as circulatory shock, respiratory failure and death...
and many more various afflictions and ailments.
Peloids are widely used in
cosmetology
Cosmetology
Cosmetology is the study and application of beauty treatment. Branches of specialty including hairstyling, skin care, cosmetics, manicures/pedicures, and electrology....
. They are applied as face masks. Applying peloid masks once a week helps to revitalize the skin, tighten it and bind fluids in the skin layers. Regular use of peloids cause wrinkles to disappear and prevents new wrinkles from appearing.