 Peenestrom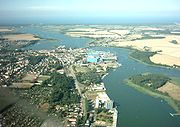 The
Peenestrom
is a
strait
Strait
A strait or straits is a narrow, typically navigable channel of water that connects two larger, navigable bodies of water. It most commonly refers to a channel of water that lies between two land masses, but it may also refer to a navigable channel through a body of water that is otherwise not...
or
river
River
A river is a natural watercourse, usually freshwater, flowing towards an ocean, a lake, a sea, or another river. In a few cases, a river simply flows into the ground or dries up completely before reaching another body of water. Small rivers may also be called by several other names, including...
in Mecklenburg-Vorpommern,
Germany
Germany
Germany , officially the Federal Republic of Germany , is a federal parliamentary republic in Europe. The country consists of 16 states while the capital and largest city is Berlin. Germany covers an area of 357,021 km2 and has a largely temperate seasonal climate...
. It is 20 Kilometers long and is the westernmost connection of the Szczecin Lagoon (together with the
Świna
Swina
The Świna is a river in Poland flowing from the Oder Lagoon to the Baltic Sea, between the islands of Usedom and Wolin. It is a part of the Oder River estuary, and carries about 75% of that river's waterflow . It has a length of about 16 km...
and the
Dziwna
Dziwna
The Dziwna is an eastern strait, river or a branch of the Oder River out of three straits connecting the Oder Lagoon with the Bay of Pomerania of the Baltic Sea, between the island of Wolin and the Polish mainland.Major towns on the Dziwna include:* Wolin...
) with the
Baltic Sea
Baltic Sea
The Baltic Sea is a brackish mediterranean sea located in Northern Europe, from 53°N to 66°N latitude and from 20°E to 26°E longitude. It is bounded by the Scandinavian Peninsula, the mainland of Europe, and the Danish islands. It drains into the Kattegat by way of the Øresund, the Great Belt and...
. It is therefore also one of the three
distributaries
Distributary
A distributary, or a distributary channel, is a stream that branches off and flows away from a main stream channel. They are a common feature of river deltas. The phenomenon is known as river bifurcation. The opposite of a distributary is a tributary...
of the Oder.