 Paw Paw Tunnel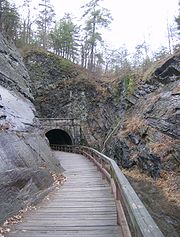 The
Paw Paw Tunnel
is a 3118 feet (950.4 m) long
canal tunnel
Canal tunnel
A canal tunnel is a tunnel for a canal. The biggest canal tunnel in the world is the Rove Tunnel in France. The oldest canal tunnel in the world is the Malpas Tunnel also in France, built in 1679. In the United States there is the Paw Paw Tunnel that opened in 1850.In some canal tunnels the towpath...
on the
Chesapeake and Ohio Canal
Chesapeake and Ohio Canal
The Chesapeake and Ohio Canal, abbreviated as the C&O Canal, and occasionally referred to as the "Grand Old Ditch," operated from 1831 until 1924 parallel to the Potomac River in Maryland from Cumberland, Maryland to Washington, D.C. The total length of the canal is about . The elevation change of...
in
Allegany County, Maryland
Allegany County, Maryland
Allegany County is a county located in the northwestern part of the US state of Maryland. It is part of the Cumberland, MD-WV Metropolitan Statistical Area. As of 2010, the population was 75,087. Its county seat is Cumberland...
. Located near
Paw Paw, West Virginia
Paw Paw, West Virginia
Paw Paw is a town in Morgan County, West Virginia, United States. The population was 524 at the 2000 census. The town is known for the nearby Paw Paw Tunnel. Paw Paw was incorporated by the Circuit Court of Morgan County on April 8, 1891 and named for the pawpaw, a wild fruit which formerly grew in...
, it was built to bypass the Paw-Paw Bends, a six-mile stretch of the
Potomac River
Potomac River
The Potomac River flows into the Chesapeake Bay, located along the mid-Atlantic coast of the United States. The river is approximately long, with a drainage area of about 14,700 square miles...
containing five horseshoe bends. The town, the Bends, and the tunnel ultimately take their name from the
pawpaw
Asimina triloba
Asimina triloba, the pawpaw, paw paw, paw-paw, or common pawpaw, is a species of Asimina in the same plant family as the custard-apple, cherimoya, sweetsop, ylang-ylang and soursop...
trees that grow prolifically along nearby ridges.
Construction on the tunnel began in 1836 but was not completed until 1850. Although it was originally planned to be completed in two years, there were many difficulties in the process of construction. The construction company seriously underestimated the difficulty of the job. Violence frequently broke out between various gangs of immigrant laborers of different ethnicities, and wages were often unpaid due to the company's financial problems. The tunnel was finally completed with a cost overrun of 500%. Though surpassed by many tunnels today, it remains one of the world's longest canal tunnels and one of the greatest engineering feats of its day.