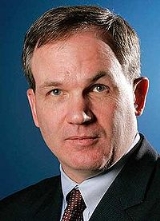 Patrick Fitzgerald
Patrick J. Fitzgerald
is the current
United States Attorney for the Northern District of Illinois
United States District Court for the Northern District of Illinois
The United States District Court for the Northern District of Illinois is the trial-level court with jurisdiction over the northern counties of Illinois....
and a member of the
U.S. Department of Justice Office of Special Counsel
U.S. Department of Justice Office of Special Counsel
The Office of Special Counsel in the United States Department of Justice replaced the former Office of the Independent Counsel in 1999. It is charged with investigating alleged misconduct in the federal government's executive branch. The current Special Counsel is Patrick Fitzgerald, who was...
. He was the federal prosecutor in charge of the investigation of the
Valerie Plame Affair
Plame affair
The Plame Affair involved the identification of Valerie Plame Wilson as a covert Central Intelligence Agency officer. Mrs. Wilson's relationship with the CIA was formerly classified information...
, which led to the prosecution and conviction of Vice President
Dick Cheney
Dick Cheney
Richard Bruce "Dick" Cheney served as the 46th Vice President of the United States , under George W. Bush....
's chief of staff Scooter Libby for perjury.
He was involved in a number of other high-profile cases, pursuing Illinois Governor
George Ryan
George Ryan
George Homer Ryan, Sr. was the 39th Governor of the U.S. state of Illinois from 1999 until 2003. He is a member of the Republican Party. Ryan became nationally known when in 2000 he imposed a moratorium on executions and "raised the national debate on capital punishment"...
, media mogul
Conrad Black
Conrad Black
Conrad Moffat Black, Baron Black of Crossharbour, OC, KCSG, PC is a Canadian-born member of the British House of Lords, and a historian, columnist and publisher, who was for a time the third largest newspaper magnate in the world. Lord Black controlled Hollinger International, Inc...
, several aides to Chicago Mayor
Richard Daley
Richard M. Daley
Richard Michael Daley is a United States politician, member of the national and local Democratic Party, and former Mayor of Chicago, Illinois. He was elected mayor in 1989 and reelected in 1991, 1995, 1999, 2003, and 2007. He was the longest serving Chicago mayor, surpassing the tenure of his...
in the
Hired Truck Program
Hired Truck Program
The Hired Truck Program was a scandal-plagued program in the city of Chicago that involved hiring private trucks to do city work. It was overhauled in 2004 after an investigation by the Chicago Sun-Times revealed that some participating companies were being paid for doing little or no work, had...
, and Chicago detective and alleged torturer
Jon Burge
Jon Burge
Jon Graham Burge is a convicted felon and former Chicago Police Department detective and commander who gained notoriety for allegedly torturing more than 200 criminal suspects between 1972 and 1991, in order to force confessions...
.
When citizens testify before grand juries they are required to tell the truth. Without the truth, our criminal justice system cannot serve our nation or its citizens.

CIA probe 'not over' after Cheney's top aide indicted on CNN.com (October 28, 2005)
Libby was advised by the vice president of the United States that Wilson's wife worked at the CIA in the counterproliferation division. Libby understood that the vice president had learned this information from the CIA.

Cheney Adviser Resigns After Indictment on ABCnews.com (October 28, 2005)
My job is to investigate whether or not a crime is committed, can be proved and should be charged. I'm not going to comment on what to make beyond that. You know, it's not my jurisdiction, not my job, not my judgment.

Fitzgerald News Conference from nytimes.com (October 28, 2005)