 Panay, Capiz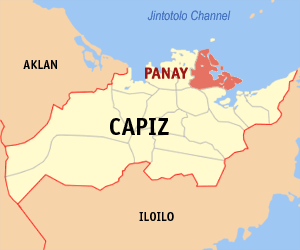 Panay or Pan-ay
is a 4th class municipality in the province of Capiz,
Philippines
Philippines
The Philippines , officially known as the Republic of the Philippines , is a country in Southeast Asia in the western Pacific Ocean. To its north across the Luzon Strait lies Taiwan. West across the South China Sea sits Vietnam...
. According to the 2000 census, it has a population of 40,599 people in 7,660 households. It used to be the Capital of Capiz.
Barangays
Panay is politically subdivided into 42
barangay
Barangay
A barangay is the smallest administrative division in the Philippines and is the native Filipino term for a village, district or ward...
s.



Agbalo
Agbanban
Agojo
Anhawon
Bagacay
Bago Chiquito
Bago Grande
Bahit
Bantique
Bato
Binangig
Binantuan
Bonga
Buntod




Butacal
Cabugao Este
Cabugao Oeste
Calapawan
Calitan
Candual
Cogon
Daga
Ilamnay
Jamul-awon
Lanipga
Lat-asan
Libon
Linao




Linateran
Lomboy
Lus-onan
Magubilan
Navitas
Pawa
Pili
Poblacion Ilawod
Poblacion Ilaya
Poblacion Tabuc
Talasa
Tanza Norte
Tanza Sur
Tico



External links