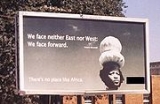 Pan-Africanism
Pan-Africanism
is a movement that seeks to unify African people or people living in Africa, into a "one African community". Differing types of Pan-Africanism seek different levels of economic, racial, social, or political unity. The largest governmental body striving for governmental unity is the
African Union
African Union
The African Union is a union consisting of 54 African states. The only all-African state not in the AU is Morocco. Established on 9 July 2002, the AU was formed as a successor to the Organisation of African Unity...
.
In the
United States
United States
The United States of America is a federal constitutional republic comprising fifty states and a federal district...
, the term is closely associated with
Afrocentrism
Afrocentrism
Afrocentrism is cultural ideology mostly limited to the United States, dedicated to the history of Black people a response to global racist attitudes about African people and their historical contributions by revisiting this history with an African cultural and ideological center...
, an ideology of
African American
African American
African Americans are citizens or residents of the United States who have at least partial ancestry from any of the native populations of Sub-Saharan Africa and are the direct descendants of enslaved Africans within the boundaries of the present United States...
identity politics
Identity politics
Identity politics are political arguments that focus upon the self interest and perspectives of self-identified social interest groups and ways in which people's politics may be shaped by aspects of their identity through race, class, religion, sexual orientation or traditional dominance...
that emerged during the
civil rights movement
Civil rights movement
The civil rights movement was a worldwide political movement for equality before the law occurring between approximately 1950 and 1980. In many situations it took the form of campaigns of civil resistance aimed at achieving change by nonviolent forms of resistance. In some situations it was...
of the 1960s to 1970s.
"Pan-African" unity is especially important in African American identity politics, because the African ancestry of Afro-American community cannot be derived from any identifiable African people.