 Palla (garment)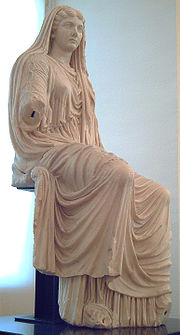 Palla
is a traditional
ancient Roman
Ancient Rome
Ancient Rome was a thriving civilization that grew on the Italian Peninsula as early as the 8th century BC. Located along the Mediterranean Sea and centered on the city of Rome, it expanded to one of the largest empires in the ancient world....
mantle
Mantle (clothing)
A mantle is a type of loose garment usually worn over indoor clothing to serve the same purpose as an overcoat...
worn by women, fastened by
brooch
Brooch
A brooch ; also known in ancient times as a fibula; is a decorative jewelry item designed to be attached to garments. It is usually made of metal, often silver or gold but sometimes bronze or some other material...
es.  It was similar to the
pallium
Pallium
The pallium is an ecclesiastical vestment in the Roman Catholic Church, originally peculiar to the Pope, but for many centuries bestowed by him on metropolitans and primates as a symbol of the jurisdiction delegated to them by the Holy See. In that context it has always remained unambiguously...
that a man would wear. The shape was rectangular instead of semi-circular as with the traditional
toga
Toga
The toga, a distinctive garment of Ancient Rome, was a cloth of perhaps 20 ft in length which was wrapped around the body and was generally worn over a tunic. The toga was made of wool, and the tunic under it often was made of linen. After the 2nd century BC, the toga was a garment worn...
.The Palla was similar to a shawl that a woman of today would wear.The palla would come in many colors some including blues, greens, and yellows.
The palla is a single piece of material draped over the shoulders and around the body or over the head as well. The palla is worn over a
stola
Stola
The stola was the traditional garment of Roman women, corresponding to the toga, or the pallium, that were worn by men.Originally, women wore togas as well, but after the 2nd century BC, the toga was worn exclusively by men, and women were expected to wear the stola...
, which is a floor-length dress with long sleeves (or sometimes, straps) that is worn over a tunic.
External links