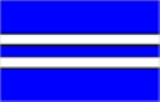 Paldiski
Paldiski
is a
town
Populated places in Estonia
Populated places in Estonia are settlements or territorial units within a municipality. Populated places have no administrative functions. A group of populated places form a rural municipality with local administration...
and
Baltic Sea
Baltic Sea
The Baltic Sea is a brackish mediterranean sea located in Northern Europe, from 53°N to 66°N latitude and from 20°E to 26°E longitude. It is bounded by the Scandinavian Peninsula, the mainland of Europe, and the Danish islands. It drains into the Kattegat by way of the Øresund, the Great Belt and...
port
Port
A port is a location on a coast or shore containing one or more harbors where ships can dock and transfer people or cargo to or from land....
situated on the Pakri peninsula of north-western
Estonia
Estonia
Estonia , officially the Republic of Estonia , is a state in the Baltic region of Northern Europe. It is bordered to the north by the Gulf of Finland, to the west by the Baltic Sea, to the south by Latvia , and to the east by Lake Peipsi and the Russian Federation . Across the Baltic Sea lies...
. Originally a
Swedish
Sweden
Sweden , officially the Kingdom of Sweden , is a Nordic country on the Scandinavian Peninsula in Northern Europe. Sweden borders with Norway and Finland and is connected to Denmark by a bridge-tunnel across the Öresund....
settlement known as
Rågervik
, it became a
Russia
Russia
Russia or , officially known as both Russia and the Russian Federation , is a country in northern Eurasia. It is a federal semi-presidential republic, comprising 83 federal subjects...
n naval base in the 18th century. The Russians renamed it
Балтийский Порт
("Baltiyskiy Port", i.e. Baltic Port) in 1762, and the Estonian pronunciation,
Paldiski
, became the official name in 1933.
Soviet era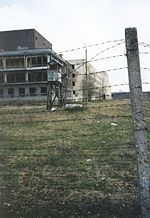 In 1962, Paldiski became a
Soviet Navy
Soviet Navy
The Soviet Navy was the naval arm of the Soviet Armed Forces. Often referred to as the Red Fleet, the Soviet Navy would have played an instrumental role in a Warsaw Pact war with NATO, where it would have attempted to prevent naval convoys from bringing reinforcements across the Atlantic Ocean...
nuclear submarine
Nuclear navy
Nuclear navy, or nuclear powered navy consists of ships powered by relatively small onboard nuclear reactors known as naval reactors. The concept was revolutionary for naval warfare when first proposed, as it meant that these vessels did not need to stop for fuel like their conventional...
training centre. With two land-based
nuclear reactor
Nuclear reactor
A nuclear reactor is a device to initiate and control a sustained nuclear chain reaction. Most commonly they are used for generating electricity and for the propulsion of ships. Usually heat from nuclear fission is passed to a working fluid , which runs through turbines that power either ship's...
s, and employing some 16,000 people, it was the largest such facility in the
Soviet Union
Soviet Union
The Soviet Union , officially the Union of Soviet Socialist Republics , was a constitutionally socialist state that existed in Eurasia between 1922 and 1991....
. Because of its importance, the whole city was
closed off
Closed city
A closed city or closed town is a settlement with travel and residency restrictions in the Soviet Union and some of its successor countries. In modern Russia, such places are officially known as "closed administrative-territorial formations" ....
with barbed wire until the last Russian warship left in August 1994. Russia finally relinquished control of the nuclear reactor facilities in September 1995.
Post-independence
After Estonia restored its independence, the city had not enough Estonian citizens and Paldiski was subordinated to
Keila
Keila
Keila is a town and an urban municipality in Harju County in north-western Estonia. It is also the administrative centre of the surrounding rural municipality – Keila Parish.-History:...
until 30 October 1996. Located some 45 km west of
Tallinn
Tallinn
Tallinn is the capital and largest city of Estonia. It occupies an area of with a population of 414,940. It is situated on the northern coast of the country, on the banks of the Gulf of Finland, south of Helsinki, east of Stockholm and west of Saint Petersburg. Tallinn's Old Town is in the list...
, Paldiski is a
municipality
Municipalities of Estonia
A Municipality is the smallest administrative subdivision of Estonia. Each municipality is a unit of self-government with its representative and executive bodies. The municipalities in Estonia cover the entire territory of the country....
within
Harju County
Harju County
Harju County , or Harjumaa , nowadays one of 15 counties of Estonia. It is situated in northern Estonia, on the south coast of the Gulf of Finland, and borders Lääne-Viru County to the east, Järva County to the south-east, Rapla County to the south, and Lääne County to the south-west.528,468 people...
and has a regular
ferry
Ferry
A ferry is a form of transportation, usually a boat, but sometimes a ship, used to carry primarily passengers, and sometimes vehicles and cargo as well, across a body of water. Most ferries operate on regular, frequent, return services...
connection with
Kapellskär
Kapellskär
Kapellskär is a port about north of Stockholm, in Sweden. It is located by the Baltic Sea, in Norrtälje Municipality, Stockholm County and is served by frequent passenger ferry services to Mariehamn, Åland, Finland, operated by Viking Line, with 3 services per day and direction during peak season...
in
Sweden
Sweden
Sweden , officially the Kingdom of Sweden , is a Nordic country on the Scandinavian Peninsula in Northern Europe. Sweden borders with Norway and Finland and is connected to Denmark by a bridge-tunnel across the Öresund....
(operated by
Tallink
Tallink
Tallink is an Estonian shipping company currently operating Baltic Sea cruiseferries and ropax ships from Estonia to Finland, Estonia to Sweden, Latvia to Sweden and Finland to Germany. They also own Silja Line and a part of SeaRail...
). Derelict Soviet-style apartment buildings make up much of the town, and the relics of military bases are widespread.
Facilities today
Today the town has about 4300 inhabitants. Until recently, the amenities were limited to a single, small hotel (Valge Laev, with six guest bedrooms and a restaurant/bar)
http://www.reisid24.ee/services.php?id=163
. Now there are also two grocery stores, an alcohol store, a bank, a tavern
http://peetritoll.ee/
, and a bed & breakfast
http://www.tuule.ee/
. The renovated train station also has a small cafe with hot food.
A great deal of investment has been put into the port facilities with a number of new berths having been created. Transfennica run a number of ships into the port from Hanko (Finland) and
Lübeck
Lübeck
The Hanseatic City of Lübeck is the second-largest city in Schleswig-Holstein, in northern Germany, and one of the major ports of Germany. It was for several centuries the "capital" of the Hanseatic League and, because of its Brick Gothic architectural heritage, is listed by UNESCO as a World...
(Germany).
Pakri wind farm is located in Paldiski at the tip of the Pakri peninsula near the old light house. It consists of 8 wind turbines and generates 18.4 MW of clean electricity.
http://www.energybulletin.net/node/4031
http://www.4energia.ee/index.php/lang/eng/article/pakri-windfarm
The old soviet 'pentagon' building
http://commons.wikimedia.org/wiki/File:Paldiski_Pentagon.JPG
has been demolished at some point between 2006 and 2009 to make way for a large and modern logistics park.
http://www.rrk.ee/?op=body&id=352
.
The housing blocks in the town no longer appear dilapidated and abandoned and have been refitted and re-painted in recent years. There are also several new housing apartment buildings, plus the green areas and children's parks have been restored.
http://www.urbanistika.ee/docs/paldiskibooklet.pdf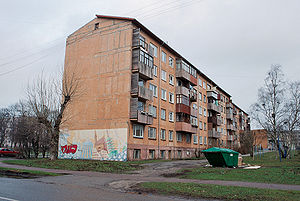 Paldiski has a terminus station on the
Elektriraudtee
rail line, providing a convenient link to the capital city. As part of the town's redevelopment this once near-derelict station has been overhauled and painted in bright yellow and white colours.
Paldiski has two schools:
Paldiski Gümnaasium
and Vene Gümnaasium.
There is one church, dedicated to St Nicholas, and part of the
Estonian Evangelical Lutheran Church
Estonian Evangelical Lutheran Church
The Estonian Evangelical Lutheran Church is a Lutheran church in Estonia. EELC is member of the Lutheran World Federation...
. Although closed for some years, this church has now reopened, with services held every Sunday lunchtime.
There is also a Pentecostal church, Methodist Church and Orthodox church.
The 2002 film
Lilya 4-ever
Lilya 4-ever
Lilja 4-ever is a 2002 Swedish drama film. It is director Lukas Moodysson's third feature film which marks a sharp change of mood from his previous two films, the uplifting love story Show Me Love and Together, set in the 1970s...
, set in an unnamed "former republic of the Soviet Union", was largely filmed in Paldiski.
External links