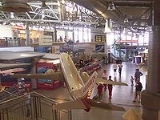 Paderborn Lippstadt Airport
Facilities
The terminal offers several facilities for travelers. There are mainly travel agencies in the airport. A Restaurant is available, too. There are also shops and car rentals at the airport.
The airport has got a Visitors terrace from which a full view across the airfield is possible.
A conference center with several conference rooms can be found at the airport.
At the ground of the airport a hotel has been opened in October 2006.
Next to the airport there is an industrial park with several companies.
Ground Transportation
The airport is located next to the Autobahn
A 44
Bundesautobahn 44
is a German Autobahn. It consists of three main-parts and a few smaller parts. It begins in Aachen at the German-Belgian border and ends near Kassel. Before the German unification it was an unimportant provincial-motorway but after this event it became an integral part of the German highway-system...
at the exit Büren (60). Long term parking at the airport is for free.
There is a bus shuttle from the main train station in Paderborn. It operates more or less on an hourly basis. There are thoughts about building a train connection to the airport in the future.