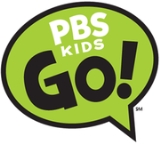 PBS Kids GO!
PBS Kids GO!
is an educational television brand used by
PBS
Public Broadcasting Service
The Public Broadcasting Service is an American non-profit public broadcasting television network with 354 member TV stations in the United States which hold collective ownership. Its headquarters is in Arlington, Virginia....
for programs intended for older children, rather than the original
PBS Kids
PBS Kids
PBS Kids is the brand for children's programming aired by the Public Broadcasting Service in the United States founded in 1993. As with all PBS programming, PBS Kids programming is non-commercial. It is aimed at children ages 2 to 10...
. It is primarily broadcast on PBS stations during the afternoons. It debuted on October 11, 2004.
Digital channel
PBS announced that, in October 2006, a 24-hour (24/7) digital
PBS Kids GO! Channel
would be launched with additional content, including an evening "Go! Family" block targeted at both children and their families and a Spanish language-programming block.
The channel would initially be made available to PBS stations that have digital
multicast
Multicast
In computer networking, multicast is the delivery of a message or information to a group of destination computers simultaneously in a single transmission from the source creating copies automatically in other network elements, such as routers, only when the topology of the network requires...
capability. PBS stations are planning to make agreements with local stations (on
digital terrestrial television
Digital terrestrial television
Digital terrestrial television is the technological evolution of broadcast television and advance from analog television, which broadcasts land-based signals...
) (such as
WGBH
WGBH-TV
WGBH-TV, channel 2, is a non-commercial educational public television station located in Boston, Massachusetts, USA. WGBH-TV is a member station of the Public Broadcasting Service , and produces more than two-thirds of PBS's national prime time television programming...
) and
cable
Cable
A cable is two or more wires running side by side and bonded, twisted or braided together to form a single assembly. In mechanics cables, otherwise known as wire ropes, are used for lifting, hauling and towing or conveying force through tension. In electrical engineering cables are used to carry...
operators (such as
Time Warner Cable
Time Warner Cable
Time Warner Cable is an American cable television company that operates in 28 states and has 31 operating divisions...
,
Comcast
Comcast
Comcast Corporation is the largest cable operator, home Internet service provider, and fourth largest home telephone service provider in the United States, providing cable television, broadband Internet, and telephone service to both residential and commercial customers in 39 states and the...
, Cox Cable, and Cablevision) for channel placement. Plans are also to have similar arrangements work out with satellite providers (such as
DirecTV
DirecTV
DirecTV is an American direct broadcast satellite service provider and broadcaster based in El Segundo, California. Its satellite service, launched on June 17, 1994, transmits digital satellite television and audio to households in the United States, Latin America, and the Anglophone Caribbean. ...
and
Dish Network
Dish Network
Dish Network Corporation is the second largest pay TV provider in the United States, providing direct broadcast satellite service—including satellite television, audio programming, and interactive television services—to 14.337 million commercial and residential customers in the United States. Dish...
) and video-on-demand services. PBS and Verizon have worked out an agreement to distribute PBS Kids GO! Channel (along with other digital PBS channels) over its
Verizon FiOS
Verizon FiOS
Verizon FiOS is a bundled Internet access, telephone, and television service which operates over a fiber-optic communications network. It is offered in some areas of the United States by Verizon Communications. Verizon was one of the first major U.S...
services.
However, on June 6, 2006, PBS announced that the PBS Kids GO! Channel would not launch in October 2006 due to financial issues, as reported by the Broadcasting & Cable News website. Instead, the channel was delayed for several months, and eventually shelved for unknown reasons.
Current PBS Kids GO! programs
Current reruns of previous PBS Kids GO! programs
Former PBS Kids GO! programs
Shorts
PBS KIDS GO! has aired shorts, usually at the end of
Maya & Miguel
. These include "GO! Figure", "WordGirl", and misc. shorts featuring live-action kids talking about things they do; about their family's heritage; etc. with Maya or Miguel doing a voiceover.
External links