 Orenda Fink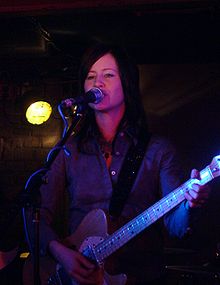 Orenda Fink
is a
musician
Musician
A musician is an artist who plays a musical instrument. It may or may not be the person's profession. Musicians can be classified by their roles in performing music and writing music.Also....* A person who makes music a profession....
on
Saddle Creek Records
Saddle Creek Records
Saddle Creek Records is an American record label based in Omaha, Nebraska. Started as a college class project on entrepreneurship, the label was founded by Conor Oberst and Justin Oberst in 1993 . Conor soon turned over his role in the company to Robb Nansel...
.
Born in
Birmingham, Alabama
Birmingham, Alabama
Birmingham is the largest city in Alabama. The city is the county seat of Jefferson County. According to the 2010 United States Census, Birmingham had a population of 212,237. The Birmingham-Hoover Metropolitan Area, in estimate by the U.S...
, Fink was half of the Southern dream pop duo
Azure Ray
Azure Ray
Azure Ray is an American dream pop duo, consisting of musicians Maria Taylor and Orenda Fink. The pair met at the age of 15 at the Alabama School of Fine Arts...
from 2001 to 2004. Fink is also a former member of
Now It's Overhead
Now It's Overhead
Now It's Overhead were an indie rock band fronted by singer/songwriter Andy LeMaster and based in Athens, Georgia. Their first album, a self-titled collection of songs LeMaster wrote over a period of two years in the late 90s, quickly rose from a studio project to a full-time band with the...
, another Saddle Creek band. She released her first full-length solo album
Invisible Ones
on August 23, 2005. She is married to
Todd Fink
Todd Fink
Todd Fink from Omaha, Nebraska is the lead singer of the band The Faint. He attended Westside High School in Omaha, Nebraska....
(formerly Todd Baechle) of
The Faint
The Faint
The Faint is an American indie rock band. Formed in Omaha, Nebraska, the band consists of Todd Fink, Jacob Thiele, Dapose, Joel Petersen and Clark Baechle. The Faint was originally known as Norman Bailer and included Conor Oberst...
, another Saddle Creek band. Fink uses Garrison guitars.
Fink said she had a spiritual awakening while in
Haiti
Haiti
Haiti , officially the Republic of Haiti , is a Caribbean country. It occupies the western, smaller portion of the island of Hispaniola, in the Greater Antillean archipelago, which it shares with the Dominican Republic. Ayiti was the indigenous Taíno or Amerindian name for the island...
and her solo music is inspired, in part, by Haitian
folk music
Folk music
Folk music is an English term encompassing both traditional folk music and contemporary folk music. The term originated in the 19th century. Traditional folk music has been defined in several ways: as music transmitted by mouth, as music of the lower classes, and as music with unknown composers....
.
In 2006, she formed a new band,
Art in Manila
Art in Manila
Art in Manila is an indie rock band consisting of Adrianne Verhoeven , Dan McCarthy , Steve Bartolomei , Ryan Fox , Corey Broman , and Stefanie Drootin led by a former member of Azure Ray, Orenda Fink...
, originally named Art Bell. The band's debut album was released on Saddle Creek on August 7, 2007.
Orenda and her long-time friend, Cedric Lemoyne (bassist for
Remy Zero
Remy Zero
Remy Zero were a Birmingham, Alabama-based alternative rock band made up of Cinjun Tate , Shelby Tate , Cedric LeMoyne , Jeffrey Cain and Gregory Slay prior to his death in January 2010.-History:Before Remy Zero had released any full length albums, Radiohead found their demo tape and invited...
) have collaborated to form a project called O+S. The album is pop-based, coming from sounds Orenda recorded in Haiti and other places. Cedric made loops out of the sounds and wrote songs based on them. The album was released on March 24, 2009 on Saddle Creek Records.
Her next solo album, "Ask the Night" was released on Saddle Creek Records on October 6, 2009, including the song "Why is The Night Sad" played with Azure Ray at their reunion show in Los Angeles on November 15, 2008. This was followed by a more extensive west coast tour in July 2009, and the band has announced plans to release new material in 2010.
With Little Red Rocket
It's in the Sound (2000 · Monolyth)
Who Did You Pay (1997 · Tim/Kerr

Tim/Kerr

Tim/Kerr was a record label in Portland, Oregon, run by Thor Lindsay and Tim Kerr, who closed the business in Spring of 1999. Some of the better known bands that were on the label include Everclear and The Dandy Warhols. The label also released a collaboration between Kurt Cobain and author William S...


)
With Azure Ray
Solo
Ask the Night (2009 · Saddle Creek

Saddle Creek Records

Saddle Creek Records is an American record label based in Omaha, Nebraska. Started as a college class project on entrepreneurship, the label was founded by Conor Oberst and Justin Oberst in 1993 . Conor soon turned over his role in the company to Robb Nansel...


)
Invisible Ones

Invisible Ones

Invisible Ones is the debut solo album by Orenda Fink of Azure Ray. It was released August 23, 2005 on Saddle Creek Records.This album is the 75th release of Saddle Creek Records.-Track listing:# "Leave It All"# "Invisible Ones Guard the Gate"...


(2005 · Saddle Creek

Saddle Creek Records

Saddle Creek Records is an American record label based in Omaha, Nebraska. Started as a college class project on entrepreneurship, the label was founded by Conor Oberst and Justin Oberst in 1993 . Conor soon turned over his role in the company to Robb Nansel...


)
Bloodline EP (2005 · iTunes Exclusive)
With Art in Manila
Set the Woods on Fire

Set the Woods on Fire

Set the Woods on Fire is the first full-length studio album from indie rock band Art in Manila.-Track listing:# "Time Gets Us All"# "Our Addictions"# "The Abomination"# "I Thought I Was Free"# "Set the Woods on Fire"# "Golden Dawn"...


(2007 · Saddle Creek

Saddle Creek Records

Saddle Creek Records is an American record label based in Omaha, Nebraska. Started as a college class project on entrepreneurship, the label was founded by Conor Oberst and Justin Oberst in 1993 . Conor soon turned over his role in the company to Robb Nansel...


)
Compilations
Lagniappe: A Saddle Creek Benefit for Hurricane Katrina Relief

Lagniappe (album)

Lagniappe is a compilation album put together by Omaha record label Saddle Creek, after the events of Hurricane Katrina. It is a benefit album, and all profits from its sale are donated to the Red Cross' relief efforts in New Orleans....


(2005 · Saddle Creek

Saddle Creek Records

Saddle Creek Records is an American record label based in Omaha, Nebraska. Started as a college class project on entrepreneurship, the label was founded by Conor Oberst and Justin Oberst in 1993 . Conor soon turned over his role in the company to Robb Nansel...


)
Other appearances
Bright Eyes - There Is No Beginning to the Story

There Is No Beginning to the Story

There Is No Beginning to the Story is an EP by Bright Eyes. The songs on it are fairly varied, with "From a Balance Beam" and "Loose Leaves" having more electronic qualities, while "Messenger Bird's Song" and "We Are Free Men" are more rooted in acoustic...


(2002 · Saddle Creek

Saddle Creek Records

Saddle Creek Records is an American record label based in Omaha, Nebraska. Started as a college class project on entrepreneurship, the label was founded by Conor Oberst and Justin Oberst in 1993 . Conor soon turned over his role in the company to Robb Nansel...


)
Bright Eyes - Lifted or The Story is in the Soil, Keep Your Ear to the Ground

Lifted or The Story Is in the Soil, Keep Your Ear to the Ground

Lifted or The Story Is in the Soil, Keep Your Ear to the Ground is the fourth album by Bright Eyes. This album is the 46th release of Saddle Creek Records...


(2002 · Saddle Creek

Saddle Creek Records

Saddle Creek Records is an American record label based in Omaha, Nebraska. Started as a college class project on entrepreneurship, the label was founded by Conor Oberst and Justin Oberst in 1993 . Conor soon turned over his role in the company to Robb Nansel...


)
Bright Eyes/Neva Dinova

Neva Dinova

Neva Dinova is an indie band from Omaha, Nebraska. Neva Dinova is named after the grandmother of lead singer Jake Bellows. They have been on crank! a record company , and have recorded a split-release with Bright Eyes entitled "One Jug Of Wine, Two Vessels" that was also released on crank! a...


- One Jug of Wine, Two Vessels

One Jug of Wine, Two Vessels

One Jug of Wine, Two Vessels is a collaborative split EP by Bright Eyes and Neva Dinova. It was released in 2004 on Crank! Records. It was also re-released on CD/LP/Digital by Saddle Creek Records on March 23, 2010, with four newly-recorded bonus tracks not included on the original release.-Track...


(2004 · Crank! Records

Crank! Records

crank! A Record Company is an independent record label which was started by Jeff Matlow in September 1994. The label's first release was a 7" by Vitreous Humor.-Artists:* Acrobat Down* Boy's Life* Cursive* Errortype:11* Fireside* The Get Set...


)
Videography
Bloodline (2005, directed by Nik Fackler)
Leave it All (2006, directed by Rudolf Buitendach)
Other appearances
External links