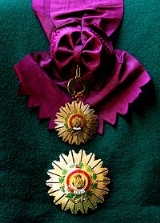 Order of the Sun
The Order of the Sun
is the highest award bestowed by the nation of
Peru
Peru
Peru , officially the Republic of Peru , is a country in western South America. It is bordered on the north by Ecuador and Colombia, on the east by Brazil, on the southeast by Bolivia, on the south by Chile, and on the west by the Pacific Ocean....
to commend notable civil and military merit. The award is the oldest civilian award in the
Americas
Americas
The Americas, or America , are lands in the Western hemisphere, also known as the New World. In English, the plural form the Americas is often used to refer to the landmasses of North America and South America with their associated islands and regions, while the singular form America is primarily...
, first being established in 1821.
History
The Order was originally instituted on 8 October 1821 by General José de San Martín on reaching
Lima
Lima
Lima is the capital and the largest city of Peru. It is located in the valleys of the Chillón, Rímac and Lurín rivers, in the central part of the country, on a desert coast overlooking the Pacific Ocean. Together with the seaport of Callao, it forms a contiguous urban area known as the Lima...
to recognize those who had distinguished themselves in the campaign against the
Spanish Royalist
Spanish Empire
The Spanish Empire comprised territories and colonies administered directly by Spain in Europe, in America, Africa, Asia and Oceania. It originated during the Age of Exploration and was therefore one of the first global empires. At the time of Habsburgs, Spain reached the peak of its world power....
. It was discontinued four years later.
The Order was re-established in 1921.
Classes
The award consists of five classes:
Grand Cross
Grand Officer
Commander
Officer
Knight
Selected recipients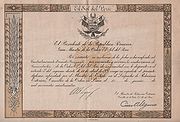 Felipe, Prince of Asturias

Felipe, Prince of Asturias

Felipe, Prince of Asturias de Borbón y de Grecia; born 30 January 1968), is the third child and only son of King Juan Carlos and Queen Sofía of Spain....



Edward VIII of the United Kingdom

Edward VIII of the United Kingdom

Edward VIII was King of the United Kingdom and the Dominions of the British Commonwealth, and Emperor of India, from 20 January to 11 December 1936.Before his accession to the throne, Edward was Prince of Wales and Duke of Cornwall and Rothesay...



Cristina Fernández de Kirchner

Cristina Fernández de Kirchner

Cristina Elisabet Fernández de Kirchner , commonly known as Cristina Fernández or Cristina Kirchner is the 55th and current President of Argentina and the widow of former President Néstor Kirchner. She is Argentina's first elected female president, and the second female president ever to serve...



Rosa Campuzano

Rosa Campuzano

Rosa Campuzano Cornejo was an activist affiliated with the cause of freedom in the struggle for the independence of Peru, born in Guayaquil, Viceroyalty of Peru on April 13, 1796 and died in Lima in 1851...



Henry Harley "Hap" Arnold

Henry H. Arnold

Henry Harley "Hap" Arnold was an American general officer holding the grades of General of the Army and later General of the Air Force. Arnold was an aviation pioneer, Chief of the Air Corps , Commanding General of the U.S...



G.E. Berrios
Ernesto Burzagli

Ernesto Burzagli

Ernesto Burzagli CB was a prominent figure in the Kingdom of Italy during the early 20th century. During a lifetime career in the Italian Royal Navy , he rose to the rank of Admiral and Chief of Staff...



Gerardo Chávez
Frank Freyer

Frank Freyer

Frank Barrows Freyer was an United States Navy captain who served as the 14th Naval Governor of Guam. Freyer graduated from the United States Naval Academy in 1902, having played several collegiate sports there. The Navy assigned him to many different ships, including having him participate in the...



Haakon VII of Norway

Haakon VII of Norway

Haakon VII , known as Prince Carl of Denmark until 1905, was the first king of Norway after the 1905 dissolution of the personal union with Sweden. He was a member of the House of Schleswig-Holstein-Sonderburg-Glücksburg...



Thor Heyerdahl

Thor Heyerdahl

Thor Heyerdahl was a Norwegian ethnographer and adventurer with a background in zoology and geography. He became notable for his Kon-Tiki expedition, in which he sailed by raft from South America to the Tuamotu Islands...



Dmitry Medvedev

Dmitry Medvedev

Dmitry Anatolyevich Medvedev is the third President of the Russian Federation.Born to a family of academics, Medvedev graduated from the Law Department of Leningrad State University in 1987. He defended his dissertation in 1990 and worked as a docent at his alma mater, now renamed to Saint...



Alexei Kosygin
Ramón Miranda Ampuero

Ramon Miranda Ampuero

Ramón Humberto Miranda Ampuero was a Peruvian politician who served as the Minister of Education.He was born in Chorrillos, Peru, to Froylan Miranda Barreto and Manuela Ampuero Corrales. He studied at the Colegio Claretiano de Magdalena del Mar...



Pat Nixon

Pat Nixon

Thelma Catherine "Pat" Ryan Nixon was the wife of Richard Nixon, 37th President of the United States, and was First Lady of the United States from 1969 to 1974. She was commonly known as Patricia or Pat Nixon.Born in Nevada, Pat Ryan grew up in Los Angeles, California...


, 1970
Olav V of Norway

Olav V of Norway

Olav V was the king of Norway from 1957 until his death. A member of the House of Schleswig-Holstein-Sonderburg-Glücksburg, Olav was born in the United Kingdom as the son of King Haakon VII of Norway and Queen Maud of Norway...



Valentín Paniagua

Valentín Paniagua

Valentín Paniagua Corazao was a Peruvian politician and former Interim President of Peru. Paniagua was elected by the Peruvian Congress to serve as interim president of the country after Alberto Fujimori was ousted from office by Congress in November 2000.As Interim President, his main task was to...



Maria Reiche

Maria Reiche

Maria Reiche was a German-born mathematician, archaeologist, and technical translator who is most well-regarded for her research in the Nazca lines in Peru, beginning in 1940. She helped educate people about the resource and gain government recognition and preservation of the property...



Manuela Sáenz

Manuela Sáenz

Doña Manuela Sáenz was born in Quito, Viceroyalty of New Granada and died in Paita, Peru. She was a revolutionary hero of South America, who also became the mistress of the South American revolutionary leader, Simón Bolívar...



Haile Selassie I of Ethiopia

Haile Selassie I of Ethiopia

Haile Selassie I , born Tafari Makonnen, was Ethiopia's regent from 1916 to 1930 and Emperor of Ethiopia from 1930 to 1974...



Andrew B. Shea
Yma Sumac

Yma Súmac

Yma Sumac was a noted Peruvian soprano. In the 1950s, she was one of the most famous proponents of exotica music. She became an international success based on her extreme vocal range, which was said to be "well over four octaves" and was sometimes claimed to span even five octaves at her peak.Yma...



Julio C. Tello

Julio C. Tello

Julio César Tello was a Peruvian archaeologist. Tello is considered the "father of Peruvian archeology" and was America's first indigenous archaeologist...



Pablo Grimberg Umansky
Donald Tusk

Donald Tusk

Donald Franciszek Tusk is a Polish politician who has been Prime Minister of Poland since 2007. He was a co-founder and is chairman of the Civic Platform party....



Disaku Ikeda

Daisaku Ikeda

is president of Sōka Gakkai International , a Nichiren Buddhist lay association which claims 12 million members in 192 countries and territories, and founder of several educational, cultural and peace research institutions.-Life and establishment of SGI:...



Somchai Wongsawat

Somchai Wongsawat

Somchai Wongsawat is a Thai politician, as well as former executive member of the People's Power Party whose political rights have been disfranchised by the Constitutional Court for five years....



Gian Marco Zignago
George Papandreou

George Papandreou

Georgios A. Papandreou , commonly anglicised to George and shortened to Γιώργος in Greek, is a Greek politician who served as Prime Minister of Greece following his party's victory in the 2009 legislative election...



Arturo "Zambo" Cavero
The 5th Marquess of Bristol
Plácido Domingo

Plácido Domingo

Plácido Domingo KBE , born José Plácido Domingo Embil, is a Spanish tenor and conductor known for his versatile and strong voice, possessing a ringing and dramatic tone throughout its range...



Jagatjit Singh of Kapurthala
Leonid Brezhnev

Leonid Brezhnev

Leonid Ilyich Brezhnev – 10 November 1982) was the General Secretary of the Central Committee of the Communist Party of the Soviet Union , presiding over the country from 1964 until his death in 1982. His eighteen-year term as General Secretary was second only to that of Joseph Stalin in...



Paul McCartney

Paul McCartney

Sir James Paul McCartney, MBE, Hon RAM, FRCM is an English musician, singer-songwriter and composer. Formerly of The Beatles and Wings , McCartney is listed in Guinness World Records as the "most successful musician and composer in popular music history", with 60 gold discs and sales of 100...