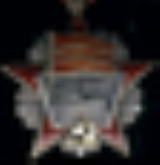 Order of the October Revolution
The
Order of the October Revolution
was instituted on October 31, 1967, in time for the 50th anniversary of the
October Revolution
October Revolution
The October Revolution , also known as the Great October Socialist Revolution , Red October, the October Uprising or the Bolshevik Revolution, was a political revolution and a part of the Russian Revolution of 1917...
. It was awarded to individuals or groups for services furthering
communism
Communism
Communism is a social, political and economic ideology that aims at the establishment of a classless, moneyless, revolutionary and stateless socialist society structured upon common ownership of the means of production...
or the state, or in enhancing the defenses of the
Soviet Union
Soviet Union
The Soviet Union , officially the Union of Soviet Socialist Republics , was a constitutionally socialist state that existed in Eurasia between 1922 and 1991....
, military and civil. It ranked second amongst the Soviet
orders
Order (decoration)
An order or order of merit is a visible honour, awarded by a government, dynastic house or international organization to an individual, usually in recognition of distinguished service to a nation or to humanity. The distinction between orders and decorations is somewhat vague, except that most...
, after the
Order of Lenin
Order of Lenin
The Order of Lenin , named after the leader of the Russian October Revolution, was the highest decoration bestowed by the Soviet Union...
.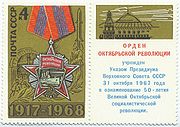 The order consisted of a badge, which was a
red star
Red star
A red star, five-pointed and filled, is an important ideological and religious symbol which has been used for various purposes, such as: state emblems, flags, monuments, ornaments, and logos.- Symbol of communism :...
with golden rays between the arms; at the centre was a pentagon bearing the image of the Cruiser Aurora participating in the October Revolution. Above it was a
red flag
Red flag
In politics, a red flag is a symbol of Socialism, or Communism, or sometimes left-wing politics in general. It has been associated with left-wing politics since the French Revolution. Socialists adopted the symbol during the Revolutions of 1848 and it became a symbol of communism as a result of its...
bearing the words "October Revolution" in Russian. A
Hammer and Sickle
Hammer and sickle
The hammer and sickle is a part of communist symbolism and its usage indicates an association with Communism, a Communist party, or a Communist state. It features a hammer and a sickle overlapping each other. The two tools are symbols of the industrial proletariat and the peasantry; placing them...
emblem was placed at the bottom. The badge was worn on the left chest with a red ribbon bearing five blue stripes at the centre.
The Russian cruiser
Aurora
was itself awarded with the Order of the October Revolution, the only ship ever to have received the award. Military units and institutions receiving the award applied the order name to their title upon its reception
External links