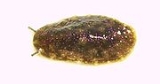 Onchidiidae
Onchidiidae
are a family of small, air-breathing sea (and land)
slug
Slug
Slug is a common name that is normally applied to any gastropod mollusc that lacks a shell, has a very reduced shell, or has a small internal shell...
s. They are shell-less
marine
Marine (ocean)
Marine is an umbrella term. As an adjective it is usually applicable to things relating to the sea or ocean, such as marine biology, marine ecology and marine geology...
(except of 5 species) pulmonate gastropod molluscs. Onchidiidae is the only family within the superfamily
Onchidioidea
.
These animals are quite unusual in that they are emphatically not opisthobranchs with gills, as are almost all of the
sea slug
Sea slug
Sea slug is a common name used for several different groups of saltwater snails that either lack a shell or have only an internal shell, in other words this name is used for various lineages of marine gastropod mollusks that are either not conchiferous or appear not to be.The phrase "sea slug" is...
s. Instead these creatures are pulmonates. They are more closely related to air-breathing land and freshwater
snail
Snail
Snail is a common name applied to most of the members of the molluscan class Gastropoda that have coiled shells in the adult stage. When the word is used in its most general sense, it includes sea snails, land snails and freshwater snails. The word snail without any qualifier is however more often...
s and
slug
Slug
Slug is a common name that is normally applied to any gastropod mollusc that lacks a shell, has a very reduced shell, or has a small internal shell...
s than they are to most other sea snails and sea slugs.
This family has no subfamilies (according to the
taxonomy of the Gastropoda by Bouchet & Rocroi, 2005
Taxonomy of the Gastropoda (Bouchet & Rocroi, 2005)
The taxonomy of the Gastropoda as it was revised by Philippe Bouchet and Jean-Pierre Rocroi is currently the most up-to-date overall system for classifying gastropod mollusks...
).
There are 143 species names within the Onchidiidae, but a detailed revision has not been made yet, because there is no living malacologist expert who can properly identify them.
Anatomy
Adult onchidiids lack a shell, although a shell and operculum is present at the larval stage. The mantle cavity is reduced to the point of absence, correlating with a loss of gills, raphes, and other characters usually found in the mantle cavity. The organism is completely detorted.
Slugs in this family make and use love darts made of
chitin
Chitin
Chitin n is a long-chain polymer of a N-acetylglucosamine, a derivative of glucose, and is found in many places throughout the natural world...
.
Genetics
In this family, the number of haploid
chromosome
Chromosome
A chromosome is an organized structure of DNA and protein found in cells. It is a single piece of coiled DNA containing many genes, regulatory elements and other nucleotide sequences. Chromosomes also contain DNA-bound proteins, which serve to package the DNA and control its functions.Chromosomes...
s lies between 16 and 20 (according to the values in this table).
Habitat
Most of the species in this family are marine and are found in the
intertidal zone
Intertidal zone
The intertidal zone is the area that is above water at low tide and under water at high tide . This area can include many different types of habitats, with many types of animals like starfish, sea urchins, and some species of coral...
on rocky coasts. However two species live in brackish water and three are terrestrial.
Onchidium typhae
Onchidium typhae
Onchidium typhae is a species of air-breathing sea slug, a shell-less brackish water pulmonate gastropod mollusk in the family Onchidiidae.- Ecology :...
(
India
India
India , officially the Republic of India , is a country in South Asia. It is the seventh-largest country by geographical area, the second-most populous country with over 1.2 billion people, and the most populous democracy in the world...
) and
Labbella ajuthiae
(synonym named in literature :
Elophilus ajuthiae
) (
Thailand
Thailand
Thailand , officially the Kingdom of Thailand , formerly known as Siam , is a country located at the centre of the Indochina peninsula and Southeast Asia. It is bordered to the north by Burma and Laos, to the east by Laos and Cambodia, to the south by the Gulf of Thailand and Malaysia, and to the...
) are the only two species in the Onchidiidae that live in
brackish water
Brackish water
Brackish water is water that has more salinity than fresh water, but not as much as seawater. It may result from mixing of seawater with fresh water, as in estuaries, or it may occur in brackish fossil aquifers. The word comes from the Middle Dutch root "brak," meaning "salty"...
. They can also live in
freshwater
Freshwater
Fresh water is naturally occurring water on the Earth's surface in ice sheets, ice caps, glaciers, bogs, ponds, lakes, rivers and streams, and underground as groundwater in aquifers and underground streams. Fresh water is generally characterized by having low concentrations of dissolved salts and...
.
Oncis ponsonbyi
(synonym named in literature :
Platevindex ponsonbyi
) and
Semperoncis montana
(synonym named in literature :
Platevindex apoikistes
and
Semperella montana
) are the only two terrestrial species in the Onchidiidae. They live in high-elevation rainforests in
Borneo
Borneo
Borneo is the third largest island in the world and is located north of Java Island, Indonesia, at the geographic centre of Maritime Southeast Asia....
and the
Philippines
Philippines
The Philippines , officially known as the Republic of the Philippines , is a country in Southeast Asia in the western Pacific Ocean. To its north across the Luzon Strait lies Taiwan. West across the South China Sea sits Vietnam...
Life habits
All these slugs breathe air. The marine ones breathe and move around and feed during low tide, when the water recedes and the slugs are exposed to the air.
Genera
Genera in the family Onchidiidae include:
Buchanania Lesson, 1831
Hoffmannola

Hoffmannola

Hoffmannola is a genus of air-breathing sea slugs, a shell-less marine pulmonate gastropod mollusks in the family Onchidiidae.-Species:Species within the genus Hoffmannola include:* Hoffmannola hansi Ev. Marcus & Er. Marcus, 1967...


Strand, 1932
Labbella Starobogatov, 1976
Lessonina

Lessonina

Lessonina is a genus of air-breathing sea slugs, a shell-less marine pulmonate gastropod mollusks in the family Onchidiidae.-Species:Species within the genus Labbella include:* Lessonina ferruginea -References:* Dayrat, B...


Starobogatov, 1976
Onchidella

Onchidella

Onchidella is a genus of small, air-breathing sea slugs, shell-less marine pulmonate gastropod molluscs in the family Onchidiidae.-Species:...


Gray, 1850
Onchidina

Onchidina

Onchidina is a genus of air-breathing sea slugs, a shell-less marine pulmonate gastropod mollusks in the family Onchidiidae.-Species:Species within the genus Onchidina include:* Onchidina australis J.E. Gray in Semper, 1885...


Semper, 1885
Onchidium

Onchidium

Onchidium is a genus of air-breathing sea slugs, shell-less marine pulmonate gastropod mollusks in the family Onchidiidae.-Species:According to the World Register of Marine Species , the following species with valid names are included within the genus Onchidium : * Onchidium aberrans Semper, 1885*...


Buchanan, 1800 - type genus

Type genus

In biological classification, a type genus is a representative genus, as with regard to a biological family. The term and concept is used much more often and much more formally in zoology than it is in botany, and the definition is dependent on the nomenclatural Code that applies:* In zoological...



Onchis Férussac, 1821
Paraoncidium

Paraoncidium

Paraoncidium is a genus of air-breathing sea slugs, a shell-less marine pulmonate gastropod mollusks in the family Onchidiidae.-Species:Species within the genus Paraoncidium include:* Paraoncidium buetschlii...


Labbé, 1934
Paraperonia

Paraperonia

Paraperonia is a genus of air-breathing sea slugs, a shell-less marine pulmonate gastropod mollusks in the family Onchidiidae.-Species:Species within the genus Paraperonia include:* Paraperonia fidjiensis Labbé, 1934...


Labbé, 1934
Peronia

Peronia

Peronia is a genus of air-breathing sea slugs, a shell-less marine pulmonate gastropod mollusks in the family Onchidiidae.Even if the name Onchis Férussac, 1821 is older than Peronia Fleming, 1822, there is no need to replace Peronia by Onchis...


Fleming, 1822
Peronina

Peronina

Peronina is a genus of air-breathing sea slugs, a shell-less marine pulmonate gastropod mollusks in the family Onchidiidae....


Plate, 1893
Quoya

Quoya

Quoya is a genus of air-breathing sea slugs, a shell-less marine pulmonate gastropod mollusks in the family Onchidiidae....


Labbé, 1934
Scaphis

Scaphis

Scaphis is a genus of air-breathing sea slugs, a shell-less marine pulmonate gastropod mollusks in the family Onchidiidae.-Species:According to the World Register of Marine Species , the following species with valid names are included within the genus Scaphis : * Scaphis astridae * Scaphis atra *...


Labbé, 1934
Semperoncis

Semperoncis

Semperoncis is a genus of air-breathing sea slugs, a shell-less marine pulmonate gastropod mollusks in the family Onchidiidae.-Species:...


Starobogatov, 1976
Synonymized genera :
Arctonchis Dall, 1910 : synonym of Onchidella

Onchidella

Onchidella is a genus of small, air-breathing sea slugs, shell-less marine pulmonate gastropod molluscs in the family Onchidiidae.-Species:...


J. E. Gray, 1850
Elophilus Labbé, 1935 : synonym of Labbella Starobogatov, 1970
Eudrastus Gistel, 1848 : synonym of Peronia

Peronia

Peronia is a genus of air-breathing sea slugs, a shell-less marine pulmonate gastropod mollusks in the family Onchidiidae.Even if the name Onchis Férussac, 1821 is older than Peronia Fleming, 1822, there is no need to replace Peronia by Onchis...


Fleming, 1822
Occidentella Hoffmann, 1929 : synonym of Onchidella

Onchidella

Onchidella is a genus of small, air-breathing sea slugs, shell-less marine pulmonate gastropod molluscs in the family Onchidiidae.-Species:...


J. E. Gray, 1850
Peroniella Starobogatov, 1976 : synonym of Onchidella

Onchidella

Onchidella is a genus of small, air-breathing sea slugs, shell-less marine pulmonate gastropod molluscs in the family Onchidiidae.-Species:...


J. E. Gray, 1850
Platevindex Baker, 1938 : synonym of Oncis Plate, 1893
Quoyella Starobogatov, 1976 : synonym of Quoya

Quoya

Quoya is a genus of air-breathing sea slugs, a shell-less marine pulmonate gastropod mollusks in the family Onchidiidae....


Labbé, 1934
Semperella Labbé, 1934 : synonym of Semperoncis