 On Being Ill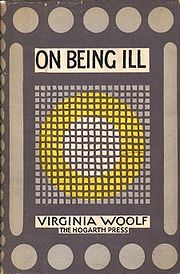 On Being Ill
is an essay by
Virginia Woolf
Virginia Woolf
Adeline Virginia Woolf was an English author, essayist, publisher, and writer of short stories, regarded as one of the foremost modernist literary figures of the twentieth century....
that appeared in
T. S. Eliot
T. S. Eliot
Thomas Stearns "T. S." Eliot OM was a playwright, literary critic, and arguably the most important English-language poet of the 20th century. Although he was born an American he moved to the United Kingdom in 1914 and was naturalised as a British subject in 1927 at age 39.The poem that made his...
's
The Criterion
The Criterion (magazine)
The Criterion was a British literary magazine published from October 1922 to January 1939. The Criterion was, for most of its run, a quarterly journal, although for a period in 1927-28 it was published monthly. It was created by the poet, dramatist, and literary critic T. S...
in January, 1926; The essay was later reprinted, with revisions, in
Forum
in April 1926, under the title
Illness: An Unexploited Mine
.
The essay seeks to establish illness as a serious subject of
literature
Literature
Literature is the art of written works, and is not bound to published sources...
along the lines of love, jealousy and battle. Woolf writes, "Considering how common illness is, how tremendous the spiritual change that it brings, how astonishing, when the lights of health go down, the undiscovered countries that are then disclosed, what wastes and deserts of the soul a slight attack of influenza brings to light...it becomes strange indeed that illness has not taken its place with love, battle, and jealousy among the prime themes of literature. Novels, one would have thought, would have been devoted to
influenza
Influenza
Influenza, commonly referred to as the flu, is an infectious disease caused by RNA viruses of the family Orthomyxoviridae , that affects birds and mammals...
; epic poems to typhoid; odes to
pneumonia
Pneumonia
Pneumonia is an inflammatory condition of the lung—especially affecting the microscopic air sacs —associated with fever, chest symptoms, and a lack of air space on a chest X-ray. Pneumonia is typically caused by an infection but there are a number of other causes...
, lyrics to toothache. But no; ... literature does its best to maintain that its concern is with the mind; that the body is a sheet of plain glass through which the soul looks straight and clear."