 Ogonori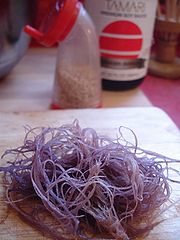 Ogonori
also called
ogo
or
sea moss
, is a type of
edible seaweed
Edible seaweed
Edible seaweed are algae that can be eaten or used in the preparation of food. They may belong to one of several groups of multicellular algae: the red algae, green algae, and brown algae. Seaweeds are used extensively as food in coastal cuisines around the world. Seaweed has been a part of diets...
eaten along the coasts of
Japan
Japan
Japan is an island nation in East Asia. Located in the Pacific Ocean, it lies to the east of the Sea of Japan, China, North Korea, South Korea and Russia, stretching from the Sea of Okhotsk in the north to the East China Sea and Taiwan in the south...
,
Southeast Asia
Southeast Asia
Southeast Asia, South-East Asia, South East Asia or Southeastern Asia is a subregion of Asia, consisting of the countries that are geographically south of China, east of India, west of New Guinea and north of Australia. The region lies on the intersection of geological plates, with heavy seismic...
,
Hawaii
Hawaii
Hawaii is the newest of the 50 U.S. states , and is the only U.S. state made up entirely of islands. It is the northernmost island group in Polynesia, occupying most of an archipelago in the central Pacific Ocean, southwest of the continental United States, southeast of Japan, and northeast of...
, and the
Caribbean
Caribbean
The Caribbean is a crescent-shaped group of islands more than 2,000 miles long separating the Gulf of Mexico and the Caribbean Sea, to the west and south, from the Atlantic Ocean, to the east and north...
. Ogonori is typically eaten cold and is a source of the thickener
agar
Agar
Agar or agar-agar is a gelatinous substance derived from a polysaccharide that accumulates in the cell walls of agarophyte red algae. Throughout history into modern times, agar has been chiefly used as an ingredient in desserts throughout Asia and also as a solid substrate to contain culture medium...
.
Uses
The potential of
Gracilaria
Gracilaria
Gracilaria is a genus of red algae notable for its economic importance as an agarophyte, as well as its use as a food for humans and various species of shellfish...
as a research subject for genomic study has hardly been explored.
In Hawaii, people use it in
Poke
Poke
Poke most commonly refers to the action of tapping and/or softly jabbing an object or person using a finger, stick, or similar object etc.Poke, Poké or POKE may also refer to:*PEEK and POKE, BASIC programming language commands...
.
External links