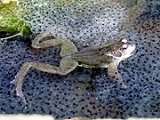 Offspring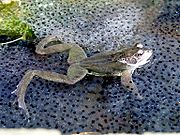 In
biology
Biology
Biology is a natural science concerned with the study of life and living organisms, including their structure, function, growth, origin, evolution, distribution, and taxonomy. Biology is a vast subject containing many subdivisions, topics, and disciplines...
,
offspring
is the product of reproduction, of a new
organism
Organism
In biology, an organism is any contiguous living system . In at least some form, all organisms are capable of response to stimuli, reproduction, growth and development, and maintenance of homoeostasis as a stable whole.An organism may either be unicellular or, as in the case of humans, comprise...
produced by one or more
parent
Parent
A parent is a caretaker of the offspring in their own species. In humans, a parent is of a child . Children can have one or more parents, but they must have two biological parents. Biological parents consist of the male who sired the child and the female who gave birth to the child...
s.
Collective offspring may be known as a
brood
or
progeny
in a more general way. This can refer to a set of simultaneous offspring, such as the
chicks
Bird
Birds are feathered, winged, bipedal, endothermic , egg-laying, vertebrate animals. Around 10,000 living species and 188 families makes them the most speciose class of tetrapod vertebrates. They inhabit ecosystems across the globe, from the Arctic to the Antarctic. Extant birds range in size from...
hatched from one clutch of eggs, or to all the offspring, as with the
honeybee
Brood (honeybee)
In entomology, the term brood is used to refer to the embryo or egg, the larva and the pupa stages in the life of holometabolous insects. The brood of honey bees develops within a bee hive. In man-made, removable frame hives, such as Langstroth hives, each frame which is mainly brood is called a...
.
Human offspring (descendants) are referred to as
child
Child
Biologically, a child is generally a human between the stages of birth and puberty. Some vernacular definitions of a child include the fetus, as being an unborn child. The legal definition of "child" generally refers to a minor, otherwise known as a person younger than the age of majority...
ren (without reference to age, thus one can refer to a parent's "
minor
Minor (law)
In law, a minor is a person under a certain age — the age of majority — which legally demarcates childhood from adulthood; the age depends upon jurisdiction and application, but is typically 18...
children" or "
adult
Adult
An adult is a human being or living organism that is of relatively mature age, typically associated with sexual maturity and the attainment of reproductive age....
children"); male children are
son
Son
A son is a male offspring; a boy or man in relation to his parents. The female analogue is a daughter.-Social issues regarding sons:In pre-industrial societies and some current countries with agriculture-based economies, a higher value was, and still is, assigned to sons rather than daughters,...
s and female children are
daughter
Daughter
A daughter is a female offspring; a girl, woman, or female animal in relation to her parents. The male equivalent is a son. Analogously the name is used on several areas to show relations between groups or elements.-Etymology:...
s. See kinship and descent. Offspring can occur after mating (sexual intercourse).
See also
Bateman's principle

Bateman's principle

In biology, Bateman's principle is the theory that females almost always invest more energy into producing offspring than males invest, and therefore in most species females are a limiting resource over which the other sex will compete...



Clutch size
Donor offspring
Infanticide (zoology)

Infanticide (zoology)

In animals, infanticide involves the killing of young offspring by a mature animal of its own species, and is studied in zoology, specifically in the field of ethology. Ovicide is the analogous destruction of eggs. Although human infanticide has been widely studied, the practice has been observed...



Litter

Litter (animal)

A litter is the offspring at one birth of animals from the same mother and usually from one set of parents. The word is most often used for the offspring of mammals, but can be used for any animal that gives birth to multiple young. In comparison, a group of eggs and the offspring that hatch from...



Parental investment

Parental investment

In evolutionary biology, parental investment is any parental expenditure that benefits one offspring at a cost to parents' ability to invest in other components of fitness...



Parent-offspring conflict

Parent-offspring conflict

Parent–offspring conflict is a term coined in 1974 by Robert Trivers. It is used to signify the evolutionary conflict arising from differences in optimal parental investment to an offspring from the standpoint of the parent and the offspring...