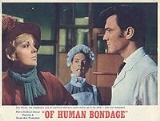 Of Human Bondage (1964 film)
Of Human Bondage
is a
1964
1964 in film
The year 1964 in film involved some significant events.-Events:* January 29 - The film Dr. Strangelove or: How I Learned to Stop Worrying and Love the Bomb is released....
British
Cinema of the United Kingdom
The United Kingdom has had a major influence on modern cinema. The first moving pictures developed on celluloid film were made in Hyde Park, London in 1889 by William Friese Greene, a British inventor, who patented the process in 1890. It is generally regarded that the British film industry...
drama film
Drama film
A drama film is a film genre that depends mostly on in-depth development of realistic characters dealing with emotional themes. Dramatic themes such as alcoholism, drug addiction, infidelity, moral dilemmas, racial prejudice, religious intolerance, poverty, class divisions, violence against women...
directed by
Ken Hughes
Ken Hughes
Ken Hughes was a British film director, writer, and producer.-Personal history:Wife Charlotte Hughes living in LA...
. The MGM release, the third screen adaptation of
W. Somerset Maugham
W. Somerset Maugham
William Somerset Maugham , CH was an English playwright, novelist and short story writer. He was among the most popular writers of his era and, reputedly, the highest paid author during the 1930s.-Childhood and education:...
's
1915 novel
Of Human Bondage
Of Human Bondage is a novel by W. Somerset Maugham. It is generally agreed to be his masterpiece and to be strongly autobiographical in nature, although Maugham stated, "This is a novel, not an autobiography, though much in it is autobiographical, more is pure invention." Maugham, who had...
, was written by
Bryan Forbes
Bryan Forbes
Bryan Forbes, CBE is an English film director, actor and writer.-Career:Bryan Forbes was born John Theobald Clarke on 22 July 1926 in Queen Mary's Hospital, Stratford, West Ham, Essex , and grew up at 43 Cranmer Road, Forest Gate, West Ham, Essex .Forbes trained as an actor at the Royal Academy of...
.
Synopsis
After two unsuccessful years pursuing an art career in
Paris
Paris
Paris is the capital and largest city in France, situated on the river Seine, in northern France, at the heart of the Île-de-France region...
, clubfooted Philip Carey decides to study medicine. He meets and falls in love with Mildred Rogers, a low-class waitress who takes advantage of his feelings for her.
When she leaves him to marry another man, Philip falls in love with Nora Nesbitt, a writer who encourages him to complete his studies. Mildred returns, pregnant and abandoned by her husband, and Philip takes her in and cares for her, ending his relationship with Nora.
While staying with Philip, Mildred has an affair with his best friend Griffiths, and when Philip confronts her, she tells Philip she's repulsed by him and walks out.
After earning his degree, Philip becomes an intern at a London hospital. He learns Mildred is working as a
prostitute
Prostitution
Prostitution is the act or practice of providing sexual services to another person in return for payment. The person who receives payment for sexual services is called a prostitute and the person who receives such services is known by a multitude of terms, including a "john". Prostitution is one of...
and seeks her out at the
brothel
Brothel
Brothels are business establishments where patrons can engage in sexual activities with prostitutes. Brothels are known under a variety of names, including bordello, cathouse, knocking shop, whorehouse, strumpet house, sporting house, house of ill repute, house of prostitution, and bawdy house...
where she's living with her ailing child.
He takes the two under his wing, but once again Mildred leaves him. When he finally finds her in a clinic for the indigent, he discovers her child has died and Mildred, in the advanced stages of
syphilis
Syphilis
Syphilis is a sexually transmitted infection caused by the spirochete bacterium Treponema pallidum subspecies pallidum. The primary route of transmission is through sexual contact; however, it may also be transmitted from mother to fetus during pregnancy or at birth, resulting in congenital syphilis...
, dies in her spurned lover's arms.
Production notes
Henry Hathaway
Henry Hathaway
Henry Hathaway was an American film director and producer. He is best known as a director of Westerns, especially starring John Wayne.-Background:...
began as director but bowed out shortly after production began. Screenwriter Bryan Forbes then briefly tackled the job of directing before the assignment fell to Ken Hughes.
The first screen adaptation of Maugham's novel, made thirty years prior, starred
Leslie Howard
Leslie Howard (actor)
Leslie Howard was an English stage and film actor, director, and producer. Among his best-known roles was Ashley Wilkes in Gone with the Wind and roles in Berkeley Square , Of Human Bondage , The Scarlet Pimpernel , The Petrified Forest , Pygmalion , Intermezzo , Pimpernel Smith...
and
Bette Davis
Bette Davis
Ruth Elizabeth "Bette" Davis was an American actress of film, television and theater. Noted for her willingness to play unsympathetic characters, she was highly regarded for her performances in a range of film genres, from contemporary crime melodramas to historical and period films and occasional...
.
Paul Henreid
and
Eleanor Parker
Eleanor Parker
Eleanor Jean Parker is an American screen actress. Her versatility led to her being dubbed Woman of a Thousand Faces, the title of her biography by Doug McClelland.- Early life :...
co-starred in
the 1946 remake
Of Human Bondage (1946 film)
Of Human Bondage is a 1946 American drama filmdirected by Edmund Goulding. The second screen adaptation of W. Somerset Maugham's 1915 novel, the Warner Bros. release was written by Catherine Turney...
.
Principal cast
Principal production credits
Critical reception
A.H. Weiler of the
New York Times
called the film a "surface, stoic old-fashioned tale" and added, "The pitiful meagerness of heartfelt dialogue, direction and acting, so essential in transporting Maugham's three-dimensional figures from book to screen, is noticeable almost from the start of this largely unemotional drama. These are not classically tortured people who emerge whole and alive on film but are, instead, artificially quaint
Edwardians
Edwardian period
The Edwardian era or Edwardian period in the United Kingdom is the period covering the reign of King Edward VII, 1901 to 1910.The death of Queen Victoria in January 1901 and the succession of her son Edward marked the end of the Victorian era...
who are simply play acting and speaking lines that seem alien to them and the viewer . . . Laurence Harvey and Kim Novak . . . seem painfully miscast. Mr. Harvey's portrayal is, at best, a succession of basically vacuous, woebegone attitudes. He appears to be more distracted than heartsick or emotionally undone. One wonders what he ever saw, aside from an occasional physical view, in Miss Novak's conception of the ill-fated, blonde
Cockney
Cockney
The term Cockney has both geographical and linguistic associations. Geographically and culturally, it often refers to working class Londoners, particularly those in the East End...
whose
East End
East End of London
The East End of London, also known simply as the East End, is the area of London, England, United Kingdom, east of the medieval walled City of London and north of the River Thames. Although not defined by universally accepted formal boundaries, the River Lea can be considered another boundary...
accent and actions are often a laughable
parody
Parody
A parody , in current usage, is an imitative work created to mock, comment on, or trivialise an original work, its subject, author, style, or some other target, by means of humorous, satiric or ironic imitation...
of the real articles . . . Most of the time, this pallid drama constitutes bondage for a discerning observer."
Time
Time (magazine)
Time is an American news magazine. A European edition is published from London. Time Europe covers the Middle East, Africa and, since 2003, Latin America. An Asian edition is based in Hong Kong...
said, "As portrayed by actress Novak, Mildred giggles a lot and speaks cockney like a girl who learned the sound of
Bow bells
St Mary-le-Bow
St Mary-le-Bow is an historic church in the City of London, off Cheapside. According to tradition, a true Cockney must be born within earshot of the sound of the church's bells.-Bells:...
from somewhere in
South Chicago
South Chicago, Chicago
South Chicago, formerly known as Ainsworth, is one of the 77 well-defined community areas of Chicago, Illinois.This chevron-shaped community is one of Chicago's 16 lakefront neighborhoods near the southern rim of Lake Michigan 10 miles south of downtown...
."
TV Guide
TV Guide
TV Guide is a weekly American magazine with listings of TV shows.In addition to TV listings, the publication features television-related news, celebrity interviews, gossip and film reviews and crossword puzzles...
says, "As the doomed pair, Novak and Harvey are passable but little more than that. Harvey looks too old for the role and fails to give his character much life, while Novak, although making a valiant attempt, never conveys enough passion to make her role believable. Further denying any dramatic potential is Forbes' unispired adaptation of Maugham's novel. Rather than probe the psychological makeup of the characters, the script consistently focuses on superficial motivations with all the emotional intensity of a high-school drama-society production."
Nominations
1964 Berlin Film Festival

14th Berlin International Film Festival

The 14th annual Berlin International Film Festival was held from June 26 to July 7, 1964.-Jury:* Anthony Mann * Hermann Schwerin* Lucas Demare* Jacques Doniol-Valcroze* Yorgos Javellas* Richard Todd* Takashi Hamama* Gerd Ressing...


Golden Bear

Golden Bear

According to legend, the Golden Bear was a large golden Ursus arctos. Members of the Ursus arctos species can reach masses of . The Grizzly Bear and the Kodiak Bear are North American subspecies of the Brown Bear....


(Ken Hughes and Henry Hathaway)
1965 BAFTA Film Award for Best British Costume Design, Black and White

BAFTA Award for Best Costume Design

The British Academy Film Award for Best Costume Design is one of the annual film awards given by the British Academy of Film and Television Arts.-1960s:* 1969 - Oh! What a Lovely War - Anthony Mendleson** Funny Girl – Irene Sharaff...


(Beatrice Dawson)
External links