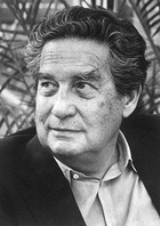 Octavio Paz
Octavio Paz Lozano
was a Mexican writer, poet, and
diplomat
Diplomacy
Diplomacy is the art and practice of conducting negotiations between representatives of groups or states...
, and the winner of the 1990 Nobel Prize for Literature.
Paz was born to Octavio Paz Solórzano and Josefina Lozano. His father was an active supporter of the Revolution against the Díaz regime. Paz was raised in the village of Mixcoac (now a part of Mexico City) by his mother Josefina (daughter of Spanish immigrants), his aunt Amalia Paz, and his paternal grandfather
Ireneo Paz
Ireneo Paz
Ireneo Paz Flores was a prominent Mexican intellectual, writer and journalist who was also the grandfather of the Nobel Prize-winning Mexican writer Octavio Paz. He was born July, 3, 1836 in Guadalajara, Mexico. In 1861 upon completion of his college studies, he was licensed to practice law. He...
, a
liberal
Liberalism
Liberalism is the belief in the importance of liberty and equal rights. Liberals espouse a wide array of views depending on their understanding of these principles, but generally, liberals support ideas such as constitutionalism, liberal democracy, free and fair elections, human rights,...
intellectual, novelist, publisher and former supporter of President
Porfirio Díaz
Porfirio Díaz
José de la Cruz Porfirio Díaz Mori was a Mexican-American War volunteer and French intervention hero, an accomplished general and the President of Mexico continuously from 1876 to 1911, with the exception of a brief term in 1876 when he left Juan N...
.
Man does not speak because he thinks; he thinks because he speaks. Or rather, speaking is no different than thinking: to speak is to think.

André Breton or the Quest of the Beginning
If we are a metaphor of the universe, the human couple is the metaphor par excellence, the point of intersection of all forces and the seed of all forms. The couple is time recaptured, the return to the time before time.

André Breton or the Quest of the Beginning
"Art" is an invention of aesthetics, which in turn is an invention of philosophers…what we call art is a game.

To read a poem is to hear it with our eyes; to hear it is to see it with our ears.

Modern man likes to pretend that his thinking is wide-awake. But this wide-awake thinking has led us into the mazes of a nightmare in which the torture chambers are endlessly repeated in the mirrors of reason.

Solitude is the profoundest fact of the human condition. Man is the only being who knows he is alone.

To the people of New York, Paris, or London, "death" is a word that is never pronounced because it burns the lips. The Mexican, however, frequents it, jokes about it, caresses it, sleeps with it, celebrates it; it is one of his favorite toys and most steadfast love. Of course, in his attitude perhaps there is as much fear as there is in one of the others; at least he does not hide it; he confronts it face to face with patience, disdain, or irony.