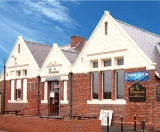 Northumberland Brewery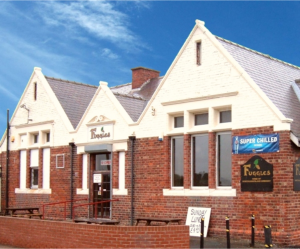 Fuggles Bar
Home of Northumberland Brewery
Accessory House,Barrington Road, Bedlington, Northumberland, NE22 7AP
Northumberland Brewery
is a small
brewery
Brewery
A brewery is a dedicated building for the making of beer, though beer can be made at home, and has been for much of beer's history. A company which makes beer is called either a brewery or a brewing company....
which was located in
Bomarsund
Bomarsund, Northumberland
Bomarsund is a village in Northumberland, in England. It is situated to the north of Bedlington, and just south of Stakeford.The village grew around a coal pit opened in 1854 and was named after the battle at the fort of Bomarsund in Sund, Åland Islands. It is now home to the Northumberland...
, near
Bedlington
Bedlington
Bedlington is a town in Northumberland, to the north of the Tyne and Wear urban area. It lies north of Newcastle and southeast of the county town of Morpeth. Other nearby places include Ashington to the north northeast, Blyth to the east and Cramlington to the south.The parish of Bedlington...
in
Northumberland
Northumberland
Northumberland is the northernmost ceremonial county and a unitary district in North East England. For Eurostat purposes Northumberland is a NUTS 3 region and is one of three boroughs or unitary districts that comprise the "Northumberland and Tyne and Wear" NUTS 2 region...
,
England
England
England is a country that is part of the United Kingdom. It shares land borders with Scotland to the north and Wales to the west; the Irish Sea is to the north west, the Celtic Sea to the south west, with the North Sea to the east and the English Channel to the south separating it from continental...
. It produces
cask ale
Cask ale
Cask ale or cask-conditioned beer is the term for unfiltered and unpasteurised beer which is conditioned and served from a cask without additional nitrogen or carbon dioxide pressure...
.
The brewery relocated (January 2007) to larger premises at Barrington Road with a larger on site tap (bar) which is now called Fuggles (after the hop)
Over the years, the building has been a school, community centre, factory and even apparently housed prisoners of war during world war 2
Northumberland Brewery opened in 1996 with a selection of five beers,
Northumberland Castles
(3.8%
abv
Alcohol by volume
Alcohol by volume is a standard measure of how much alcohol is contained in an alcoholic beverage .The ABV standard is used worldwide....
),
Northumberland County
(4.2%),
Northumberland Best
(4.2%) and
Duke of Northumberland Premium
(5.0%). It has since expanded its portfolio of
cask ale
Cask ale
Cask ale or cask-conditioned beer is the term for unfiltered and unpasteurised beer which is conditioned and served from a cask without additional nitrogen or carbon dioxide pressure...
to that of nearly 60 different recipes.
The names of most of the beer produced at the Northumberland Brewery is named after local people and places, such as
Mackem's Shovel Ale
and
Holy Island Ale
, after Sunderland A.F.C. supporters and the island of
Holy Island
Lindisfarne
Lindisfarne is a tidal island off the north-east coast of England. It is also known as Holy Island and constitutes a civil parish in Northumberland...
respectively. The brewery also names a few of its beers after political issues, such as
Talivan
(after
speed camera vans
Mobile speed camera
A mobile speed camera is speed limit enforcement device used in the United Kingdom to refer to a road vehicle fitted with speed camera equipment which can park at the side of the road, or on overbridges to monitor the speed of passing traffic....
- a play on the Taliban),
Highway Robbery
(once again, after speed cameras) and
hung parliament
Hung parliament
In a two-party parliamentary system of government, a hung parliament occurs when neither major political party has an absolute majority of seats in the parliament . It is also less commonly known as a balanced parliament or a legislature under no overall control...
, with a pump clip showing
members of parliament
Member of Parliament
A Member of Parliament is a representative of the voters to a :parliament. In many countries with bicameral parliaments, the term applies specifically to members of the lower house, as upper houses often have a different title, such as senate, and thus also have different titles for its members,...
with
noose
Noose
A noose is a loop at the end of a rope in which the knot slides to make the loop collapsible. Knots used for making nooses include the running bowline, the tarbuck knot, and the slip knot.-Use in hanging:...
s around their necks. They have also named beers after the local football team players for both Sunderland AFC and Newcastle United FC
External links