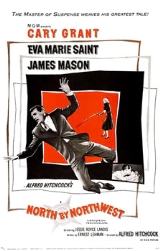 North by Northwest
North by Northwest
is a 1959 American thriller film directed by
Alfred Hitchcock
Alfred Hitchcock
Sir Alfred Joseph Hitchcock, KBE was a British film director and producer. He pioneered many techniques in the suspense and psychological thriller genres. After a successful career in British cinema in both silent films and early talkies, Hitchcock moved to Hollywood...
, starring
Cary Grant
Cary Grant
Archibald Alexander Leach , better known by his stage name Cary Grant, was an English actor who later took U.S. citizenship...
,
Eva Marie Saint
Eva Marie Saint
Eva Marie Saint is an American actress who has starred in films, on Broadway, and on television in a career spanning seven decades. She won an Academy Award for Best Supporting Actress for her performance in the drama film On the Waterfront , and later starred in the thriller film North by...
and
James Mason
James Mason
James Neville Mason was an English actor who attained stardom in both British and American films. Mason remained a powerful figure in the industry throughout his career and was nominated for three Academy Awards as well as three Golden Globes .- Early life :Mason was born in Huddersfield, in the...
, and featuring
Leo G. Carroll
Leo G. Carroll
Leo Gratten Carroll was an English-born actor. He was best known for his roles in several Hitchcock films and The Man from U.N.C.L.E. and Topper.-Early life:...
and
Martin Landau
Martin Landau
Martin Landau is an American film and television actor. Landau began his career in the 1950s. His early films include a supporting role in Alfred Hitchcock's North by Northwest . He played continuing roles in the television series Mission: Impossible and Space:1999...
. The screenplay was written by
Ernest Lehman
Ernest Lehman
Ernest Lehman was an American screenwriter. He received 6 Academy Award nominations during his screenwriting career...
, who wanted to write "the Hitchcock picture to end all Hitchcock pictures".
North by Northwest
is a tale of mistaken identity, with an innocent man pursued across the United States by agents of a mysterious organization who want to stop his interference in their plans to smuggle out microfilm containing government secrets.
Author and journalist
Nick Clooney
Nick Clooney
Nicholas Joseph "Nick" Clooney is an American journalist, anchorman, and television host. He is the brother of the late singer Rosemary Clooney, and father of actor and film director George Clooney.-Early life:...
praised Lehman's original story and sophisticated dialogue, calling the film "certainly Alfred Hitchcock's most stylish thriller, if not his best".
This is one of several Hitchcock movies with a music score by
Bernard Herrmann
Bernard Herrmann
Bernard Herrmann was an American composer noted for his work in motion pictures.An Academy Award-winner , Herrmann is particularly known for his collaborations with director Alfred Hitchcock, most famously Psycho, North by Northwest, The Man Who Knew Too Much, and Vertigo...
and features a memorable opening
title sequence
Title sequence
A Title Sequence is the method by which cinematic films or television programs present their title, key production and cast members, or both, utilizing conceptual visuals and sound...
by graphic designer
Saul Bass
Saul Bass
Saul Bass was a Jewish-American graphic designer and filmmaker, best known for his design of motion picture title sequences....
.
Ah, Maggie, in the world of advertising, there's no such thing as a lie. There's only the expedient exaggeration. You ought to know that.

[to The Professor] Now you listen to me, I'm an advertising man, not a red herring. I've got a job, a secretary, a mother, two ex-wives and several bartenders that depend upon me, and I don't intend to disappoint them all by getting myself "slightly" killed.

The Master of Suspense presents a 3000-mile chase across America!

The Master of Suspense weaves his greatest tale!

It's a deadly game of "tag" and Cary Grant is "it"!

It's love and murder at first sight!

From the killer plane in the cornfield to the cliff-hanger on George Washington's nose, it's suspense in every direction!