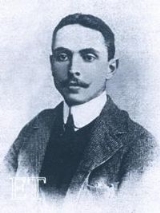 Norman Leslie, 19th Earl of Rothes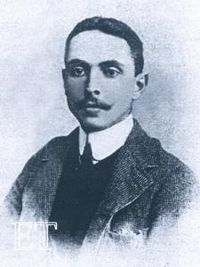 Colonel
Norman Evelyn Leslie, 19th Earl of Rothes
(13 July 1877-29 March 1927), a
Scottish
Scotland
Scotland is a country that is part of the United Kingdom. Occupying the northern third of the island of Great Britain, it shares a border with England to the south and is bounded by the North Sea to the east, the Atlantic Ocean to the north and west, and the North Channel and Irish Sea to the...
representative peer
, was the son of Martin Leslie Leslie (fka Martin Leslie Haworth) and Georgina Frances Study.
He married
Lucy Noël Martha Dyer-Edwardes
Noël Leslie, Countess of Rothes
Lucy Noël Martha Leslie, Countess of Rothes was the wife of the 19th Earl of Rothes, whom she married on 19 April 1900.-Biography:...
, daughter of Thomas Dyer-Edwardes, Jr, on 19 April 1900. They had two children:
Malcolm George Dyer-Edwardes Leslie, 20th Earl of Rothes, (8 February 1902–1975), married Beryl Violet Dugdale, daughter of Captain James Lionel Dugdale and Maud Violet Woodroffe, on 17 July 1926 and had issue.
John Wayland Leslie (b. 1909–1991)
Rothes was commissioned into a
Militia
Militia
The term militia is commonly used today to refer to a military force composed of ordinary citizens to provide defense, emergency law enforcement, or paramilitary service, in times of emergency without being paid a regular salary or committed to a fixed term of service. It is a polyseme with...
battalion of the Devonshire Regiment in 1895. He was promoted
Lieutenant
Lieutenant
A lieutenant is a junior commissioned officer in many nations' armed forces. Typically, the rank of lieutenant in naval usage, while still a junior officer rank, is senior to the army rank...
in 1897 and resigned his commission in 1899. In 1905 he was appointed
Captain
Captain (British Army and Royal Marines)
Captain is a junior officer rank of the British Army and Royal Marines. It ranks above Lieutenant and below Major and has a NATO ranking code of OF-2. The rank is equivalent to a Lieutenant in the Royal Navy and to a Flight Lieutenant in the Royal Air Force...
in the Fife
Royal Garrison Artillery
Royal Garrison Artillery
The Royal Garrison Artillery was an arm of the Royal Artillery that was originally tasked with manning the guns of the British Empire's forts and fortresses, including coastal artillery batteries, the heavy gun batteries attached to each infantry division, and the guns of the siege...
, another Militia regiment. He resigned his commission in 1909. In 1911 he was appointed Lieutenant-Colonel commanding the Highland Cyclist Battalion, which was badged to the
Black Watch
Black Watch
The Black Watch, 3rd Battalion, Royal Regiment of Scotland is an infantry battalion of the Royal Regiment of Scotland. The unit's traditional colours were retired in 2011 in a ceremony led by Queen Elizabeth II....
.
During the First World War he fought gallantly, and Leslie House, the ancestral head seat of his family, became a hospital for the injured. His wife worked ceaselessly during the wartime, both at Leslie House and elsewhere, acting as nurse. Rothes was promoted
Colonel
Colonel
Colonel , abbreviated Col or COL, is a military rank of a senior commissioned officer. It or a corresponding rank exists in most armies and in many air forces; the naval equivalent rank is generally "Captain". It is also used in some police forces and other paramilitary rank structures...
in 1918. He sustained injuries during the war from which he never fully recovered. He sold the House in 1919.
In 1927 he died, leaving behind the earldom to his eldest son and provisions for the former, his wife and younger son.