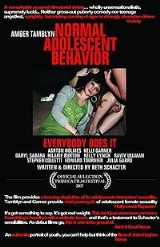 Normal Adolescent Behavior
Normal Adolescent Behavior
is a 2007
drama
Drama
Drama is the specific mode of fiction represented in performance. The term comes from a Greek word meaning "action" , which is derived from "to do","to act" . The enactment of drama in theatre, performed by actors on a stage before an audience, presupposes collaborative modes of production and a...
film
Film
A film, also called a movie or motion picture, is a series of still or moving images. It is produced by recording photographic images with cameras, or by creating images using animation techniques or visual effects...
written and directed by
Beth Schacter
Beth Schacter
Beth Schacter wrote and directed Normal Adolescent Behavior for New Line Cinemas in 2006. The film stars Amber Tamblyn and Kelli Garner and will be released in 2007. Ain't It Cool News, in an early review, said of the film: It's got something to say. It's got real weight. This isn't just some...
. The film was an official selection of the 2007
Tribeca Film Festival
Tribeca Film Festival
The Tribeca Film Festival is a film festival founded in 2002 by Jane Rosenthal, Robert De Niro and Craig Hatkoff in a response to the September 11, 2001 attacks on the World Trade Center and the consequent loss of vitality in the TriBeCa neighborhood in Lower Manhattan.The mission of the festival...
.
The film is the story of a group of best friends, all of whom are in a six-way polyfidelitous relationship. They feel that being with this group—and only this group—is more fulfilling and overall better than conventional teenage dating. However, Wendy (
Amber Tamblyn
Amber Tamblyn
Amber Rose Tamblyn is an American actress and poet. She first came to national attention in her role on the soap opera General Hospital as Emily Quartermaine, followed by a starring role on the prime-time series Joan of Arcadia portraying the title character...
) begins to question the arrangement after meeting the boy next door.
Normal Adolescent Behavior
premiered on
Lifetime Television
Lifetime Television
Lifetime Television, often referred to as Lifetime TV, or most commonly, Lifetime, is an American cable television specialty channel devoted to movies, sitcoms and dramas, all of which are either geared toward women or feature women in lead roles. The cable network is owned by A&E Television Networks...
on September 1, 2007. The film was run throughout the month and was still being aired in 2011.
Plot
Wendy, Billie, and Ann are seniors at an alternative private school; they spend all their time with fellow students Jonah, Price, and Robert. The six have been friends since elementary school and their friendship has become a six-person monogamous relationship. They swap sex partners each week; their loyalty is to the group, not to one person.
After school orientation, Wendy meets Sean, a new senior who moved from Chicago; he finds out about her "inner geek", and she quickly recognizes a kindred spirit. Soon their friendship becomes romantic, and Wendy is torn between her genuine affection and desire for Sean, and her commitment and belief in the group.
Wendy starts to test the boundaries of her vow to her friends, and Billie realizes that she is going to have to fight to keep her best friend; which shouldn't be a problem, since each of the teens has collected a box full of mementos from their sexual experience.
If Wendy tries to leave, Billie can destroy her reputation and relationship in a heartbeat. While Wendy is trying to decide between Sean and her friends, Wendy's younger brother Nathan meets Sean's mother, Helen, who is waiting a long three weeks to start a new job. Nathan develops a huge crush on her, and he uses his considerable cooking skills to try and woo her.
Then Wendy spends another Saturday night with the group, and she is unable to "cheat" on Sean; her hesitation is all that Billie needs to accuse her best friend. After the girls fight, Wendy takes out her frustration on a random couple who keep making out in front of her house. Ryan, hearing that Wendy is out of the group, tries to be friends, but Wendy doesn't like what Ryan has become—a subservient wet dishrag of a girlfriend.
Sean and Wendy try to be a "normal" couple, but the group quickly tests the relationship: Billie puts the box of memorabilia in Sean's locker. Wendy claims she isn't scared; she knows that Sean loves her. Maybe so, but when he sees the photos that document a lifetime of sexual experimentation, he is fed up and offers an ultimatum: Wendy can burn the box, leave the group, and be a normal girl, or they can break up. Wendy has gone from one ultimatum to another.
When Wendy sees Billie being tortured for being alone by other students, she wants to comfort her friend. Billie invites Wendy back to the group; such is the depth of Billie's love for her. When Billie realizes that Wendy really might leave, she tests her—pushing Wendy to publicly ridicule Ryan, a girl who left the group last year along with her boyfriend, Aaron.
Sean witnesses the brutal scene, where Ryan's past is used against her. Wendy is devastated that she allowed herself to be pushed around by Billie. But Wendy makes a braver and stronger decision—to be alone, along the way revealing that all of the boys in the group had cheated on the girls at some point. Price went away for Spring Break and slept with someone else, subsequently giving the entire group crabs.
Jonah and Robert are in love with each other, and have been sleeping together for three years. The girls in the story—Wendy, Ryan, Ann, and Billie—all must face the next chapter of their lives alone, and for the first time, at least Wendy sees the possibilities this offers.
Partial cast
Amber Tamblyn

Amber Tamblyn

Amber Rose Tamblyn is an American actress and poet. She first came to national attention in her role on the soap opera General Hospital as Emily Quartermaine, followed by a starring role on the prime-time series Joan of Arcadia portraying the title character...


as Wendy Bergman
Ashton Holmes

Ashton Holmes

Ashton Holmes is an American film and television actor, best known for the role of Jack Stall in A History of Violence and Private Sidney Phillips in the HBO miniseries The Pacific. He currently appears as Tyler Barrol on the ABC drama series Revenge.-Personal life:Holmes was born in Albany, New...


as Sean Mayer
Raviv Ullman as Price
Kelli Garner

Kelli Garner

Kelli Brianne Garner is an American actress. Her credits include Man of the House, The Aviator, Bully and Thumbsucker. She appeared in two Green Day music videos "Jesus of Suburbia" and the unreleased ""...


as Billie
Daryl Sabara

Daryl Sabara

Daryl Christopher Sabara is an American film and television actor. He is perhaps best known for playing Juni Cortez in the Spy Kids film series, as well as for a variety of television and film appearances, including Wizards of Waverly Place, Father of the Pride, The Polar Express, Keeping Up with...


as Nathan Bergman
Hilarie Burton

Hilarie Burton

Hilarie Ross Burton is an American actress. A former host of MTV's Total Request Live, she portrayed Peyton Sawyer on The CW drama One Tree Hill for six seasons...


as Ryan
Stephen Colletti

Stephen Colletti

Stephen August Colletti is an American actor and television personality. He was featured on the MTV reality show Laguna Beach: The Real Orange County. He also co-hosted MTV's Total Request Live...


as Robert
Kelly Lynch

Kelly Lynch

Kelly Lynch is an American actress. Once a model for the Elite modeling agency, Lynch appeared in the film Drugstore Cowboy which starred Matt Dillon, and the film Road House which starred Patrick Swayze....


as Helen
Julia Garro as Ann
Edward Tournier as Jonah
Alternate title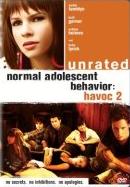 On October 16, 2007,
New Line Cinema
New Line Cinema
New Line Cinema, often simply referred to as New Line, is an American film studio. It was founded in 1967 by Robert Shaye and Michael Lynne as a film distributor, later becoming an independent film studio. It became a subsidiary of Time Warner in 1996 and was merged with larger sister studio Warner...
released the film on Region 1
DVD
DVD
A DVD is an optical disc storage media format, invented and developed by Philips, Sony, Toshiba, and Panasonic in 1995. DVDs offer higher storage capacity than Compact Discs while having the same dimensions....
under the title
Normal Adolescent Behavior: Havoc 2
, despite there being no connection between
Normal Adolescent Behavior
and 2005's
Havoc
Havoc (film)
Havoc is a 2005 American film about the lives of wealthy Los Angeles, California teenagers whose exposure to hip hop culture inspires them to imitate the gangster lifestyle...
. In television airings, and many foreign DVD releases, the original title was used unchanged, including airings after the Region 1 DVD release.
In response to the name change, the director deleted both the film's promotional website, and its
MySpace
MySpace
Myspace is a social networking service owned by Specific Media LLC and pop star Justin Timberlake. Myspace launched in August 2003 and is headquartered in Beverly Hills, California. In August 2011, Myspace had 33.1 million unique U.S. visitors....
page.