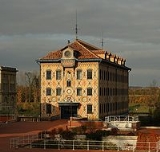 Noisiel
Noisiel
is a
commune
Communes of France
The commune is the lowest level of administrative division in the French Republic. French communes are roughly equivalent to incorporated municipalities or villages in the United States or Gemeinden in Germany...
in the
Seine-et-Marne
Seine-et-Marne
Seine-et-Marne is a French department, named after the Seine and Marne rivers, and located in the Île-de-France region.- History:Seine-et-Marne is one of the original 83 departments, created on March 4, 1790 during the French Revolution in application of the law of December 22, 1789...
department in the
Île-de-France
Île-de-France (région)
Île-de-France is the wealthiest and most populated of the twenty-two administrative regions of France, composed mostly of the Paris metropolitan area....
region
Régions of France
France is divided into 27 administrative regions , 22 of which are in Metropolitan France, and five of which are overseas. Corsica is a territorial collectivity , but is considered a region in mainstream usage, and is even shown as such on the INSEE website...
in north-central
France
France
The French Republic , The French Republic , The French Republic , (commonly known as France , is a unitary semi-presidential republic in Western Europe with several overseas territories and islands located on other continents and in the Indian, Pacific, and Atlantic oceans. Metropolitan France...
. It is located in the eastern suburbs of
Paris
Paris
Paris is the capital and largest city in France, situated on the river Seine, in northern France, at the heart of the Île-de-France region...
20.5 km (12.7 mi) from the
center
Kilometre Zero
In many countries, Kilometre Zero or similar terms in other languages, is a particular location , from which distances are traditionally measured...
.
The commune of Noisiel is part of the Val Maubuée sector, one of the four sectors in the "new town" of
Marne-la-Vallée
Marne-la-Vallée
Marne-la-Vallée is a new town located near Paris, France.Disneyland Paris, Val d'Europe,Université Paris-Est Marne-la-Vallée,and École des Ponts ParisTech are located in Marne-la-Vallée.-Status:...
.
Transportation
Noisiel is served by Noisiel station on Paris
RER line
RER A
The RER A is one of the five lines in the RER rapid transit system serving :Paris, France.The line runs from the western terminuses Saint-Germain-en-Laye , Cergy Le Haut , and Poissy to the eastern terminuses Boissy-Saint-Léger and Marne-la-Vallée – Chessy .* First inauguration: 12 December 1969*...
.
Menier chocolate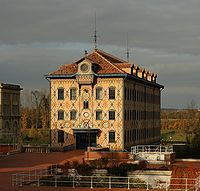 Noisiel is synonymous with the name "Menier", famous
chocolate makers
Chocolatier
A chocolatier is someone who makes confectionery from chocolate. Chocolatiers are distinct from chocolate makers, who create chocolate from cacao beans and other ingredients.Professional chocolatiers study topics including the following:...
who built the first automated chocolate production facility in 1825 at a time when the village's inhabitants numbered around 200. The Menier company would prosper and in the 1870s built a complete "town" to accommodate its employees that numbered more than 2000 by the end of the 19th century.
Members of the
Menier family
Menier family
The Menier family of Noisiel, France, was a prominent family of chocolatiers who began as pharmaceutical manufacturers in Paris in 1816. They would build a highly successful enterprise, expanding to London, England, and New York City, New York, USA. The Menier Chocolate Co. remained in the family...
were mayors of Noisiel without interruption from May 11, 1871 to November 8, 1959.
Emile-Justin Menier

Emile-Justin Menier

Émile-Justin Menier French pharmaceutical manufacturer, chocolatier, and politician, was born in Paris. In 1853, on the death of his father, Antoine, Émile-Justin Menier inherited a large and successful Parisian company that manufactured a range of medicinal powders.His father's company also...


(1871 to 1881)
Henri Menier

Henri Menier

Henri Emile Anatole Menier was a French businessman and adventurer and a member of the Menier family of chocolatiers. Born in Paris, he was the son of Emile-Justin Menier and grandson to Antoine Brutus Menier who founded the Menier Chocolate company...


(1881 to 1913)
Gaston Menier (1913 to 1933)
Jacques Menier (1934 to 1945)
Antoine Gilles Menier

Antoine Gilles Menier

Antoine Gilles Florent Menier was a French businessman and municipal politician who was a member of the prominent Menier family of chocolatiers....


(1945 to 1959)
The Menier Chocolate factory operated until 1993 and today is a museum and the French head office of the
Nestlé
Nestlé
Nestlé S.A. is the world's largest food and nutrition company. Founded and headquartered in Vevey, Switzerland, Nestlé originated in a 1905 merger of the Anglo-Swiss Milk Company, established in 1867 by brothers George Page and Charles Page, and Farine Lactée Henri Nestlé, founded in 1866 by Henri...
company who now own the company. It has been designated by the government of France as a
Monument historique
Monument historique
A monument historique is a National Heritage Site of France. It also refers to a state procedure in France by which national heritage protection is extended to a building or a specific part of a building, a collection of buildings, or gardens, bridges, and other structures, because of their...
and is on the list to be named a
UNESCO
UNESCO
The United Nations Educational, Scientific and Cultural Organization is a specialized agency of the United Nations...
World Heritage Site
World Heritage Site
A UNESCO World Heritage Site is a place that is listed by the UNESCO as of special cultural or physical significance...
http://whc.unesco.org/en/tentativelists/1664/
.
External links