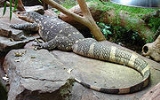 Nile monitor
The
Nile Monitor
,
Water Leguaan
, or
River Leguaan
(
Varanus niloticus
) is a large member of the
monitor lizard
Monitor lizard
Monitor lizards are usually large reptiles, although some can be as small as in length. They have long necks, powerful tails and claws, and well-developed limbs. Most species are terrestrial, but arboreal and semiaquatic monitors are also known...
family (
Varanidae
Varanidae
Varanidae is a group of lizards of the superfamily Varanoidea. The family is a group of carnivorous lizards which includes the largest living lizard, the Komodo dragon, and the crocodile monitor. Varanidae contains the living genus Varanus and a number of extinct taxa...
).
Nile Monitors can grow to about 9 ft (2.7 m) in length. They have muscular bodies, strong legs and powerful jaws. The teeth are sharp and pointed in juvenile animals and become blunt and peg-like in adults. They also possess sharp
claw
Claw
A claw is a curved, pointed appendage, found at the end of a toe or finger in most mammals, birds, and some reptiles. However, the word "claw" is also often used in reference to an invertebrate. Somewhat similar fine hooked structures are found in arthropods such as beetles and spiders, at the end...
s used for climbing, digging, defense, or tearing at their prey.