Varanidae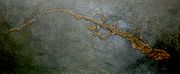 Varanidae
is a group of lizards of the
superfamily
Family (biology)
In biological classification, family is* a taxonomic rank. Other well-known ranks are life, domain, kingdom, phylum, class, order, genus, and species, with family fitting between order and genus. As for the other well-known ranks, there is the option of an immediately lower rank, indicated by the...
Varanoidea
Varanoidea
Varanoidea is a superfamily of lizards, including the well-known family Varanidae . Also included in the Varanoidea are such extinct marine and semi-aquatic forms as mosasaurs and dolichosaurs, the venomous helodermatids , the Lanthanotidae , and the extinct Necrosauridae.Throughout their long...
. The family is a group of carnivorous
lizard
Lizard
Lizards are a widespread group of squamate reptiles, with nearly 3800 species, ranging across all continents except Antarctica as well as most oceanic island chains...
s which includes the largest living lizard, the
Komodo dragon
Komodo dragon
The Komodo dragon , also known as the Komodo monitor, is a large species of lizard found in the Indonesian islands of Komodo, Rinca, Flores, Gili Motang and Gili Dasami. A member of the monitor lizard family , it is the largest living species of lizard, growing to a maximum length of in rare cases...
, and the crocodile monitor. Varanidae contains the living
genus
Genus
In biology, a genus is a low-level taxonomic rank used in the biological classification of living and fossil organisms, which is an example of definition by genus and differentia...
Varanus
and a number of extinct taxa. Their closest living relatives are the
anguid
Anguidae
The Anguidae is a large and diverse family of lizards native to the northern hemisphere. The group includes the slowworms, glass lizards, and alligator lizards, among others. Anguidae is divided into three subfamilies and contains 94 species in eight genera. Their closest living relatives are the...
and
helodermatid lizard
Heloderma
Heloderma, the only genus of the family Helodermatidae, consists of venomous lizards native to the southwestern United States, Mexico and as far south as Guatemala. It includes two separate species, with six subspecies...
s.
Biology
Monitor lizards are reputed to be among the most intelligent lizards. Most species
forage
Forage
Forage is plant material eaten by grazing livestock.Historically the term forage has meant only plants eaten by the animals directly as pasture, crop residue, or immature cereal crops, but it is also used more loosely to include similar plants cut for fodder and carried to the animals, especially...
widely and have large home ranges, and many have high stamina. Although carnivorous, at least one species is known to consume
fruit
Fruit
In broad terms, a fruit is a structure of a plant that contains its seeds.The term has different meanings dependent on context. In non-technical usage, such as food preparation, fruit normally means the fleshy seed-associated structures of certain plants that are sweet and edible in the raw state,...
. Among species of living varanids, the limbs show positive
allometry
, being larger in larger-bodied species, although the feet become smaller as compared with the lengths of the other limb segments.