 Nike Tomahawk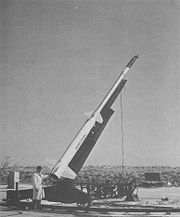 The
Nike Tomahawk
was a two stage
American
United States
The United States of America is a federal constitutional republic comprising fifty states and a federal district...
sounding rocket
Sounding rocket
A sounding rocket, sometimes called a research rocket, is an instrument-carrying rocket designed to take measurements and perform scientific experiments during its sub-orbital flight. The origin of the term comes from nautical vocabulary, where to sound is to throw a weighted line from a ship into...
. The first stage was a
Nike
Project Nike
Project Nike was a U.S. Army project, proposed in May 1945 by Bell Laboratories, to develop a line-of-sight anti-aircraft missile system. The project delivered the United States' first operational anti-aircraft missile system, the Nike Ajax, in 1953...
rocket, the second a
Tomahawk
TE-416 Tomahawk
The TE-416 Tomahawk is a rocket developed by the American company Thiokol at the beginning of the 1960s for Sandia National Laboratories. Although the TE-416 Tomahawk can be launched alone, it was started predominantly as upper stage in connection with other rockets, for example with a Nike rocket...
rocket.
The Nike Tomahawk has a ceiling of 230
statute mile
Mile
A mile is a unit of length, most commonly 5,280 feet . The mile of 5,280 feet is sometimes called the statute mile or land mile to distinguish it from the nautical mile...
s (370 km), a payload capacity of 100 pounds (45 kg), a launch thrust of 49,000
pounds of force
Pound-force
The pound force is a unit of force in some systems of measurement including English engineering units and British gravitational units.- Definitions :...
(217 kN), a launch weight of 2,200 pounds (990 kg), a diameter of 17 inches (0.42 m) and a length of 35 feet 5 inches (10.80 m). The Nike Tomahawk was launched 395 times between June 25, 1963 and November 27, 1995.