 Nicolas Beaujon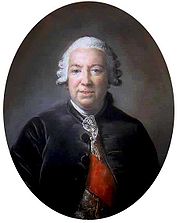 Nicolas Beaujon
was a wealthy
French
France
The French Republic , The French Republic , The French Republic , (commonly known as France , is a unitary semi-presidential republic in Western Europe with several overseas territories and islands located on other continents and in the Indian, Pacific, and Atlantic oceans. Metropolitan France...
banker at the Court of
King Louis XV
Louis XV of France
Louis XV was a Bourbon monarch who ruled as King of France and of Navarre from 1 September 1715 until his death. He succeeded his great-grandfather at the age of five, his first cousin Philippe II, Duke of Orléans, served as Regent of the kingdom until Louis's majority in 1723...
. The portrait of Nicolas Beaujon seen here was painted by Élisabeth Vigée-Lebrun in 1784.
Youth and Early Career
Born in Bordeaux, the scion of two very wealthy local commercial families, the Beaujons and the Delmestres, Nicolas's father, Jean, had greatly increased his families' fortunes in the course of saving Bordeaux from disaster twice by timely acquisitions and importations of grain during catastrophic famines early in the eighteenth century. Nicolas Beaujon, the eldest son, followed in the family footsteps and early made a fortune in commodities, mostly grain, and most notably during yet another famine. These were uncommonly frequent in France during this period due to a combination of outdated administrative practices making it cumbersome for the government to bring stocks of grain to where they were needed quickly enough to make a difference. Private entrepreneurs often stepped in at this sort of juncture, alleviating the misery whilst lining their own pockets.
As was sometimes the case when private individuals undertook large relief operations for a profit, charges of profiteering arose from some critical locals. Beaujon was proved innocent of any wrongdoing in a court of law (though to be fair he had made a tidy sum saving his city) but finding the scope of the provinces too restrictive for someone of his talents and ambitions anyway, he removed to Paris where he was to remain until the end of his days. (Some later writers would assert that he fled Bordeaux due to unpopularity following his "profiteering" in connection with the famine, but Masson shows that this was clearly not true, being more probably a case of the sort of calumny the extremely rich always seem to attract.) The vast Beaujon townhouse in Bordeaux still exists, though Nicolas sold it off at the time of his marriage, in 1753, to Louise Elisabeth Bontemps, herself a granddaughter of
Alexandre Bontemps
Alexandre Bontemps
Alexandre Bontemps was the valet of King Louis XIV and a powerful figure at the court of Versailles, respected and feared for his exceptional access to the King...
, Louis XIV's First Valet and Intendant of Versailles (and one of the only eyewitnesses to the King's secret marriage to
Françoise d'Aubigné, marquise de Maintenon
Françoise d'Aubigné, Marquise de Maintenon
Françoise d'Aubigné, Marquise de Maintenon was the second wife of King Louis XIV of France. She was known during her first marriage as Madame Scarron, and subsequently as Madame de Maintenon...
).
Banker to the Court of Louis XV
Once established in the capital, Beaujon rapidly emerged as one of the richest men in France, playing a crucial rôle in the financing of the government of
Louis XV
Louis XV of France
Louis XV was a Bourbon monarch who ruled as King of France and of Navarre from 1 September 1715 until his death. He succeeded his great-grandfather at the age of five, his first cousin Philippe II, Duke of Orléans, served as Regent of the kingdom until Louis's majority in 1723...
, in particular by lending enormous sums (in the millions, year after year) during the Seven Years War, which enabled the French Navy, bankrupt as was the rest of the government, to continue to function. During this period he became a Farmer General. (Under the royal French fiscal system, the responsibility for tax collection was "farmed out" for a fee to private individuals who were responsible for meeting a set quota for the year; anything else they collected reverted to themselves; considerable fortunes were made entirely legally in this way.) Around this time he also gained entry into the Conseil d'Etat or Council of State under Louis XV. Perhaps the richest private individual in France in his day, and certainly the best connected financially, Beaujon also served as the private banker to many persons of rank or position, most notably to
Madame du Barry
Madame du Barry
Jeanne Bécu, comtesse du Barry was the last Maîtresse-en-titre of Louis XV of France and one of the victims of the Reign of Terror during the French Revolution.-Early life:...
, the last official mistress of Louis XV.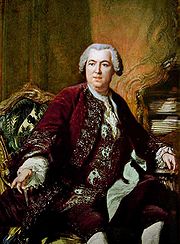 Owner of the Elysée Palace
In 1773, he bought, for the price of one million livres fixed by the Abbé de Terray, the Hôtel d'Évreux in Paris (today known as the
Élysée Palace
Élysée Palace
The Élysée Palace is the official residence of the President of the French Republic, containing his office, and is where the Council of Ministers meets. It is located near the Champs-Élysées in Paris....
, the official residence of the President of France). He employed the architect
Étienne-Louis Boullée
Étienne-Louis Boullée
Étienne-Louis Boullée was a visionary French neoclassical architect whose work greatly influenced contemporary architects and is still influential today.- Life :...
to make substantial alterations to the buildings and to design an English-style garden. On display was his massive art collection which included such well-known masterpieces as
Holbein's
Hans Holbein the Younger
Hans Holbein the Younger was a German artist and printmaker who worked in a Northern Renaissance style. He is best known as one of the greatest portraitists of the 16th century. He also produced religious art, satire and Reformation propaganda, and made a significant contribution to the history...
"The Ambassadors" (now in the National Gallery, London), and
Frans Hals
Frans Hals
Frans Hals was a Dutch Golden Age painter. He is notable for his loose painterly brushwork, and helped introduce this lively style of painting into Dutch art. Hals was also instrumental in the evolution of 17th century group portraiture.-Biography:Hals was born in 1580 or 1581, in Antwerp...
' "Bohemian" (now at the
Louvre
Louvre
The Musée du Louvre – in English, the Louvre Museum or simply the Louvre – is one of the world's largest museums, the most visited art museum in the world and a historic monument. A central landmark of Paris, it is located on the Right Bank of the Seine in the 1st arrondissement...
). His architectural alterations and art galleries gave this residence international renown as "one of the premier homes of Paris". Beaujon owned it until the year of his death, when he transferred the property to King
Louis XVI
Louis XVI of France
Louis XVI was a Bourbon monarch who ruled as King of France and Navarre until 1791, and then as King of the French from 1791 to 1792, before being executed in 1793....
. Years later writer Count
Alfred de Vigny
Alfred de Vigny
Alfred Victor de Vigny was a French poet, playwright, and novelist.-Life:Alfred de Vigny was born in Loches into an aristocratic family...
would reside there with his parents, and under
Napoleon
Napoleon I of France
Napoleon Bonaparte was a French military and political leader during the latter stages of the French Revolution.As Napoleon I, he was Emperor of the French from 1804 to 1815...
,
Joachim Murat
Joachim Murat
Joachim-Napoléon Murat , Marshal of France and Grand Admiral or Admiral of France, 1st Prince Murat, was Grand Duke of Berg from 1806 to 1808 and then King of Naples from 1808 to 1815...
, King of Naples and Sicily, lived there until the Emperor designated it the official residence of his son and heir the little "King of Rome". Napoleon was also to sign his abdication at the palace in Beaujon's "silver boudoir". Other famous residents included Russian Tsar
Alexander I
Alexander I of Russia
Alexander I of Russia , served as Emperor of Russia from 23 March 1801 to 1 December 1825 and the first Russian King of Poland from 1815 to 1825. He was also the first Russian Grand Duke of Finland and Lithuania....
, the
Duke of Wellington
Arthur Wellesley, 1st Duke of Wellington
Field Marshal Arthur Wellesley, 1st Duke of Wellington, KG, GCB, GCH, PC, FRS , was an Irish-born British soldier and statesman, and one of the leading military and political figures of the 19th century...
, and
Louis XVIII
Louis XVIII of France
Louis XVIII , known as "the Unavoidable", was King of France and of Navarre from 1814 to 1824, omitting the Hundred Days in 1815...
's nephew the Duke of Berry. The Elysée only became the Presidential Palace in 1848, which it has remained to this day.
In addition to his city palace, Beaujon also commissioned the architect Girardin to creat a "folie" for him on the considerable land attached to his principal residence (it extended in a wide band running to the north of the
Champs-Élysées
Champs-Élysées
The Avenue des Champs-Élysées is a prestigious avenue in Paris, France. With its cinemas, cafés, luxury specialty shops and clipped horse-chestnut trees, the Avenue des Champs-Élysées is one of the most famous streets and one of the most expensive strip of real estate in the world. The name is...
all the way to the modern
Arc de Triomphe
Arc de Triomphe
-The design:The astylar design is by Jean Chalgrin , in the Neoclassical version of ancient Roman architecture . Major academic sculptors of France are represented in the sculpture of the Arc de Triomphe: Jean-Pierre Cortot; François Rude; Antoine Étex; James Pradier and Philippe Joseph Henri Lemaire...
). This pleasure palace was built in an exotic style with a large central pavilion anchoring four attached apartments wherein he lodged his four mistresses of the day who, it was said, more than tolerated each other, inviting each other to dine and socialize in their suites with or without their patron. At times Beaujon would have them all together in his central apartment to amuse him of an evening with their brilliant conversation and other charms. It is to be mentioned that this harem-like existence is only attested for the period after the early death of his wife in 1769. They had had no children, and Beaujon never remarried, having found this alternative domestic arrangement more to his liking.
He did, according to some historians, have an illegitimate daughter, Adelaïde de Praël de Surville, who took her name from the man Beaujon arranged for her mother, Louise Dalisse, a famous dancer at the
Comédie-Française
Comédie-Française
The Comédie-Française or Théâtre-Français is one of the few state theaters in France. It is the only state theater to have its own troupe of actors. It is located in the 1st arrondissement of Paris....
under the name of "Chevrier", his mistress, to marry in order to lend a patina of decency to the whole affair. (Other historians consider de Surville to have been Adelaîde's true father). She went on to marry Jean Frédéric Perregaux, the first president of the Banque de France which he helped to create under Napoleon. Their children each married into the military nobility of the Empire; Hortense to Auguste de Marmont the Duke de Raguse, with no children, and Alphonse, now the Count de Perregaux, to the daughter of Marshall Jacques MacDonald. Their children were to have no heirs of their own and so even the illegitimate line of Beaujon was ultimately extingushed, though as a last gasp, the brief marriage of Alphonse's son Edouard to the famous "Lady of the Camelias" (the inspiration for both "Camille" and "La Traviata" does lend a final bit of glamour to this genealogy.
Founder of the Hôpital Beaujon
In 1784 Beaujon founded, on his grounds, the Hôpital Beaujon, originally intended for poor orphans, becoming a general hospital during the Revolution, in 1795, and which continues in operation today (although removed to the Parisian suburb of Clichy in 1935).
Family and Legacy
Beaujon died in Paris in late 1786 of a hemiplegia (semiparalysis probably brought on by a stroke) and was honoured with a huge funeral pomp culminating with the deposition of his remains in a magnificent tomb in the chapel of St. Nicholas of Roule, which had been founded by him and built by his architect Girardin. Unfortunately, during the upheavals of the French Revolution, his tomb was desecrated, and Beaujon's ashes were strewn to the four winds. His immense fortune was left to his wife's niece Charlotte Bontemps Duchess de La Châtre and Marchioness de Jaucourt of whom descendants exist today (though they are of course not descendants of Beaujon himself).