 Nicholas Palace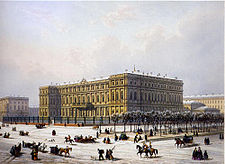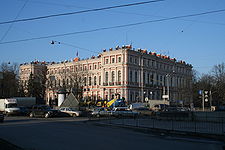 Nicholas Palace
was one of several St Petersburg palaces designed by Andreas Stackensneider (1802-65) for the children of
Nicholas I of Russia
Nicholas I of Russia
Nicholas I , was the Emperor of Russia from 1825 until 1855, known as one of the most reactionary of the Russian monarchs. On the eve of his death, the Russian Empire reached its historical zenith spanning over 20 million square kilometers...
. The palace of Grand Duke Nikolai Nikolaievich of Russia forms part of a sprawling complex incorporating a palatial church, a
manege
Manege
Manège is the French word for a riding academy. As a loanword in Russian it is Manezh .It may refer to any riding school, riding arena or exercise rectangle, or specifically to:* the Salle du Manège in Paris, France...
, and several outbuildings separated from Labour Square by a cast-iron fence.
In 1894 the edifice reverted to the crown and was transformed into the Xenia Institute for Noble Young Ladies (Russian: Ксенинский институт благородных девиц,
Kseninskii institut blagorodnykh devits
). It was described by
E. M. Almedingen
E. M. Almedingen
E. M. Almedingen was a British novelist, biographer and children's author of Russian origin....
in her memoirs:
At certain functions in the great paneled white hall it was easy to imagine yourself plunged into the court life of the late eighteenth century. ... The palace, for all its enormous size, was beautiful. The sweep of that regal, gray marble staircase, curving off to the right and the left, must have been an architectural marvel. We played in halls, their high ceilings supported by Corinthian pillars, their walls covered with most exquisite paneling. We read and studied in rooms with lovely mirrors, framed in the scrolled and carven fantasies of great artists. We slept in dormitories, their walls covered by delicate frescoes. ... The exquisite staircase... swept down to a hall where a gigantic Cerberus of a porter, magnificent in scarlet and gold, stood on duty. The great front doors, splendid with carved wood and panes of cut glass, were nearly always closed.
The Bolsheviks renamed it
Palace of Labour
(Russian: Дворец труда,
Dvorets truda
) and handed it over to the
trade union
Trade union
A trade union, trades union or labor union is an organization of workers that have banded together to achieve common goals such as better working conditions. The trade union, through its leadership, bargains with the employer on behalf of union members and negotiates labour contracts with...
s, who destroyed some parts of the original eclectic interiors in order to adapt the palace for their own headquarters. As of 2004, the trade unions are leasing a large part of the edifice to commercial enterprises as offices.